If you've been investing for a while, you've almost certainly heard about penny stocks.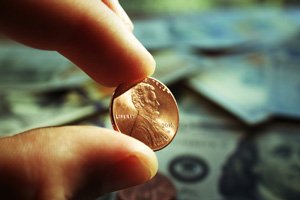 But you might not know 1) what they are, 2) why you would want to invest in them, and 3) where to begin if you do.
That's why we created this guide on how to invest in penny stocks for beginners.
First thing's first: What is a penny stock?
Generally, a penny stock is any stock under $5, typically with a market capitalization under $300 million. In the past, the upper limit on the share price was $1, thus making penny stocks literally available for pennies per share. But that figure has been adjusted upward to $5 more recently to account for inflation.
The point is simply that penny stocks are available for very low share prices, meaning investors can buy many shares at a time even if they don't have massive fortunes at their disposal.
As for why you should invest in penny stocks, that's simple: to make money.
Now, there's nothing wrong with keeping big-name, large-cap stocks like Apple Inc. (NASDAQ: AAPL), Amazon.com Inc. (NASDAQ: AMZN), and Alphabet Inc. (NASDAQ: GOOGL) in your portfolio. In fact, we recommend it. But setting aside a small portion of your assets for stocks with a higher profit potential can reap big benefits.
And when we say higher profit potential, we're talking 109% gains in a week. Or 163% gains in a day. Or 77% gains in an hour.
Those aren't hypotheticals.
Those are actual performance statistics from three penny stocks earlier this year.
Regional Health Properties Inc. (NYSE: RHE) jumped from $1.16 on April 15 to $2.42 on April 22.
Future FinTech Group Inc. (NASDAQ: FTFT) jumped from $0.78 on April 9 to $2.05 on April 10.
Best of all, shares of Workhorse Group Inc. (NASDAQ: WKHS) soared 77% in one hour on May 7. After two hours, it was up 115%.
If you owned 1,000 shares of WKHS, you could've turned $1,230 into $2,650 in an afternoon.
Repeat that kind of performance just once a week for a month, and you could turn $3,000 into $48,000 in 30 days.
That's the profit power of penny stocks.
5G Is Coming: The tech breakthrough of the century could rest on this $6 stock - get all the details here.
Of course, before you dive into penny stock investing for the first time, there are a few principles to learn to make sure you don't get burned and that you're maximizing your profits.
But you'll probably find as you read on that understanding penny stocks is not as hard as you might have thought...
Good Penny Stock Practice: Allocation, Allocation, Allocation
We've seen already that penny stocks can change price very quickly. That's because, with such low share prices, they are priced to move.
But just as penny stocks can make large moves up, they can also make large moves down.
So you'll need to know how to distinguish the good bets from the lousy ones.
Even before that, though, you have to think about allocation for different types of investments. At Money Morning, we recommend the 50-40-10 allocation model for your portfolio to manage risk.
That means 50% of your portfolio goes to "base builders," defensive positions that will hold their value under just about any circumstances.
40% of the portfolio goes to "global income and growth." Those are your large-cap, big-name stocks like Apple and Amazon.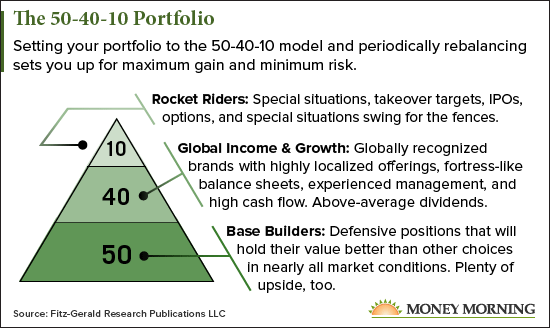 And finally, 10% of the portfolio goes to "rocket riders." These picks are more speculative, but they give you a chance to really swing for the fences.
That's where penny stocks fit in. The idea is that when even one or two of these rocket riders take off, it will more than make up for any duds you might have had in the mix.
You might use a different model for allocating your portfolio, and that's fine. What's important is that your penny stock investments go into the highest-risk category. They should make up a small portion your total portfolio.
That way, even if the worst happens and your picks go bad, you won't be hurt too severely.
Of course, we don't want your penny stock picks to go bad. We want you to find those diamonds in the rough and see triple-digit gains over and over again.
So you'll need to know how to steer clear of bad investments...
Spotting (and Avoiding) Scams
One risk you'll encounter when you're learning penny stocks is that there are plenty of very small companies that simply are not aboveboard.
Some penny stocks, in fact, are barely companies at all. They are schemes aimed at generating short-term hype to prey on unsuspecting investors.
You definitely don't want to be one of those investors. So follow a few key principles to avoid these pump-and-dump schemes:
Stick with major exchanges: If you've been wondering how and where to buy penny stocks, you don't have to look any further than the stock exchanges you already know. There are plenty of penny stocks on the New York Stock Exchange (NYSE) and the Nasdaq.
The advantage of these exchanges is that they have strict financial reporting requirements for all listed stocks. That protects you from some of the shadier elements in the penny stock world.
Some stocks listed on over-the-counter (OTC) exchanges are fine too. But they take more due diligence on the investor's part.
Different OTC markets have different rules. OTCQX, for example, is a premium service that has reporting standards similar to the larger exchanges. OTCQB has fewer restrictions to be friendlier to young companies, but there are still restrictions for the protection of investors.
You will very likely want to avoid penny stocks listed on the "Pink Sheets." These markets do not have minimum requirements for the stocks listed, are not regulated by the U.S. Securities and Exchange Commission, and are generally a breeding ground for the types of companies that take advantage of unsuspecting investors. You would do best to stay far, far away from the Pink Sheets.
Don't believe the hype: In December 2017, a company called Long Island Iced Tea Corp. changed its name to Long Blockchain Corp. (OTCMKTS: LBCC) and announced that it would be changing its focus from beverages to blockchain technology.
With the Bitcoin craze at its peak at the time, the stock surged nearly 200% in one day. But it didn't last. By the following month, shares were back to their pre-breakout levels. If you had invested $1,000 after that one-day surge, it would be worth $57.88 today.
When small companies pull branding stunts to generate hype, it's best to stay away. And when you get phone calls or emails pushing a once-in-a-lifetime opportunity to buy a particular penny stock, there's a good chance the promoter is just trying to push the price up for their own advantage - at your expense.
Which gets us to the next tip on buying penny stocks...
Do your research: This goes for any stock you buy. But whereas you can be pretty sure a blue-chip stock like Johnson & Johnson (NYSE: JNJ) is on reasonably solid financial footing, you might have to do a little extra work with penny stocks.
Is the company's business model sound, with real growth potential? If not, move on.
Does the company have a track record of generating and growing revenue? If not, move on.
Does the company have a reasonable debt-to-equity ratio compared to its peers in the industry? If not, move on.
These are just a few factors you might want to consider when buying any stock. But if a hyped-up penny stock is a scam, it will probably be obvious from just a few minutes of investigation. What the hucksters are counting on is that you won't bother to do your research.
You know better. Which is why they won't be able to take advantage of you.
So now that you know what penny stocks to avoid, all that's left is to find the ones to buy...
Finding Your Rocket Stocks
To identify which penny stocks to buy right now, start with a stock screener. A simple Internet search for "stock screener" will turn up plenty of screeners you can use for free, or for a modest fee. You can pick whichever one you like most or find easiest to use.
A stock screener lets you filter stocks by all sorts of parameters. So you can quickly hone in on a relatively small number of stocks that fit your criteria.
To start with, set your screener to only show stocks under $5, and have a market cap under $300,000, so you're only looking at penny stocks.
From there, you can make tweaks. Maybe you want to include companies with market caps up to $500,000. Or maybe you want to limit your pool to stocks with a share price under $2, which could make for bigger price swings.
From there, you can filter by stock exchange. Remember, you're looking for stocks on big exchanges, and maybe certain OTC markets.
Then you can set a minimum average volume. This number represents how many shares are changing hands on a daily basis, and it's very important. If a stock has a low volume, you might not be able to find a buyer when it's time for you to sell. A good baseline for average volume is at least 200,000.
Now you'll want to set some parameters for financial performance. If you want to be sure your stocks are growing sales, you can set a parameter for sales growth of ">0."
You can set a parameter for debt-to-equity ratio too. Young companies tend to have higher ratios than more established enterprises. So a ratio under 5 is reasonable. But you could set this parameter to 1.5 or lower if you want to have tighter standards.
Feel free to experiment. Depending on your parameters, you might end up with a list of 300 stocks or only five. It's up to you to decide what you're comfortable with.
When you've got the penny stocks list you want, then it's time to do some individual research. Which stocks stand out? Which ones have the strongest business models, the best leaders, and the soundest fundamentals?
After you've figured that out, you're ready to pull the trigger.
Eventually, you'll find that investing in penny stocks isn't that much different than investing in anything else - except for the higher profit potential.
Remember to keep your penny stock investments small, and use your head - not your gut - as you manage them over time.
Happy trading!
5G Is Coming: The Breakthrough of the Century Could Rest on This $6 Stock
CNBC reports that this opportunity is worth $12.3 trillion... and it's gearing up to make an appearance all over America.
In fact, some of these devices are showing up right in your neighborhood - and we're willing to bet you didn't even notice.
Our Silicon Valley insider mapped out all the details in this report.
Follow Money Morning on Facebook and Twitter.
[mmpazkzone name="end-story-hostage" network="9794" site="307044" id="138536" type="4"]