Just the possibility of an interest rate cut had stocks soaring at the end of June, but you can find even bigger gains with our three top penny stocks to buy this week.
This is because a small increase in the share price of these affordable stocks will translate into massive gains - sometimes double, triple, or even higher gains for investors.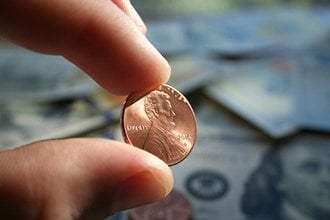 But not all penny stocks are created equal. Some are poor investments or outright scams. And with thousands of penny stocks available, it can be hard to find which ones are worth your time and money.
Fortunately, Money Morning can help with our proprietary Money Morning Stock VQScore™ system.
This system allows us to scan all of the stocks trading on the market and isolate only those that have the most potential for breakout gains. That's what we've done today to give you this list of the three top penny stocks to buy today.
And our top pick could give early investors returns of 277%.
The Top Penny Stocks to Buy This Week, No. 3: ASE Technology
ASE Technology Holding Co. Ltd. (NYSE: ASX) is the first penny stock on our list for this week.
The Taiwan-based company builds semiconductors. Its specialty is testing and packaging semiconductors as well as electronic manufacturing services on an international level.
ASE is a well-established company that was founded in 1984 and that has more than 90,000 full-time employees. It's rare to find a penny stock with this sort of stability, which is exactly why we're flagging it for you today.
You Have to See It to Believe It: Claim your stake in this 1,000x market phenomenon with just $50. Click here now...
Its share price has dropped below $5 just over the past year, which makes it officially a penny stock. But it's one to watch - and a bargain for investors looking for market-beating gains.
In spite of the volatility in this sector, a recent tech deal could be a catalyst for growth with this company. ASE invested $60 million in Cypress Semiconductor back in 2016. This sounds like a long time ago, but this investment is paying off for ASE in spades.
On June 3, Infineon Technologies AG (OTCMKTS: IFNNY) announced it was acquiring Cypress Semiconductor at a $10 billion price tag. It paid a 46% premium on shares of Cypress, which was an incredible return on the ASE investment in this firm.
Even ignoring this deal, the VQScore reveals that ASE is a top penny stock to buy now. Its VQScore of 4.15 places it firmly in the "Buy Zone."
ASE expects its net profits to grow 29% over the next year, from $892 million to $1.15 billion.
Shares currently trade at $4.13, which is 13 times the estimated earnings for the year, but with such a great VQScore, the returns could be even higher.
The Top Penny Stocks to Buy This Week, No. 2: AK Steel Holding Corp.
AK Steel Holding Corp. (NYSE: AKS) is our second top penny stock pick for the coming week.
It is a steel manufacturing company based in Ohio. Founded in 1993, it currently employs over 9,500 full-time people.
The company operates eight steel production and processing plants across the Midwest and is one of the U.S. auto market's largest steel suppliers.
The demand for steel globally is expected to jump by 1.6% by 2020. This rise is expected to be as high as 5% in countries like India.
Now that Washington has imposed trade restrictions on steel coming out of China, this creates new opportunities for domestic steel companies such as AK Steel.
This is a penny stock that is currently trading at $2.25 per share, but the forecasts for the next 12 months put the share price as high as $5. This would give today's investor a gain of 122%.
This stock also has a perfect 4.75 VQScore, making it one to watch for breakout gains.
But our top penny stock pick for this week has an even bigger upside.
This penny stock could return 277%...
The Top Penny Stocks to Buy This Week
[mmpazkzone name="in-story" network="9794" site="307044" id="137008" type="4"]
If you're looking to buy the top penny stocks now, Denbury Resources Inc. (NYSE: DNR) should be at the top of your list.
This is a Texas-based oil and gas company that has major holdings in North Dakota, Wyoming, Montana, Texas, Louisiana, Mississippi, Alabama, and the Gulf Coast.
Its largest oil property spans across Montana and North Dakota, which is a region that processed one-quarter of the company's oil in 2018.
By the end of last year, Denbury reported production levels equal to 255 million barrels of oil and 43 billion cubic feet of natural gas.
Denbury sets itself apart from other oil concerns in how it extracts oil. It uses a method called "enhanced oil recovery" to use carbon dioxide to reactivate inactive wells.
By taking oil from deactivated wells, Denbury can eliminate the costs associated with building a well, which is a massive benefit to its shareholders.
Denbury almost doubled its profits last year as proof that this works.
This is a penny stock currently trading at $1.22 per share. But its price target is $4.60, so today's investor has the potential to gain 277% on their money.
This also has a 4.75 perfect VQScore, so those gains could be even higher.
Anyone Can Become an Angel Investor with as Little as $50
Angel investing used to be off limits to the average American... but Shark Tank's Robert Herjavec said it best during this live broadcast: "The walls have finally come down. You no longer have to be rich, famous, or powerful to become an angel investor!"
Congress has now made it possible for you to take advantage of these life-changing deals.
By becoming an angel investor, you can be right there - one of the first to invest in the next Steve Jobs, the next Bill Gates, or the next Elon Musk.
And because you're there at the beginning, the upside is infinitely greater.
For so long, regular folks have been locked out... but not anymore. Click here for details...