July was another great month for the stock market. Just in the second week of this month, the S&P 500 passed 3,000 points for the first time ever. And on July 15, the Dow Jones Industrial Average hit an all-time high.
But the longer a bull market runs, the more investors seem to worry about the end.
Of course, the worries aren't unfounded – there are, in fact, several legitimate stock market crash warning signs out there right now.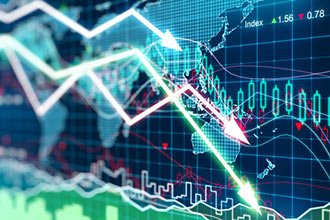 But successful months like these are why as many as three stock market crisis warning signs can easily go ignored.
We're not saying investors should immediately begin selling off their investments – just that they should keep their eyes open and do what's necessary to prepare.
Fortunately, there are even ways to make some money if the market tumbles.
So here's exactly what spells trouble for the markets – and what you can do to be ready in any event.
Stock Market Crash Warning Signs, No. 3: Inverted Yield Curve
The New York Federal Reserve has created a probability model to measure the likelihood of recession over the coming year. Earlier in July, that figure hit its highest level since 2009.
For the month of June, the number comes in at 32.9%, which is a 4% increase from May. This jump from 28% has created some alarm within the New York Fed.
Since 1960, every time that number has passed 30%, this country has slid into a recession shortly after.
These projections are made based largely on the difference between the three-month and 10-year treasury bond yields. This is also referred to as the yield curve.
The Fed sees it as a stock market crash warning signal when long-term yields fall below the value of short-term yields.
YOU KNOW IT IN YOUR GUT: Look at how things are going. Financial turmoil is coming just around the corner, maybe just a few months away. Click here…
Over the past 60 years, the yield curve has flattened and inverted leading up to every single financial crisis. It happened again last month, for the first time since the months leading up to the financial crisis in 2007.
This means that investors believe the economy may be weakening, so they are purchasing long-term bonds instead of short-term ones.
It's not isolated to the United States, as short-term yields are falling worldwide, suggesting that a global economic crisis is on the horizon.
But another signal makes this even more of a reality.
Stock Market Crash Warning Signs, No. 2: China's Economic Slowdown
Government data released in mid-July reveals the world's second-largest economy, China, is dealing with sluggish economic output.
Specifically, the gross domestic product of the country has fallen close to 0.5% in the past quarter, which is its lowest level in more than 27 years.
According to China, a large portion of this drop is due to its trade dispute with the United States.
The U.S. has already imposed $250 billion worth of tariffs on Chinese products, and there is a threat of $325 billion more. For its part, China has imposed $110 billion in tariffs on U.S. goods.
Scott Minred, global chief investment officer of Guggenheim Partners, says that these trade war tensions have the potential to trigger a crash of the stock market if agreements aren't reached.
According to Minred, if these trade disputes continue much longer, Guggenheim's models predict that "markets will make new lows in the summer."
Minred also states the trade war has a good chance of taking the financial markets below their December 2018 levels. This development "would mark the end of the bull market that began in 2009."
But the biggest sign of a market crash comes from Congress.
It has a new piece of legislation meant to stave off a financial crisis, but it's more likely falling through the cracks.
Here's what that legislation is – and what you can do to protect your investment dollars (and maybe even turn a profit) in a recession.
The Biggest Sign of a Stock Market Crash Coming