The vast majority of stock market gains in a year - 80%, in fact - happen after earnings announcements.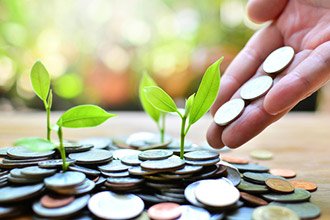 And with earnings season upon us again, our top penny stock to watch has the potential to shoot up more than 420%.
Penny stocks are attractive because they can deliver high returns from a modest investment. According to the U.S. Securities and Exchange Commission, a penny stock is defined as anything trading at $5 per share or less.
Another attractive thing about the top penny stocks is that they can soar pretty high on good news.
Bonus:
Want to know how to find penny stocks with the most profit potential? Download our quick tutorial, 5 Steps to Penny Stock Trading Success – it's free! click here now.
For example, Revolution Lighting Technologies Inc. (NASDAQ: RVLT), rose $0.17 on news that the company was to receive a listing extension from Nasdaq.
That represented a 64% gain for investors. Of course, that's nowhere close to the 420% we're expecting from our best penny stock, but it's also not something any investor would turn down.
There is a flipside to penny stock investing, however. It can be risky business - while a good penny stock can quadruple your money, a bad one can put you at a loss the same size.
So if you're going to buy these stocks, you should use caution and follow a few simple guidelines.
Here are a few tips to safeguard your investment dollars. Then we'll reveal our pick for one of the best penny stocks to buy now.
Read This Before Investing in Penny Stocks
Penny stocks are considered speculative investments, so you should approach them with caution.
Money Morning recommends that investors reduce their risk exposure by limiting investments in these stocks to about 2% of your overall portfolio.
Beyond this, you can avoid common pitfalls and scams by following a few simple rules.
First, stick to major exchanges like the Nasdaq and New York Stock Exchange (NYSE), since these have better oversight to prevent fraud.
Watch Now: Serial entrepreneur Neil Patel reveals how to achieve the American Dream... for as little as $50. Click here...
Next, you should research every penny stock thoroughly. This might sound like a chore, but it can help eliminate terrible picks and reveal the winners.
Money Morning uses its propriety VQScore™ system for this purpose. This system allows us to screen a large number of stocks and isolate the ones with the most potential.
Our top penny stock to watch this week has a perfect 4.75 VQScore, meaning it's a "Strong Buy" with breakout potential.
This is a natural gas company that could quadruple your investment dollars by capitalizing on the growth in the energy exploration sector.