Wall Street is concerned about big firms like JPMorgan Chase & Co. (NYSE: JPM), Goldman Sachs Group Inc. (NYSE: GS), and Morgan Stanley (NYSE: MS) falling short on their third-quarter reports this week.
But penny stocks could turn a strong profit no matter how rocky it gets. That's why we're showing you the 10 top penny stocks to watch, plus one to buy right now to cash in.
Editor's Note: Be sure to check out our free guide on trading penny stocks successfully right here.
Even if trade war tensions and a slowing economy threaten to butcher the bottom lines of these Wall Street giants, that doesn't mean the whole market loses.
Every earnings season tends to produce a surge in volatility. In fact, an average of 80% of a stock's yearly market movement occurs during earnings season.
That allows good penny stocks to bank huge returns on the smallest price movements thanks to their low share price.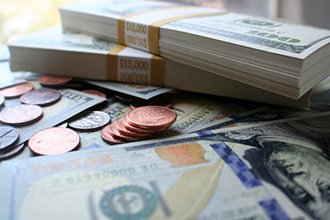 The only thing standing between you and those top penny stocks is the thousands of other penny stocks trading on major exchanges. It can be tough to know which one will jump next.
That's why we use the Money Morning Stock VQScore™ system. This proprietary system sorts through thousands of stocks and ranks them according to breakout potential. We simply used it to screen for the best penny stocks to buy right now.
This week, the VQScore found a penny stock that could jump over 100% as market volatility increases.
We'll share our best penny stock with you. But first, here are the top penny stocks from last week:
| | | |
| --- | --- | --- |
| Penny Stock | Current Share Price | Last Week's Gain |
| Nordic American Tankers Ltd. (NYSE: NAT) | $4.13 | 48.03% |
| Schmitt Industries Inc. (NASDAQ: SMIT) | $3.10 | 44.86% |
| Cancer Genetics Inc. (NASDAQ: CGIX) | $0.16 | 43.89% |
| Stage Stores Inc. (NYSE: SSI) | $2.37 | 41.92% |
| NF Energy Saving Corp. (NASDAQ: BIMI) | $1.49 | 37.04% |
| TeeKay Corp. (NYSE: TK) | $4.84 | 30.81% |
| Teekay Tankers Ltd. (NYSE: TNK) | $1.97 | 30.46% |
| Revolution Lighting Technologies Inc. (NASDAQ: RVLT) | $0.31 | 30.40% |
| Aclaris Therapeutics Inc. (NASDAQ: ACRS) | $1.42 | 25.66% |
| McDermott International Inc. (NYSE: MDR) | $2.04 | 25.15% |
You Could Cash In on the next Alibaba, the next Uber, the next Google. We're talking life-changing IPOs here. And it'll only cost you as little as $50. Click here for the full details...
As you can see, the penny stock we're about to show you offers double the upside of the top 10 penny stocks from last week.
This one could jump more than 100%. And it's only trading for $4.52 right now...
Top Penny Stock to Buy This Week