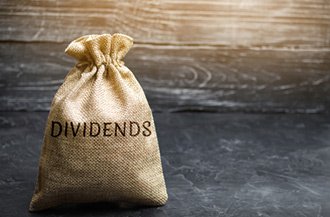 The best dividend stocks to buy don't just offer passive income, they offer the potential to grow your money into real wealth over time. According to Guinness Atkinson Funds, dividend income and reinvestment can make up as much as 90% of your total stock market returns over time.
Yes, 90%...
For example, let's say you invested $100 into the S&P 500 towards the end of 1940. Without reinvesting your dividends, you'd have made $12,000 once 2012 rolled around.
However, if you had reinvested those dividends, you could have ended up with $174,000 in the same period. That's 1,350% higher...
And even if you're not interested in reinvesting those dividends and simply want a consistent, passive income, the top dividend stocks are still your best bet.
You see, back when interest rates were higher, you could put money into your savings account and make 5% or higher with little-to-no risk. However, if you were to try that now, you'd end up losing money as a result of inflation.
SmartAsset reports the average interest rate for a savings account is just 0.09%. Even if you qualify for a better rate, the best one you'll find right now is just 2.27%, according to Bankrate.
That's why dividend stocks are one of the best ways to reach your financial goals and make sure you have a safe retirement. In low-interest markets like ours that punish savers and income-seeking investors, high-yield and stable dividend stocks are the way to go.
Of course, many investors will shoot for the highest dividend-yielding stocks they can find, but what's more important is a firm's stability and ability to increase its dividend in the long term.
That's why we're bringing you three of the best dividend stocks to buy now with above-average yields that you can rely on no matter which way the market moves.
Sign up for SMS so you never miss special events, exclusive offers, and weekly bonus trades.
And one dividend stock has a yield as high as 6.8% with
triple-digit
upside...
Best Dividend Stocks to Buy Now, No. 3: Southern Co.
Our third top dividend stock to buy is Southern Co. (NYSE: SO). Southern is an Atlanta-based gas and electric company with a market cap of $65.5 billion.
What makes this a great dividend stock is the fact that it has a 4% dividend yield and has been increasing its yields for 19 years straight.
That's because it's situated in regions across the southern U.S., where it's practically the only source people can get their gas and electric from. So, whether the economy is growing or in a recession, Southern is providing energy sources that people need no matter what.
And if that wasn't enough, the fact that the types of energy it supplies are diversified means that it won't be hurt by price swings in the energy market.
Right now, the firm is even adding a pair of nuclear power plants to supply future growth as well.
So, with Southern's consistent dividend growth, energy diversity, and future projects ahead, the firm is poised to continue growing its profitability.
Southern currently trades for $62.44 per share, with a target high price of $67. That means some analysts think it could grow by 7.3%. That may not be much, but this dividend stock has the stability we like to see for a long-term investment.
Best Dividend Stocks to Buy Now, No. 2: Abbvie Inc.
Our second best dividend stock to buy now is AbbVie Inc. (NYSE: ABBV). AbbVie is one of the biggest biopharmaceutical firms in the world with a market cap of $128.79 billion.
Since AbbVie went public in 2013, it has remained a great dividend stock with a yield of 5.41%.
Of course, AbbVie is down 29% from its December 2018 highs, but a series of buyouts and partnerships have pushed its shares upward since August 2019. Investors were worried about competition from cheaper off-brand products against its flagship drug, Humira.
But it looks like that worry is subsiding thanks to AbbVie's latest deals.
AbbVie is expanding its pipeline. It just took over Irish pharmaceutical company Allergan in a $63 billion deal, adding $15 billion in annual sales and diversifying AbbVie's drug offerings.
And that's not the only deal lifting AbbVie up. On Nov. 14, 2019, biotech company Exicure Inc. (NASDAQ: XCUR) partnered with Allergan to develop hair loss disorder treatments. This partnership will surely benefit AbbVie once the buyout is completed.
AbbVie's buyout, product diversification, 5.41% dividend, and growth prospects make this a great dividend stock to own. Its shares currently trade for $87.08, with a target high price of $130. This means analysts think it could grow at least 49% over the next 12 months.
That's pretty impressive for a stable dividend stock. But our top pick has a 6.8% dividend yield and could soar as high as 175%...
Best Dividend Stocks to Buy Now, No. 1
Join the conversation. Click here to jump to comments…
About the Author
Daniel Smoot is a Baltimore-based editor who helps everyday investors with stock recommendations and analysis. He regularly writes about initial public offerings, technology, and more. He earned a Bachelor's degree from Towson University.