By MONEY MORNING STAFF REPORTS, Money Morning • 
---
Editor's Note:  Everyday Americans have been making 100%, 200%, 500%, or more… sometimes in a matter of days with this one new strategy. Some of them are retiring from their jobs because of it. Others have paid off all their debt and bought their dream homes. To see how it works, click here.
---
Dear Red Alert Reader,
The secret to profitable options trading is to avoid going with the crowd. When everyone is doing the same thing, chances are the crowd could be stampeding over a cliff.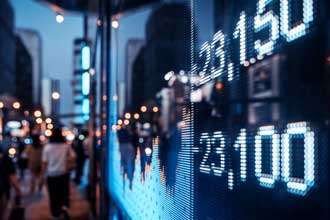 Right now, with stocks trading at record highs, you don't want to fall for the hype and ignore all the signs that maybe a bump in the road is coming.
It's near the end of the year and one of those bumps comes from money managers and investors looking to harvest tax losses to reduce their overall tax bite before the new year.
But didn't we just say that the market is in record high ground? What losses?
There are plenty. While the major market indexes are all sky high, 31% of all stocks trading on the NYSE are still technically in bear markets - more than 20% below their 52-week highs.
That is a large universe of potential candidates to sell to book losses for tax purposes.
Even if we keep it on a more macro level, the banking sector is still 18.1% off its high, when looking at the popular KBW Banking Index (BKX).
As if that were not enough, Money Morning Quantitative Specialist Chris Johnson thinks that on top of tax losses, the banking sector is already flashing signs of a coming seasonal pullback that could push the banking index back into bear market territory.
According to Chris, "The post-holiday season is historically one of the worst quarters for these stocks as consumers tighten their purse strings after 'breaking the bank' on Christmas."
New Extra Income Hack: This could be your shot to collect $1,000 to $5,000 a week - regardless of how volatile the markets are. WATCH NOW.
In other words, bank stocks struggle in January.
He has his sights set on a multinational banking stock that has been on a tear lately, rallying on the tailwinds of the larger market's optimism, but it's already beginning to lose steam - and fast.
If that were not enough, it's facing a class-action lawsuit from shareholders. The damage could be as much as $400 million in fines.
That's creating a surprisingly attractive put options trade right now, and we'll show you just how to do it...
The Best Put Options to Buy Now
While that is bad news for the company, it can be good news for traders. Rather than buying call options on the stock, hoping for it to recover, we can buy put options and profit when the chickens come home to roost and the stock price falls.
The stock Chris is talking about is Citigroup Inc. (NYSE: C). Since the market's Oct. 30 low, Citi is up a scorching 42.8%. However, since Thanksgiving, it has lost its power. Chart watchers will notice the waning levels in its momentum indicators, but that's not really the big problem, technically.
The stock has already traded near its June highs, and that's where a lot of traders who were burned after buying it back then will see their chance to get out even. Supply of shares for sale is likely to grow, especially given the bad legal news surrounding the company. Not to mention the seasonally weak January that typically sets in for banks, even without any extra bad news.
Chris thinks that a drop from the current $59-area to the $50-area is in the cards. And that's why he is recommending buying to open C June 18, 2021 $60 puts (C210618C00060000) using a limit order of $6.80.
If the stock plunges to just below $50 by the end of January, you'd be looking at a healthy 98.7% gain from today's prices.
You Could Make Your Portfolio "Recession-Proof" with This System
While most investors watched their hard-earned money evaporate during the 2008 recession, Andrew Keene collected thousands per week by developing the ultimate indicator.
He used it to identify the moves all the big players were quietly making... putting him in the know weeks before others caught on.
Today, he's spilling the beans so that you too can turn any market condition into profits!
Red Alert Frequently Asked Questions