Dear Old Friend,
Goldman Sachs says recent oil production cuts by OPEC will push oil prices into the $90 range by late 2023.
Goldman is notorious for being wrong with their oil forecasts. More than that, there's good reason to believe they're actually shorting oil prices…
That's why I'd love for buyers to bid up oil futures, forcing short-sellers (who are the most negative on oil in a decade) to cover their positions and buy.
Regardless, you shouldn't care if oil goes up or down or left or right.
And I'll tell you why you're in such a fantastic position…
Permian Profit Margins Will Be Almost Embarrassingly High
That's because the best way to invest right now in oil is to buy stocks and assume the price will remain in the $65 to $70 range throughout 2023. Anything higher will only make you even more money if you're investing in the right companies that have cheap valuations, strong management, and gobs of cash flow.
We must keep our focus on the Permian Basin, a massive oil deposit in West Texas. You should know that companies like Exxon Mobil(XOM) and Chevron (CVX) are moving rapidly to expand their presence there for one reason: Production costs are low. Exxon says it can get the cost of producing a barrel of oil in the Permian down to $15. Even if oil prices sit at $65, Exxon's margins will be massive.
The Permian land rush is happening now, with deals being inked at a breakneck pace. Bigger oil names are swallowing smaller ones in the Permian, and they're focusing on productive drilling wells.
Of course, my job here is to find you the best names to own.
As I've noted. Ovintiv (OVV) is a dirt-cheap oil name that has strong fiscal management and a microscopic valuation score (These two factors will be central to how we make money in The Florida Republic).
Ovintiv is a name I recommended back at $32 per share, and fair value (from higher oil prices or a takeover deal) might take it above $50 by 2024. Value-investing legend and The Big Short fund manager Michael Burry owns this stock.
There are plenty of other Permian names you can buy right now. Permian Resources (PR) sits on that list, and so too does Warren Buffett's favorite Occidental Petroleum (OXY).
But there are more. Plenty more.
We'll discuss them, together, this week. If you're not investing in the Permian, you're letting a generational buying opportunity slip through your fingers like grains of sand…
What Else is On Tap This Week?
Here are major events happening this week impacting your money.
On Monday, June 12, we'll find out how many times that Oracle (ORCL) can say the word "AI" during its Monday earnings report.
They're not the only ones that will generate AI headlines.
Salesforce.com (CRM) hosts an all-day event on the topic, and companies like NVIDIA (NVDA) and Tesla (TSLA) will feature at the inaugural Future of Transportation Conference. Monday is likely not a day to be shorting artificial intelligence stocks…
On Tuesday, June 13, we'll see if bad news will finally hit the market. The Consumer Price Index (CPI) arrives at 8:30 am. I don't advise that anyone drink wine the night before. The markets anticipate a 0.4% monthly increase on top of 4.1% annual headline inflation. Remember: INFLATION IS NOT FALLING. The rate of inflation is slowing down. Don't let incompetent politicians suggest otherwise. If we see a higher figure, expect the odds of a June rate hike to shoot higher, and take the market lower.
Wednesday, June 14 will be Judgment Day, as the Federal Reserve concludes its two-day meeting. The odds of no rate hike are 70% right now. Fed Chair Jerome Powell will speak at 2:30 PM… and the market will likely react sharply to his speech. Since I'm tired of the theater, I recommend you keep a closer eye on the Capital Market Day hosted by oil-giant Shell (SHEL). This global oil major will talk about how it plans to expand its profitability, the major trends in the oil markets, and its capital structure.
On Thursday… June 15 we'll hear from even more central banks. Could the Federal Reserve be the only central bank that doesn't hike in June? Last week, the Bank of Canada and the Bank of Australia surprised with rate hikes. On Thursday, the European Central Bank will likely hike rates by 25 basis points. Meanwhile, pay close attention to home improvement stocks like Lowe's (LOW) and Home Depot (HD) when we receive the May retail sales report. Consumer spending remains strong, but savings numbers are starting to dwindle. That could be a brutal in the next three months, heading into a crucial holiday season.
On Friday… June 16, a multitude of options will expire – June expiration day, also known as Triple Witching. We have the simultaneous expiration of stock options, stock index futures, and stock index options contracts. There could be some wild swings that day… but remember that all the brokers and the market makers have all the data ahead of time (order flow).
Answers to Your Questions… But First Coffee
I appreciate the feedback from yesterday's letter. A lot of questions I received centered on the tax structures of Switzerland, which are higher on a tax-to-GDP level. Great questions.
First, taxes are paid primarily to the cantons. Each canton has a different structure. Zurich is expensive, Zug is not. Bern is even lower. Taxes can be pre-negotiated (for the wealthiest), and the wealth tax (also negotiable) is very minimal. You need to declare your assets to the government. But what most people don't understand is that wealthy citizens don't do that. They can just keep artwork in someone else's name – maybe a lawyer across the border. Wealthy people are wealthy for a reason.
One other important distinction between Switzerland and the United States is that the U.S. tax rates are very high, but healthcare taxes around Medicare are really the only healthcare paid to government. If the U.S. had universal healthcare, tax liability would be much higher, budget-shattering, even.
There's a distinction here. In Switzerland, healthcare is a service (it's not "free"). In the U.S., it's a massive insurance racket, and government payments are completely unaccountable. There is roughly $100 billion a year in Medicare fraud in the United States – and that's just the stuff we can prove. If you really focus on the additional costs that are basically unaccountable, you're probably talking about a few hundred billion more.
America's healthcare system is not broken because of "profits" as some like to claim. You must go back to the source of where this started – an unaccountable system that involves grift and a lobbying apparatus happy to engage in "government rules," and a central banking system that has pumped walls of capital through "inflation targeting" over the last 30 years. Healthcare costs have exploded because the government incentivized that explosion.
As for me, Switzerland was great, and Baltimore was Baltimore, so it's wonderful to be back in the Tropics.
As you know, our business has changed. I'm kicking a lucrative adventure here into high gear with you at The Florida Republic. There will be a remarkable string of new projects, intensive research, uncommon investing ideas, shows and newsletters, and an institutional approach. More on that in a second.
Become an "ex-pat" in the Florida Republic.
Two Last Points About America
I can't help but notice a very odd trend. What is with the demand for tips for almost every consumer facing interaction?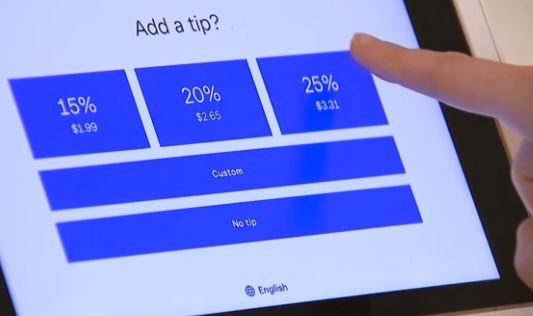 I went to an Orioles game on Friday. I ordered fries. The cashier spun a payment screen around and pointed, asking if I wanted to leave a tip. Later, I ordered a bottle of water, and a woman unscrewed it for me because there's a rule in the stadium. When I paid for it (at a kiosk with no cashier), it asked me if I wanted to leave a gratuity. For what? Was I was going crazy???
Why is this a thing? Is Toast (TOST)– the unprofitable tech name behind payment processing machines- driving this trend? Message to companies: Pay your people more. Don't guilt-trip me into it.
Finally, I want to leave you with this…
In the wake of changes to our business, and the expectations moving ahead, I don't have a problem with options trading. I gladly sell put spreads on stocks that I want to own, and I leverage momentum when capital starts to flow in and out of a market with cheap calls and puts. But I recognize that these are largely bets – built on the back of probability theory and luck.
As Tim Melvin told me today, rich people don't get rich by buying call options. He's right. They own companies with lower long-term capital gains taxes, take advantage of alternative tax-structured assets, and enjoy the benefits of pass-through income. They aren't taxed like the average American, who gets the bulk of his or her money from a job… that pays "income."
It works like this similarly in other places around the world.
I encourage you to learn and understand how our top investment ideas work. They will present you a chance to opt-out of the status quo and quickly build and keep more of your wealth.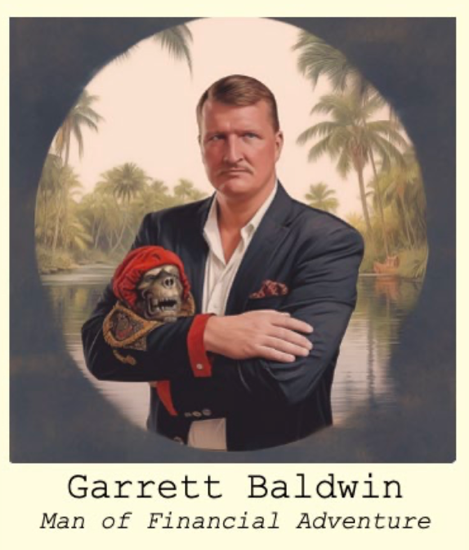 See you out there,
Garrett Baldwin
Florida Republic Capital (Available on Substack)
Here Are 10 "One-Click" Ways to Earn 10% or Better on Your Money Every Quarter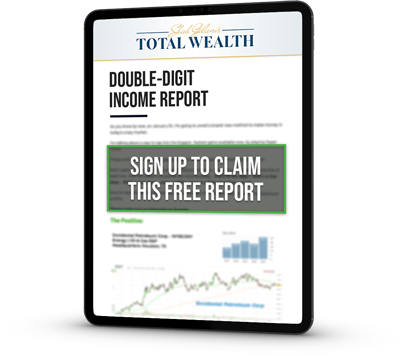 Appreciation is great, but it's possible to get even more out of the shares you own. A lot more: you can easily beat inflation and collect regular income to spare. There are no complicated trades to put on, no high-level options clearances necessary. In fact, you can do this with a couple of mouse clicks – passive income redefined. Click here for the report…
About the Author
Garrett Baldwin is a globally recognized research economist, financial writer, consultant, and political risk analyst with decades of trading experience and degrees in economics, cybersecurity, and business from Johns Hopkins, Purdue, Indiana University, and Northwestern.