postcards from the florida republic
An independent and profitable state of mind.
Despite my affinity for Switzerland, it took little time to find a new reason why I happily live in Florida with my back to the sea.
Yesterday, United Nations Secretary General António Guterres took to the podium. He addressed people sitting in chairs manufactured with chemicals derived from oil. He wore a handsome suit and expensive shoes, all which required petrochemicals at some point in their manufacture.
Guterres' listeners assembled in a building made of steel and concrete, hauled, and constructed with diesel fuel. Knowing Guterres, he likely arrived at the UN meeting in Bonn, Germany by private car.
And then… he called oil-and-gas producers "planet wreckers" as part of a classic UN climate rant. "The problem is not simply fossil fuel emissions. It's fossil fuels, period," he said.
Guterres forgets the modern global economy was built around the oil supply chain – not the other way around. He ignores that cheap energy can help bring people out of poverty and dramatically raise their living standards. This stuff powers entire nations' budgets.
No… he'll push to ban oil and keep emerging markets poor. I have no problem with industrial solar and wind power, but the green transition will take decades – not hours. But we still tilt at windmills like Don Quixote and fail to admit the benefits of our fuels.
There's another big problem leaders are overlooking, ignoring, or lying about…
This "Coordinated Global Effort" Looks Pretty Lonesome
Without Russia's participation, it will be impossible to reach the U.N.'s aggressive emissions targets. We need to increase the production of 14 different metals by factors ranging from 300% for copper to 1,600% for graphite.
We've never doubled production of any metal within 10 years.
What's more, we'll need A lot of diesel fuel to do all that mining.
So… we'll just continue to operate on a system of wood stoves that accelerate child health problems across Africa and Asia, where about 2.6 billion people cook with open fires and wood stoves.
We'll push for green policies that quietly keep armies of children yanking lithium and cobalt out of Congolese mines for slave wages - if they're lucky.
I'm not convinced for a second that the United Nations believes any of their goals are possible.
Guterres is the former head of Socialist International.
He arrived at the U.N. a few years ago.
He helped forge the utterly insane 2030 Agenda.
He oversees all the meetings where billionaires fly around the world in private jets and talk about spending your money and demanding you travel by bicycle…
His speech was in Bonn, Germany, which is fitting. While he rails against fossil fuels, Germany's manufacturing economy is collapsing. Major producers are picking up and leaving Germany, and indeed all of Western Europe, for places like China and the United States.
Why? Because both nations have cheap, affordable natural gas.
Of course, Guterres ignores the real elephant in the room…
Who will decide if the world does move to carbon neutrality?
The answer is billions of people in Africa and Asia who don't want to be poor anymore. They will decide the world's future.
Meanwhile, the U.S. is doing its job in emissions reduction, but no one talks about this.
While this man bloviates, remember the U.N. said in 2020 that the United States is slashing emissions at such a breakneck pace that we don't even need to be a part of the Paris Climate Accord.
Why are we still in this agreement, especially when we're the only nation that really seems to be cutting emissions sharply?
Largely so John Kerry can fly around and listen to himself talk… and because the U.N. needs all our money. It's all about money and the self-congratulations of people like Kerry and Guterres.
The U.S. pays 22% of the U.N.'s $3.12 billion budget and foots the bill for 27% of the U.N.'s peacekeeping efforts. All while our cities crumble.
I'd be happier if we just lit that money on fire. At least taking that money out of the economy would be deflationary…
The reality is that oil isn't going anywhere. These guys just need a boogeyman to distract from their own failings. They get to parade around and pretend that they are saving the world.
In Florida, banks still provide loans for beachfront properties despite Al Gore's forecasts that we'll be 20 feet underwater in 2050. And smarter investor like Warren Buffett continue to put capital into names like Occidental Petroleum (OXY).
An all-of-the-above approach to energy will be the trend of the decade. Yes, there will be more industrial solar coming online.
And that's no bad thing.
But transportation will largely require gasoline and diesel in the decades ahead. That's not my prediction - it's the long-term energy outlook of the Energy Information Administration.
Do yourself a favor. Don't look for investment advice from the United Nations. If they have their way, you'll have to walk everywhere, throw away your air conditioning, and eliminate private pools. In other words, the world for you WILL be a lot hotter than any of their dire predictions that never came true.
The Week Ahead – Mr. Powell Goes to Congress, Cardboard Boxes Go South
On Monday, the U.S. markets will be closed in observance of the Juneteenth federal holiday. I'll be working on my Q3 forecast.
On Tuesday, let's keep an eye on FedEx Corporation's (FDX) earnings. This will give us a deeper perspective on the state of the global economy. But keep in mind that FedEx is going through a massive reorganization. Its new CEO, Raj Subramaniam, is targeting billions in cost cuts. Shares are up 31% year to date.
One of the things that captured my attention last week was news that demand for cardboard boxes has cratered. This is a rather fascinating chart. Cardboard box demand is collapsing at the highest rate since the Great Financial Crisis.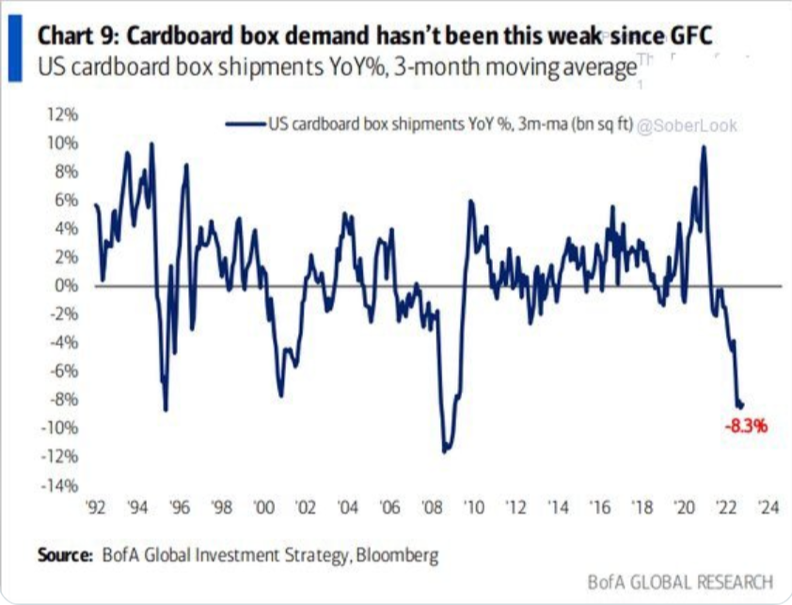 Cardboard box demand might seem to be a funny indicator to watch… but that sort of demand collapse tends to accompany recessions.
On Wednesday, Federal Reserve Chairman Jerome Powell will testify before Congress. It comes at 10 am, and it's one of those events that can sneakily hit the market hard. The good news for Powell is that most people in the House of Representatives have no background in economics. So, he'll have to explain to them the basics of inflation as if they were a group of school children or a summer camp of golden retrievers.
On Thursday, Powell will then testify before the Senate Financial Committee. This will likely be less contentious unless Sen. Elizabeth Warren (D-Mass.) decides to take over the hearing and lecture Powell about inflation. Political theater. Is everyone ready for the 2024 election?
Meanwhile, there will be a hearing analyzing the FTC's evidence to block Microsoft's proposed takeover of Activision Blizzard.
Finally, on Friday… I'll be trading live at 9:30 am and talking about the short-term momentum stocks. While that happens, I'm keeping a very close eye on CarMax (KMX), which reports earnings that morning. There are a few other stocks that have a very strong correlation to KMX's earnings moves: They are:
Group 1 Automotive (GPI) and Penske Automotive Group (PAG).
Ten Things I'd Prefer to Enduring the 2024 Election
As I noted, we're getting closer and closer to the 2024 Election season. I can't think of anything I'm less excited about…
To get situated on how much I dislike American politics, here are 10 Things I Look More Forward to than the 2024 election.
I know you're expecting me to take about pulling my hair out or doing something with my fingernails. But the reality is that it's the little things that drive me crazy… and this list is a full accounting of what I'd prefer to happen to me than tolerate the American political apparatus over the next 18 months.
1. Pulling my headphones out of my bag on an airplane only to realize one speaker has been crushed and rendered useless.
2. That feeling I get if I'm telling a story and suddenly realize that no one is listening.
3. Having to listen to my friend talk about how the price of gold has never been worth zero (you have that friend, right?).
4. Running out of medication during a painful arthritic flare…
5. Joining a new company in the future as a consultant, only to realize they do all their communication over Slack.
6. Working on my laptop only to have it install computer updates less than 20 minutes before a deadline.
7. Accidentally starting a conversation with a stranger who uses the word "like" constantly… a word I count as people talk…
8. Picking up my phone after my alarm goes off the next morning only to realize it wasn't plugged in and has just 6% battery.
9. Slamming my bare pinkie toe into a bedframe while trying to get the dog off the bed.
10. Leaving the house and getting two miles down the road, only to realize I forgot the ONE thing that I needed to bring.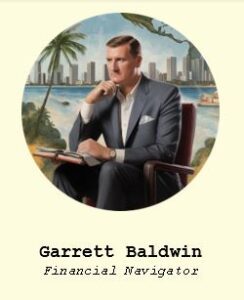 To your wealth,
Garrett Baldwin
Florida Republic Capital (Available on Substack)
Here Are 10 "One-Click" Ways to Earn 10% or Better on Your Money Every Quarter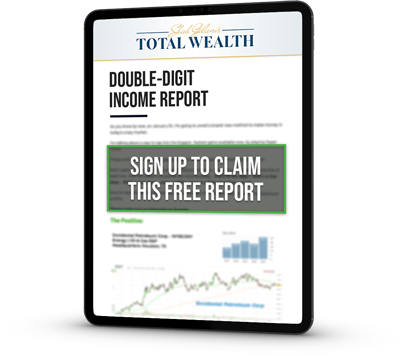 Appreciation is great, but it's possible to get even more out of the shares you own. A lot more: you can easily beat inflation and collect regular income to spare. There are no complicated trades to put on, no high-level options clearances necessary. In fact, you can do this with a couple of mouse clicks – passive income redefined. Click here for the report…
About the Author
Garrett Baldwin is a globally recognized research economist, financial writer, consultant, and political risk analyst with decades of trading experience and degrees in economics, cybersecurity, and business from Johns Hopkins, Purdue, Indiana University, and Northwestern.