Postcards from the florida republic
An independent and profitable state of mind.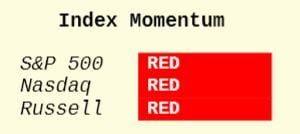 Momentum is completely red.
A global liquidity shakeup hit hard.
Energy stocks are the only bright spot right now, and the rotation into the sector (on the back of Saudi production cuts) has helped lift names like Exxon (XOM) and Occidental (OXY). I get cautious about energy whenever broad market momentum turns negative. Like June 8 last year, profit-taking can come fast.
Just saying… we've been talking about this for the last 14 days.
Tack on a Senate Finance Committee member betting against the Nasdaq 100 on July 13… and that big slump in global liquidity noted by Cross Border Capital… and I hope everyone hedged.
As I've noted, the problems are in the bond markets, not necessarily the recent bank downgrades. Questions abound about China's economy, the Treasury Department's challenge in getting someone to buy long-term debt, and Japan's Yield Curve Control.
Whatever happens, the end result will be the same.
We march to a time when the Fed will do what it always does.
It'll increase its balance sheet – down the road – above $10 trillion because that's how a Zombie economy – driven heavily by debt, refinancing, bailouts, and money printing – works.
Japan and China aren't going to buy U.S. bonds in abundance anymore. Americans don't have the savings to do so. So, that leaves the central bank. Give it time… it feels inevitable.
So, what can you do with your money?
Trade momentum, watch the actions of the central banks, invest for long-term commodity cycles, and watch insider buying moves.
It's time to look forward – to the week ahead. What's in store?
MONDAY, August 14 – The Day Financial Media Worships Hedge Funds
Let's first define the events this week… and redefine them in "Republic speak" so that you know what matters vs. what's noise.
Event: We'll see a round of 13F filings from hedge funds by the close of business. These filings show which stocks hedge funds bought roughly 45 days ago. That period aligns with a time after the March banking crisis and when China's central bank eased.
Republic Speak: We'll find out how much money wealthy hedge funds made after the Federal Reserve bailed out the banking sector – again – and then we'll watch retail traders and algorithms chase those returns – while other traders aligned with the funds gladly sell for a profit.
Expect to see a few banks on the 13D lists… and some Chinese names. CNBC will provide hours of coverage, wondering HOW ON EARTH these funds pick the bottom so well (hint: they buy after central bank ease policies, which helps prime risk assets.)
TUESDAY, August 15 – The Day We See How $%#$#! Consumers Are
Events:Home Depot (HD) earnings, July Retail Sales Report, Credit Card delinquency numbers
Republic Speak: The July retail sales report likely shows an uptick in spending at gasoline stations. Shout out to the Fed and Congress for pumping money into an economy overrun by inflation. On Home Depot, the housing shortage – and tight supply -- could be good news as it reports from the time of year that home projects are in full swing. The report can also offer us some clues into the health of Americans' pocketbooks…
Americans are more than $1 trillion in credit card debt, which will only climb. I'm not sure how people haven't realized that the U.S. has dramatically increased the money supply for 30 years – and that is what is driving inflation. It's not that the stores are charging more for the same product… it's that DOLLARS ARE LOSING ITS VALUE AT A BREAKNECK PACE.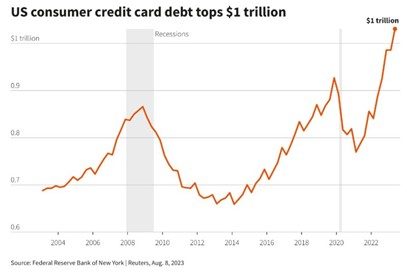 This chart seems very optimistic, doesn't it? So, one more time for the people in the back! "It's the money printing!"
WEDNESDAY, August 16 – The Day the Fed Proves Its Incompetence
Events: Target (TGT), Cisco (CSCO) Earnings; Fed Minutes Release
Republic Speak: Target's earnings come in the wake of another "boycott" controversy. Not my pig, not my problem.
With the Fed minutes, we'll seek changes in the language from the June minutes. Questions we need answered about our current economic state: Does the Fed now believe that we'll avoid a recession? Does Jerome Powell know what inflation is? Does the Fed know where inflation comes from? Did anyone on the voting committee go to school, or did they print their PhDs in Microsoft Paint the way people printed fake COVID passports?
We'll get ZERO of these answers.
THURSDAY, August 17 – The Day Retail Stocks Sink or Swim 
Event: Walmart (WMT) earnings
Republic Speak: On Thursday, we'll determine how much money Walmart made through this inflation crisis. It's the largest brick-and-mortar retailer and grocer in the U.S. And… of course… it's becoming a major hiring source for Baby Boomers, who can't even afford to shop at their stores on their fixed income. Again – THANKS, FEDERAL RESERVE AND CONGRESS FOR ALL THAT INFLATION.
Traders can look for Costco (COST), Best Buy (BBY), Macy's (M), Target (TGT), and Dollar General (DG) shares to trade in whatever direction WMT shares do. Watch the Retail SPDR ETF (XRT), as Thursday could be VERY busy regarding price swings.
FRIDAY, August 18 – The Day We Find Out if AI is For Real or Not
Events: Deere, Palo Alto earnings; Japan/South Korea Summit
Republic Speak: The frenzy of AI stocks in 2023 wasn't driven just by "AI fever." It was caused by a rampant expansion in global liquidity off the October 2022 lows, high social sentiment, bailouts, and technical momentum.
Oh, and don't forget that the Fed's rate hikes have blown a hole in Venture Capital – the primary source of future competition for the "Magnificent Seven" stocks. (And, of course, Amazon benefits from higher interest rates on its balance sheet).
We eye Deere earnings because it's an AI stock in a business that matters: The Future of Food. I don't think we'll hear "AI" on the call like an NVIDIA frenzy in the past, but AI is essential to the future of Deere's business, and it's about time that its multiples expanded to represent future growth.
That's all for today…
Stay positive,
Garrett Baldwin
About the Author
Garrett Baldwin is a globally recognized research economist, financial writer, consultant, and political risk analyst with decades of trading experience and degrees in economics, cybersecurity, and business from Johns Hopkins, Purdue, Indiana University, and Northwestern.