Your Advisors
D.R. Barton, Jr.
- Money Morning - Only the News You Can Profit From.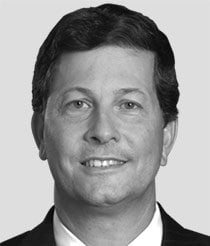 D.R. Barton, Jr.
D.R. is one of the most widely read financial coaches and is a world-renowned authority on technical trading with 30 years' experience.
After a highly successful career as a chemical engineer with DuPont, D.R. retired early to pursue his passion - showing investors how to build financial freedom.
Today he's a financial author, lecturer, coach and the founder of The 10-Minute Millionaire. He has helped hundreds of thousands master the powerful trading techniques that professionals use, like swing trading, options, and cutting-edge risk management. D.R. is also the co-founder and COO of the Directional Research and Trading Hedge Fund Group, and holds the national spotlight as a leading expert on system designs for risk reduction.
D.R. co-authored the New York Times and Wall Street Journal best-selling book "Safe Strategies for Financial Freedom," a comprehensive guide for aggressively shedding risk without derailing profits. He is a regular analyst on Fox Business, CNBC , Bloomberg Radio, and has been featured on China Central Television - America, BNN, MarketWatch, Financial Advisor magazine, SmartMoney, and the Van Tharp Institute.
He's spent decades honing his 10-Minute Millionaire service that shows regular investors how to profit just like pro technical traders. He scours the market to identify the nearly invisible, "extreme" stock trends that turn into fast gains, often in just a few days. This is a battle-tested technical trading program anyone can use to create big profit "paychecks" almost every month for just a few minutes of work. The best part is, it works in any market or stock movement - bull, bear, or sideways.
D.R. holds a B.S. in Chemical Engineering from Virginia Tech and an MBA from the University of Delaware. He earned his Professional Engineer's license in 1989.
D.R.'S LATEST HEADLINES
China Trade Deal

0

Saturday, October 5, 2019

How to Protect Yourself from the New "Economic Cold War"

Last Friday, a "flash crash" hit Chinese stocks trading on U.S. exchanges. China's $440 billion equivalent to Amazon, Alibaba, dropped 7% in just four minutes.

Those stocks tried to recover early in the week but are now back at the levels hit last Friday.

On the surface, it looked like a small market "blip," or hiccup. But the truth is, this was nothing less than a ferocious salvo of fire in a war, just as surely as if it'd been two destroyers at sea blasting away at each other.

It's a different kind of war, though – economic war.

And every investor needs to come to terms with it and learn the simple way to protect your stocks and trading positions against it...

Investing Ideas

Sunday, September 29, 2019

We Quickly Doubled Our Money on Bad News

trading strategies

Wednesday, August 28, 2019

How to Get on the Profitable Side of All This Volatility

Bonds

Thursday, August 22, 2019

Here's a 9.1% Yield Plus Double-Digit Gains, Courtesy of the "Bond King"

Earnings

Tuesday, August 20, 2019

Here's the Sector That Will Affect Markets the Most This Week

Earnings

Tuesday, August 13, 2019

The Earnings Every Investor Should Watch This Week

trading strategies

Thursday, August 1, 2019

These Lines Can Tell You When to Jump in for Huge Profits

D.R. Barton Media

Tuesday, July 23, 2019

Here's What I'm Watching in the Stock Market Right Now

trading strategies

Wednesday, July 17, 2019

My Quant Buddy Used a 1957 Computer System to Show Me Market Action into 2020

Pot Stocks

Monday, June 24, 2019

These Charts Reveal the "Perfect Price" for These Big Pot Stocks
Click here to read more stories