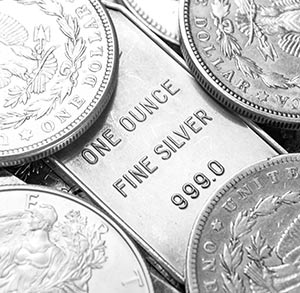 While many view silver as a safe-haven investment, the precious metal actually has far more applications. Silver is also an industrial metal used in almost every electronic appliance - from high-definition TVs to smartphones.
And that's just the start...
Because of all of those applications, we're bringing readers three silver ETFs that profit from silver's many uses.
You see, silver is not just used for tech products. It's also used in antibiotics, water purification systems, and even NASA spacecraft, according to Money Morning Director of Technology & Venture Capital Research Michael Robinson.
According to Robinson, the demand for silver in so many electronic products could help the price of silver rise 40% within the next six to nine months. This makes silver ETFs one of the smartest "tech" plays out there...
Before we get to our three silver ETFs to buy, let's talk more about silver's unique properties, and why it's used in so many electronics and devices...
Silver's Special Properties Make It a Must-Have Investment
Silver is far more than a store of value...
In fact, the world produces almost 22,000 metric tons of silver every year. And according to the U.S. Geological Survey, 35% of that - around 7,700 metric tons - is used in electronics. Just 25% is used for bullion and coins, according to Robinson.
"Silver has a special set of properties you won't find in other commodities," Robinson said on Dec. 16. "It's an excellent electrical and thermal conductor, it provides a durable and smooth coating for many tech components that can't have imperfections, and it has antimicrobial properties that help medical devices stay germ-free."
Other appliances that use silver include washing machines, refrigerators, air conditioners, air purifiers, and vacuum cleaners. Each of these appliances use silver's antimicrobial properties to sterilize up to 650 types of bacteria, according to Robinson.
And it's no surprise that engineers have been working with silver to apply it to even more appliances, according to Robinson. Even just using a thin layer of silver on devices can add conductivity or antimicrobial properties.
Don't Miss: Our Bold New 2017 Silver Price Prediction
"Every solar panel, storage device, tablet, smartphone, connected car, and HD TV that exists or ever will exist needs silver," Robinson said.
And many indicators show that silver's demand in electronics is increasing...
For example, the photovoltaic panel industry's demand for silver has surged 50% since 2012, according to consultants at Prismark Partners. What's more, touchscreen production, which heavily uses silver, is running at a 20% compound annual growth rate through 2017.
Silver ETFs are one of the cheapest ways to benefit from increasing demand in silver. That's because owning physical silver is not always realistic. Right now, silver prices are at $16.47 an ounce, and buying a pound will set investors back $256. Plus, there is the issue of storing pounds of silver.
The three silver ETFs we're about to show you are highly traded, with our top-traded pick boasting an average monthly volume of 179.2 million last year. What's more, these ETFs give you diversified exposure to both silver itself and silver mining companies.
Let's look at these three silver ETFs now...