This is a story we've been hearing a lot lately: The stock market is near fresh all-time highs, and the retail sector is at dismal lows. In fact, the sector's top exchange-traded fund, the SPDR S&P Retail ETF (NYSE Arca: XRT), is already down 2.2% year to date, and it's off nearly 11% from its 52-week high.
The "official" outlook is even bleaker. Some television pundits are predicting the "extinction of retail" in the not-too-distant future. JPMorgan Chase & Co., America's largest bank, is recommending its clients take a bearish approach to trading the sector – if they trade it at all.
The thing is, I agree. Retail is in terrible shape. It has largely failed to adapt to the changes that are now destroying it. And in a minute, I'll show you a creepy picture that proves it.
But there's a big difference here that matters to investors: I'm not willing to write off an entire sector – not when there's this much upside to be had from a few choice stocks.
These three companies chose to adapt to shifting consumer behavior before it was too late. They did better than that, in fact – they made the change in consumer habits work to their own advantage. And now their shares are actually set to outperform.
The more brick-and-mortar operations close, the more malls are abandoned, the better these companies will do.
The profit potential here is really remarkable, and it looks like Wall Street is scared to join us. So let's dive in…
Where to Profit Amidst the "Death" of Brick-and-Mortar Stores
Last Saturday, my wife and I decided to spend the day shopping in the Westfield Mall, which is a commercial property that handles several different retail outlets both within the United States and abroad. Understandably, people are shopping less now that the holidays are behind us… but I was really surprised at the lack of shoppers flocking to all of the clearance and store closure sales, like Macy's.
Actually, it almost felt like we were the only humans in the mall and reminded me of one of those "The Walking Dead" episodes. It was so empty, I had to snap a photo of it to show you…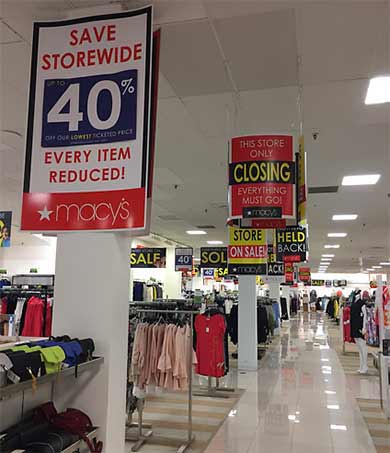 Pretty grim, huh?
Now, I'm not a retail shopper. I went cyber long before it was cool to shop online. In fact, the only reason I go to the mall is to visit the Apple store or the Tesla dealership that sits across from it. I spend 99.9% of my time shopping from the same terminal I'm writing from: my computer. But there's no denying that malls are becoming more like sanctuaries from the hot summers and cold winters or recreation parks. In a lot of malls, there are even signs now that tell you how far you've walked.
And therein lies the problem when it comes to the retail sector…
"Anchor stores" are the big retailers that used to pull in the big business for malls.…
Join the conversation. Click here to jump to comments…
About the Author
Tom Gentile is one of the world's foremost authorities on stock, futures and options trading.
With more than 25 years' experience trading stocks, futures, and options, Tom's style of trading systems and strategies are designed to help individual investors propel themselves past 99 percent of the trading crowd.