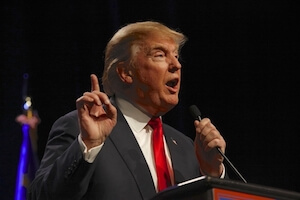 Investors are wondering if there could be a global stock market crash after Donald Trump won the 2016 presidential election.
That's because global markets around the world are extremely volatile this morning (Wednesday).
The Dow, S&P 500, and Nasdaq were all down sharply in overnight and pre-market trading. The Dow lost as much as 800 points in overnight trading and 223 points in pre-market trading following Trump's surprise victory in the U.S. presidential race. The S&P 500 declined 5% overnight.
But by the time Wall Street's opening bell rang, the three major benchmarks had significantly trimmed losses. Shortly before noon, all three benchmarks were up almost 1%.
Up Next: Get the Best Investing Research Today to Grow Your Money
Yet it was a different story overseas, as investors abroad fled stocks…
Will There Be a Global Stock Market Crash?
The Japanese market ended down 5.4% in Wednesday trading. The Hang Seng Index closed off 2.3%. Shanghai shed 0.6%. In midmorning trading, the London FTSE was off 0.1%, the German DAX was lower by 0.9%, and France's CAC lost 1%.
Those losses all prompted fears of a possible global stock market crash.
Among currencies, the Mexican peso was the biggest loser, down 8.6% against the U.S. dollar. South Africa's rand shed 1% against the dollar, and South Korea's won lost 1.1%.
Meanwhile, the greenback was off 1% against the Japanese yen at 104.15.
In commodities, oil prices were mixed.
Brent, the global crude benchmark, was up 0.4% in early trading today. However, WTI crude prices were down 0.2% at $44.89. Both were off earlier lows. Brent had fallen to a three-month low of $44.40 a barrel and WTI to a seven-week low of $43 a barrel.
Gold prices soared today after the Trump victory. Gold surged 2.2%, or $28.00, to $1,301.00 an ounce in early trading. Silver prices jumped 2.2%, or $0.39, at $18.75 an ounce.
And biotech stocks bounced, too. The iShares Nasdaq Biotech Index (Nasdaq: IBB) surged 10.02% to 287.38.
The election results could also end up having major implications for the next FOMC meeting.
Trump's win and the subsequent stock market volatility have left a December interest rate hike by the U.S. Federal Reserve in question. Market odds of a rate hike next month slipped to 71.5% from 76.3%, according to CME's FedWatch Tool.
Markets are expected to remain volatile into the end of the year and early 2017. As a result, investors will be on edge.
It's impossible to predict a stock market crash. They usually arrive swiftly and unexpectedly. That's why investors always need to protect their portfolio for any scenario.
That's why we have created a complete stock market crash protection guide for investors. With this guide, you can protect your money and even profit when the stock markets fall.
Follow us on Twitter @moneymorning and like us on Facebook.
Related Articles: