The price of silver is falling today (Tuesday, June 13), but Money Morning Resource Specialist Peter Krauth has good news: Silver prices could start climbing after the June 14 FOMC meeting if the Federal Reserve raises rates.
"I think the next expected rate hike after the FOMC meeting could well be the impetus triggering silver prices to run higher," Krauth said yesterday.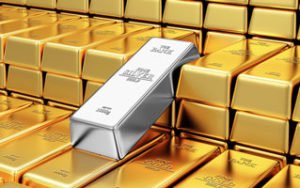 In his bold 2017 silver price prediction, Krauth projects silver prices will climb to $22 per ounce by the end of the year.
From today's silver price of $16.81, that's a potential double-digit gain of 30.87%.
Now, it's true silver prices have pulled back over the last week. On June 7, silver prices closed at $17.56 per ounce. On June 9, silver opened at $17.23 and closed at $17.17.
That's a loss of 2.2% in just two days. Those losses have continued, and silver prices are now down 4.27% since June 7.
"Despite this losing streak, I'm confident silver is poised for a big rebound after the June FOMC meeting on Tuesday and Wednesday. Although higher interest rates tend to boost the dollar, they have actually been bullish for the silver price if you examine the metal's behavior around the last two rate increases," Krauth said.
Urgent: A door has opened for an ultra-rare but powerful anomaly in the stock market… It involves a precious metal, one that's considered exceedingly more rare than gold. Get all the details.
Before the Fed raised rates in March 2017, silver prices closed at $16.95 an ounce on March 13. When rates were raised on March 15, silver prices closed at $17.42. That's a 2.7% jump in just two days.
And because CME Group's FedWatch Tool has a 99.6% chance that rates are raised on June 14, this fits right into Krauth's bold prediction of $22 silver prices by the end of 2017.
Here's why…
Why the Price of Silver Will Rally to $22 by the End of 2017