Warren Buffett's Berkshire Hathaway Energy - a portfolio worth $85 billion that includes renewable energy companies - just made a huge bet on "Big Data."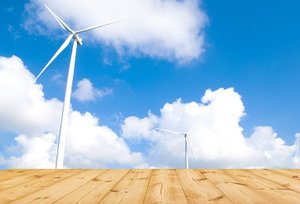 In March, BHE announced that two of its subsidiary companies (though not parent company BHE itself) would partner with the young Chicago-based software startup Uptake Technologies to track their wind turbines.
In fact, the startup is so new that Buffett's Berkshire Hathaway is Uptake's very first publicly announced customer.
So what does Buffett see in this little-known "unicorn" startup? And more importantly, how could you profit from the same technology? Let's take a look...
Uptake Technologies: Turning Data into Action
Uptake is a data analytics startup that provides solutions to companies that can benefit from Big Data solutions. For example, Caterpillar Inc. (NYSE: CAT) uses Uptake to monitor and improve roughly 3 million pieces of Caterpillar equipment in the field. The platform collects data from machinery then analyzes it and alerts owners to potential malfunctions before they occur. Some experts refer to this concept as "predictive analytics."
"By 2020, the market for predictive analytics is expected to reach $3.6 billion."
Predictive analytics is just the next iteration of the Internet of Things (IoT) - what we've long called one of the largest trends now and into the future.
"The IoT market is experiencing explosive growth. It's expected to top 50.1 billion connected devices by 2020 and $14.4 trillion in sales by 2022," according to Money Morning Director of Technology & Venture Capital Research Michael A. Robinson in March 2016.
As the market explodes, companies are finding it more and more difficult to differentiate.
Special Report: Cannabis Is the Gold Rush of the 21st Century - 30 Stocks to Invest in Now
And that's where Uptake excels. The company supplies instant, customized information to the customer - a service Buffett views as highly valuable.
In fact, the platform refines the insights it delivers over time as it compares its recommendations offered against what actions technicians in the field performed. Essentially, the platform is self-correcting.
"The goal of insight platforms in industry is to increase uptime and increase safety. You're trying to increase productivity and reliability," Uptake CEO Brad Keywell said on May 16. "So you subscribe to the Uptake platform, and what you get ... presents to you analytic insights specific to the issues in your industry."
Predictive analytics is a lucrative, growing field. According to CNBC, by 2020, the market for predictive analytics is expected to reach $3.6 billion.
But Uptake isn't a public company. And average investors typically can't invest in startups with ease -- there are legal limits on how much can be invested by individuals.
However, there's a publicly traded company that uses the exact same Big Data technology that Warren Buffett loves about Uptake. In fact, it's currently dominating the IoT industry -- and it delivers the kind of uncapped value to investors that a startup like Uptake simply can't offer...
Uptake Is a Great Company, but We Like This One Better
You see, Uptake is competing in a crowded market with a number of big players. And some of these big players already have huge deals with the energy industry...
That brings us to General Electric Co. (NYSE: GE). The 125-year-old American mainstay signed a deal with Exelon Corp. (NYSE: EXC) last fall for the energy utility to use its own predictive analytics software, fittingly dubbed "Predix."
And because GE is so large and has its very own analytics division, it can sell not only products, but also subsequent services.
For example, GE can sell you a jet engine. That's great. But it can also sell you the maintenance for that engine. And based off the data collected by Predix, GE knows exactly when to contact you when something's about to go wrong.
And that's exactly why Money Morning Executive Editor - and champion stock picker - Bill Patalon is recommending GE to readers today.
GE offers the Uptake tech that attracted Buffett, but it also offers:
A 3.45% dividend yield, higher than the average 1.68% of competitors
A payout ratio of 21.42%, which is a good indicator that GE has the ability to raise its dividend
5% stock growth over the past five years
Bill's been following GE for more than two decades. Check out the video below, where he speaks to the amazing profit potential he sees in GE's new tech developments and shares how to use his "accumulate strategy" to maximize your return on GE stock today:
Video
Stock Talks with Bill Patalon: Why I Love GE
Editor's Note: One of the fastest-growing tech investment segments is... cannabis? Yes, you read that right. A high-tech approach to cultivating this ancient plant - that's already legal to use in more than half of 50 states - is generating a multibillion-dollar investment opportunity for early investors. Click here to find out more, including how you can get your copy of Michael Robinson's Roadmap to Marijuana Millions. Packed with more than 30 great companies to buy, it's fast becoming "the weed investor's bible." Check it out...
Follow Money Morning on Twitter @moneymorning, Facebook, and LinkedIn.
Up Next for You...
These Next Nine Minutes Will Be the Most Profitable of Your Week
Warren Buffett: Simple Retirement Advice in 5 Quotes
Warren Buffett Just Issued This Warning About the Economics Behind U.S. Healthcare