Gold prices have continued their record-breaking climb, and are showing no signs of stopping.
Industry analysts and bankers met at the London Bullion Market Association conference in Berlin last week - the biggest gold industry gathering - and predicted gold would hit $1,450 an ounce next year, a 12.5% climb from its current price of around $1,300. The LBMA's predictions have a strong track record, and in recent years often fall just shy of actual prices.
Gold is up almost 20% this year, and having this week topped $1,340 an ounce.
"The $1,300 was the line in the sand between bulls and bears," said Adam Klopfenstein, a senior market strategist with Lind-Waldock in Chicago.

By now, practically everyone has hopped on the gold train - and more evidence for price climbs hits the news daily.
With lack of confidence in government's monetary policies, and a pessimistic tone from the U.S. Federal Reserve, gold continues to offer safety few other investments can.
"The most recent actions of several central banks have added fuel to fears regarding a depreciation race among global currencies," analysts at Commerzbank AG (PINK: CRZBY) said in a note to clients. "These fears should boost the gold price in the long run."
Now governments have stopped unloading their gold reserves. After decades of central banks selling gold bars, they could become net buyers for the first time since 1988. The behavior shift - called by some experts as a 'game changer" - has further encouraged individual investors' purchases of bullion, while also reducing the large supply of gold from the market.
And this new buying trend could even accelerate.
The proportion of bullion as a percentage of official reserves in the BRIC economies - Brazil, Russia, India and China - averages 5%, while it's more than 50% in the United States and Europe. Developing countries are likely to increase those reserves in coming months.
Also, Chinese investors will have an easier time satisfying their appetite for gold.
A decision by the People's Bank of China in August to ease restrictions for importing gold means there will likely be more gold bought on the global market.
"Going forward, with these measures, access will be much easier for investors who want it," said the World Gold Council's Far East managing director Albert Cheng. "In the next few years, you will see the real gold demand for China."
Money Morning analysts for months have been predicting the gold price surge that investors shouldn't miss.
Contributing Editor Peter Krauth predicted that gold's long-term price will hit $5,000 an ounce in a few years, and reach $1,500 next year.
This prompted last week's installment of the Money Morning "Question of the Week": Could gold prices realistically hit as high as $5,000? If not, how high are prices likely to go - where do you see this trend heading? How have you profited from the record-breaking price climbs - what's your gold investment of choice? Do you see any reason for a slow down?
Readers are split on how high gold will go, with some reluctant to bet on a continued rise, as expressed in the following responses.
Preparing for $5,000 - and Higher
It is possible that gold could hit $5,000, but my real concern is what a dollar will be worth if that should happen. If gold hits $5,000, but a dollar at that time is only worth 25 cents today, then gold will just be maintaining its value, which is a rational expectation, and I will hold onto my gold.
On the other hand, it is possible that a gold mania could hit (it hasn't yet, in my opinion), even without inflation, and who knows how high prices might go in that case. There are a lot of dollars available to chase a very limited supply. If such a mania does hit, I hope I am smart enough to get out somewhere near the top, as I don't believe that a long-term price of $5,000 is justified at today's dollar value. For sure, if gold hits $5,000 in a non-inflationary environment, I will look to liquidate 10-20% of my holdings, just to lock in profits, and another 20-40% if it hits $10,000. (Now if I can just remember my resolve when we are all caught up in a mania.)
- Gordon F.
Gold to Go Higher - Much to Australia's Delight
I believe the price of gold will continue to gain strength. It is hard to estimate how far the price of gold will go this year, maybe $1400-$1500 by year's end. But I am also aware that producers are starting to hang on to this precious metal to take advantage of higher prices.
In Australia, where an abundance of gold has been produced in the past 200 years, the latest equipment and technology is being put into action by mining companies to discover more veins of this precious metal.
Newcrest Mining Ltd. (which bought Lihir Gold Ltd. (Nasdaq ADR: LHR) in August) has one of the smartest Chief Executives - Ian Smith - in the mining world, and had the vision to buy out of their hedge book and this company has not looked back. Now they sell their gold at spot price to the market.
- Jarvis P.
Too Much of a Good Thing is Dangerous?
I hope not - I'm totally into gold but at $5000, I will need personal protection (armored cars and guns) as protection from all those who are starving "have-nots".
- Henry N.
Nothing Lasts Forever
I believe that what goes up will come down, it's happened before and it will happen again. Just don't expect to be able to ride the bike forever - you will fall off.
There are too many buyers and not enough sellers to meet the demand, as well as no new major finds. Unless of course someone finds the "Holy Grail" of extraction from seawater.
Alternative energy and property, the latter is a dirty word now but watch it unfold much sooner than expected.
- "gordan finch"
Majority Won't Rule
Like betting on football, when majority likes a favorite-bet the other way! So now is time to sell to majority who want to buy gold!
- John S.
$5,000 In Three Years
It's the color of gold that attracts investors to overlook that gold and silver are used daily in the production of an array of products. The bullion part is the real fun and a glimmer of hope. I believe that $4,000 to $5,000 gold is obtainable within three years, but expect some wild swings. I also see $1450 before Jan 5, 2011
- J.Gray
Any Doubters?
My (few) silver coins in the United States gained $575.00 in one month. In Australia (resident here) my stack only managed one third of that value increase proportionately, so it's the U.S. dollar going south with the speed of le Train Grande Vitesse.
My real question is which U.S. banks will be around to take in the new money now being printed? And will it be one for two, or one for three printed?
Gold at $5,000 - any doubters?
- GMB
More Gold Climbing Ahead
When the investment world discovers 1) the staggering number of new members of the upper middle class each year in China and India and 2) the fact that those guys running Washington are not Banana Republicans (as we had thought) but Weimar Republicans, gold will have one hell of a run - maybe not to $5,000 but almost certainly to half that.
- Bob C.
[Editor's Note: Thanks to all who responded to last week's "Question of the Week" feature regarding the price of gold. Be sure to answer next week's question: Are you ready for a global currency war that could drop the U.S. dollar to new lows? How have you prepared for currency changes that could affect your investments as well as your consumer habits? Do you fear the outcome of the "race to the bottom," or welcome a weaker currency that could boost U.S. exports and strengthen economic recovery?
Send your answers to mailbag@moneymappress.com.!
Is there a topic you want to see covered as a "Question of the Week" feature? Then let us know by e-mailing Money Morning at mailbag@moneymappress.com. Make sure to reference "question of the week suggestion" in the subject line. We reserve the right to edit responses for length, grammar and clarity.
Thanks to everyone who took the time to participate - via e-mail or by posting their comments directly on the Money Morning Web site.]
News and Related Story Links:
Here Are 10 "One-Click" Ways to Earn 10% or Better on Your Money Every Quarter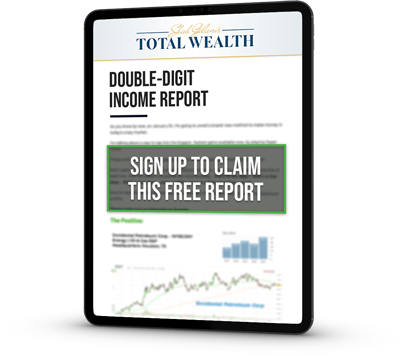 Appreciation is great, but it's possible to get even more out of the shares you own. A lot more: you can easily beat inflation and collect regular income to spare. There are no complicated trades to put on, no high-level options clearances necessary. In fact, you can do this with a couple of mouse clicks – passive income redefined. Click here for the report…