The Dow Jones Industrial Average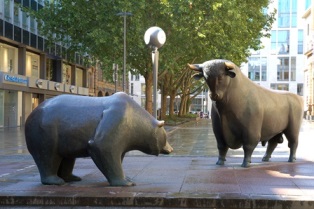 today jumped as U.S. Federal Reserve Chair Janet Yellen offered a positive outlook for the U.S. economy during her congressional testimony this morning.
Here are the closing numbers:
DOW: 16,551.23; +0.2%
S&P 500: 1,875.66; -0.1%
NASDAQ: 4,051.50; -0.4%
Now check out the top 10 stories from today's trading session:
A Long Process Ahead: According to Fed Chair Janet Yellen, the central bank could take five to eight years to unwind the $4.5 trillion in assets it has built up over the last seven years. The Federal Reserve doesn't appear to have a plan in place either, and Yellen's testimony provided no suggestion that the central bank was in a rush to decide how to handle its balance sheet. Since 2007, the Fed has added nearly $3.7 trillion in assets. The Fed might not have a plan, but you can: A Map to Turn Fear into Profit
Follow the Money: The Federal Election Commission (FEC) unanimously approved Bitcoins for political donations. The FEC is the most recent federal agency to provide guidance on BitCoin. The IRS recently announced it could tax the electronic currency as property and not as currency. And that's not the only big news. As our tech investing expert Michael Robinson explains, Bitcoin is about to receive institutional support thanks to a recent announcement. And it's sure to be a profitable opportunity.
Sunny Days Ahead: Shares of SolarCity Corp. (Nasdaq: SCTY) popped nearly 20% today after it announced a new record for quarterly projects. According to the company, SolarCity booked business with 17,000 new customers last quarter. The Tesla-backed (Nasdaq: TSLA) company has an aggressive strategy to capture more than 1 million customers by mid-2018.
More Easing on Tap: Eurozone government bond yields slid to new lows after Mario Draghi announced that the European Central Bank may announce future monetary easing in the next month. Investors have been waiting several months for any indication that the ECB would act to address a rising euro and declining inflation.
Bank Jobs on Chopping Block: One of Europe's leading banks says it's going to slash jobs in its investment operations. Barclays PLC (NYSE ADR: BCS) CEO Antony Jenkins said the bank plans to slash 19,000 jobs by 2016. This reduction includes 7,000 employees - or one-fourth - of its investment banking division. The company is also attempting to sell its uncompetitive retail banking units in France, Spain, and Italy.
Sunday Mail: Customers in 15 cities will now be able to receive deliveries from Amazon.com Inc. (Nasdaq: AMZN) on Sunday, according to company reports. Launched in New York and Los Angeles back in November, the program will now include larger metropolitan areas including Austin, Cincinnati, Dallas, New Orleans, and Philadelphia.
A Slight Pullback: The top-performing stock in the S&P 500 today was Keurig Green Mountain Inc. (Nasdaq: GMCR), up more than 12.5%. The coffee company reported strong quarterly earnings and announced a strategic partnership with J.M. Smucker Co. (NYSE: SJM) to produce and sell Smucker coffee brands.
This One Factor Will Isolate Huge Winners... Quickly: If you're a do-it-yourself type of investor, you might be overwhelmed trying to make heads or tails of all the information at your disposal. But let's take a moment to demystify how to use a stock screen - and then we'll finish up with a "cherry on the top." It's an additional input that will take you quickly to tremendous gains...
The Emerging Market Game Changer Is Here: Many observers thought the BRICS nations would encounter too many obstacles to collaborate effectively in creating an institution to take on the IMF. But after announcing such plans just over a year ago, the next BRICS summit in July is likely to see the official launch of these institutions. The implications are huge for investors...
About the Author
Garrett Baldwin is a globally recognized research economist, financial writer, consultant, and political risk analyst with decades of trading experience and degrees in economics, cybersecurity, and business from Johns Hopkins, Purdue, Indiana University, and Northwestern.