When Apple Inc. (Nasdaq: AAPL) reports its June quarter earnings after the market close Tuesday (tomorrow), the tech giant faces some steep expectations.
After all, one of the big reasons Apple stock is up more than 17% on the year – and an impressive 32% since hitting a 2014 low of $71.40 on Jan. 30 – is the surprising Apple earnings beat in the March quarter.
AAPL stock was hovering just above $94 in mid-day trading today (Monday).
The AAPL earnings beat last time around was driven primarily by unexpectedly strong iPhone sales – which Wall Street loves because Apple derives more than half its revenue and profits from the iPhone.
For the June quarter (Apple's third quarter), Wall Street will want to see if the iPhone numbers can hold up through another quarter, particularly amid increasing rumors of the iPhone 6, which is expected to have a larger screen that could be nearly indestructible.
According to FactSet, Wall Street is looking for Apple to earn $1.23 a share on revenue of $37.98 billion. AAPL's top line was $35.3 billion in the same quarter last year.
And the Street expects 35 million to 36 million iPhones sold, which would be a 14% increase year over year but an 18% drop from the previous quarter.
Historically iPhone sales slide as more and more customers opt to wait for the next iteration, but several of the factors that led to higher iPhone sales last quarter could have carried through to the June quarter.
Apple Earnings: How iPhone Sales Could Beat Expectations
For instance, one huge factor last quarter was Apple's relatively new relationship with telecom giant China Mobile, which has 785 million customers. That deal, which launched in January, coincided with China Mobile's rollout of its 4G network.
Apple has lost overall market share in China to phones based on Google Inc.'s (Nasdaq: GOOG, GOOGL) Android operating system, but it still dominates the high end of the market. According to research firm Trefis, about 80% of the smartphones in the $500-plus price range sold in China are iPhones.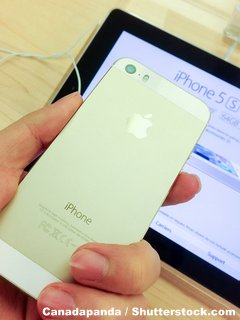 And now that China Mobile's 4G network is ramping up, so is the iPhone's potential. China Mobile's 4G subscriber base grew from 4.8 million in April to 8.1 million in May.
And China Mobile was only one of 51 new carrier relationships Apple has established over the past year – all of which would have helped feed iPhone sales in the June quarter.
That may be why Morgan Stanley analyst Katy Huberty is projecting sales of 39 million iPhones, which would be a 25% year-over-year increase and enough to push iPhone sales significantly higher than analyst expectations.
It would mean an Apple beat on all three of the numbers analysts are most closely watching – revenue, earnings per share, and total iPhone units sold. And that will get AAPL stock at least to its recent high of about $97.
But while the iPhone matters most to Apple's earnings, it's not the only thing analysts will be looking at on Tuesday…