The S&P/Case-Shiller Home Price Index, the premier indicator tracking price changes in residential real estate, released new data today (Tuesday) revealing a widespread slowdown in the value of single family homes for June.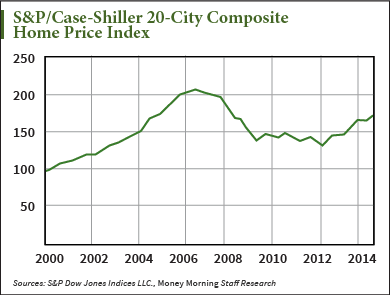 And while that may be discomforting news on its own, it goes without mentioning the sinister forces brewing beneath this so-called housing "recovery."
The Case-Shiller composite tracks monthly changes in the value of single family homes and calculates a weighted benchmark figure indexed to January 2000. The most recent data, an aggregate of home prices sampled from 20 metropolitan areas, revealed that in June, home prices rose only 1%, compared to a 1.2% gain the month before, and compared to June 2013's 2.2% gain.
Additionally, the U.S. National Index, which tracks single family home values in U.S. Census divisions, was up only 0.9% compared to 1.1% the month before.
These numbers represent an unwelcome deceleration in this already middling recovery. The 20-city composite also saw a dip in its year-over-year increases, gaining 8.1% compared to last year's 12.1%.
This stagnation in the real estate market is also coming at an inopportune time.
While the U.S. Federal Reserve has for almost six years pursued accommodative monetary policy and worked to put downward pressure on long-term interest rates, American homebuyers haven't been moving into single family homes in volumes that would help bolster a more substantial recovery.
And with the Fed slated to turn off the easy money spigot, expected to end its almost two-year quantitative easing program in October, rates are likely to take off sooner rather than later.
"Bargain basement mortgage rates won't continue forever; recent improvements in the labor markets and comments from Fed chair Janet Yellen and others hint that interest rates could rise as soon as the first quarter of 2015," David Blitzer, chairman of the Index Committee at S&P Dow Jones Indexes said in a press release. "Rising mortgage rates won't send housing into a tailspin, but will further dampen price gains."
These developments out of the housing market shouldn't come as a surprise, and while these new Case-Shiller figures are disappointing, the housing activity underlying this data is even more unsettling...