Stocks to watch the week of Nov. 3, 2014: Of the nearly 350 components in the S&P 500 Index that have reported Q3 earnings, better than three out of four (76%) have topped estimates.
That puts Q3 2014 on pace for the third best quarter in the last three decades, according to Thomson Reuters. Q3 2009 sports the best beat rate with 79% trumping estimates, while Q1 2010 is second with a 78% beat rate.
This week brings numbers from some 150 S&P 500 Index members. Following are a few key stocks to watch as they report earnings this week.
Hot Stocks to Watch Now
 Hot Stocks to Watch No. 1: Herbalife Ltd. (NYSE: HLF) reports Q3 results after Monday's closing bell. Analysts expect earnings per share (EPS) of $1.51. Whisper numbers are for EPS of $1.52. The Federal Trade Commission (FTC) has been investigating since March whether the nutritional supplement outfit operated as an illegal "pyramid scheme."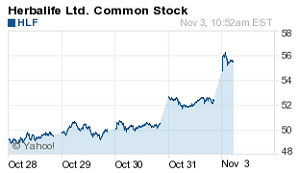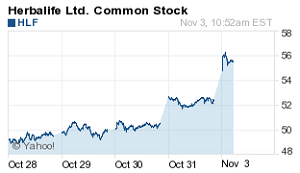 The question is whether its sales were largely derived from attracting people to distribute its product, rather than actual sales to customers. The FTC action followed claims by famed activist investor and short seller Bill Ackman, who says the company's business model violates a host of federal and state laws, and that the government should shut down Herbalife. Of interest to shareholders, as well as earnings and revenue numbers, will be how many new recruits HLF signed on and the size of its network distributors - which has been stalling. Shares are down a punishing 35% year to date. Get the full HLF story here - it's one of the most scandalous on Wall Street today.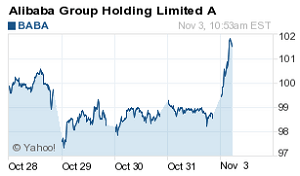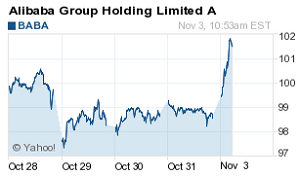 Hot Stocks to Watch No. 2: Alibaba Group Holding Inc. (NYSE: BABA) will release Q3 results before Tuesday's market open. Wall Street is looking for the Chinese e-commerce behemoth to post EPS of $0.47. Whisper numbers are for EPS of $0.57. BABA went public on Sept. 19 in the most highly anticipated initial public offering of the year. Shares surged 38% to just under $94 in its debut, making Alibaba the fourth most valuable technology company in the world behind only Apple Inc. (Nasdaq: AAPL), Microsoft Corp. (Nasdaq: MSFT), and Google Inc. (Nasdaq: GOOGL). Five of the six banks that acted as lead underwriters came out last week with "Buy" or "Overweight" ratings. However, short sellers are betting the stock will fall and have bulked positions ahead of the release, according to data from Astec Analytics. Short interest more than doubled to 17 million as of Oct. 28, up from 8 million at the end of September as shares hit an all-time high of $100.67 last week. Money Morning has detailed the long-term value of BABA stock - go here to get caught up.
Money Morning Members - keep reading. IF you're not signed up for Money Morning, go ahead and enter your email address for these stocks to watch plus all our content - it's free.