The price of oil has slipped consistently since June, dragging most oil stocks down with it.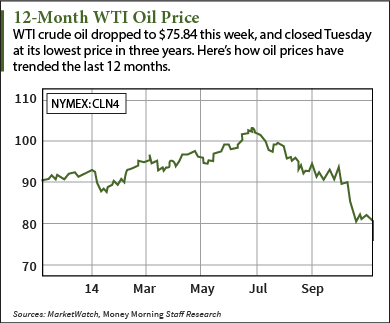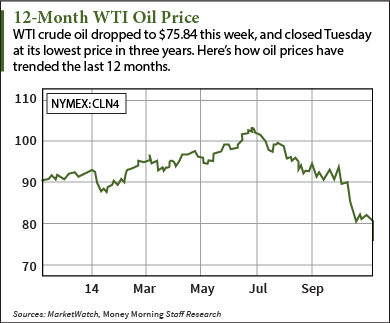 In June, West Texas Intermediate (WTI) hit a three-year high of $103.66 per barrel. By Tuesday, it closed at its lowest price in more than three years, at $77.19.
At one point during the day, it dipped as low as $75.84. That's a 27% drop in just over four months.
Brent crude prices are falling as well. The global benchmark dipped near $82 per barrel Tuesday - its lowest level in four years.
There are several reasons oil prices are down:
A global supply glut sparked by booming U.S. output, particularly in Texas and North Dakota.
A consistent drop in global demand since June.
Saudi officials' unwillingness to curb production. As the largest exporter in OPEC, Saudi Arabia is determined to maintain its global market share by cutting prices. The goal is to force the United States to cut production. We'll get an update on this strategy when OPEC meets on Nov. 27.
Crude oil prices will remain low as long as the United States and Saudi Arabia maintain their current production levels.
This week, Goldman Sachs (NYSE: GS) released one of the most bearish estimates for crude prices in 2015. They expect WTI at $75 per barrel and Brent at $80 in Q1.
That drop in the price of oil has crushed some oil stocks more than others. While certain parts of the industry will continue to struggle, others present great opportunities for investors right now.
Here's a look at how these different oil stocks will be affected...
Fracking Companies Feel the Heat
Some of the biggest losers from dropping oil prices are major oil frackers.
Money Morning's Global Energy Strategist Dr. Kent Moors, who has more than 35 years of experience in oil and gas policy, explained it like this:
"The projects that are now falling off are the unconventional (shale and tight oil), deep horizontally drilled, fracked wells that are more expensive to develop. And while these projects have the potential to produce large volumes, they cost millions to complete.
"Projects like these make perfect sense when oil prices are above $100 a barrel," continued Moors. "At those levels, economies of scale take over and improve profit margins. The higher production volumes offset the higher operating costs."
Take a look at the recent performances of these major fracking companies. Since June 26, Pioneer Natural Resources (NYSE: PXD), which operates in Texas' Eagle Ford Shale, has dropped 26%.
Meanwhile, the Dow Jones Industrial Average is up 3.4% and the S&P 500 is up 2.9% in that span.
PXD isn't alone. Continental Resources Inc. (NYSE: CLR) is down 32% since late August. Whiting Petroleum Corp. (NYSE: WLL) may be the biggest loser of all - down 37% since the beginning of September.
For an industry snapshot, take a look at the Market Vectors Unconventional Oil and Gas ETF (NYSE: FRAK). The ETF has 66 stock holdings, many of which are fracking companies. Since late June, it's down almost 25%.
While fracking stocks should be avoided right now, the following oil stocks have presented incredible entry points for investors...
Oil Field Service Companies Remain Viable
Even though the price of oil has dipped, U.S. oil production continues to boom.
In September, U.S. oil output reached 8.7 million barrels per day (bpd). That's the country's highest output total in 30 years.
And it could go even higher. The U.S. Energy Information Administration (EIA) expects that number to jump another 963,000 bpd in 2015, at its current pace.
And when production is booming, so are oil field services (OFS) companies.
Look back at the the California Gold Rush of 1849. At the time, miners ran into the mountains seeking riches. Most failed. But those who opened stores and sold the picks, shovels, and mining equipment ended up rich.
The same principle applies here.
Prices may be dropping, but production remains high and will remain high into 2015 according to EIA. That means drillers will continue relying heavily on oil field services companies.
That also means OFS companies will deliver for investors...
And with the oil price slump, major oil field services stocks are trading at seriously discounted prices. That's created an excellent buying opportunity on these undervalued stocks.
Some of the biggest names in this space include Schlumberger Ltd. (NYSE: SLB) and Halliburton Co. (NYSE: HAL).
It's likely that these stocks could pull back even further if the price of oil continues to drop. But that's okay. In fact, that's a good thing.
Money Morning's Chief Investment Strategist Keith Fitz-Gerald alerted investors to this energy stock opportunity Wednesday in a special column.
[epom key="ddec3ef33420ef7c9964a4695c349764" redirect="" sourceid="" imported="false"]
"Many great companies related to energy have gotten slammed in a classic "guilt by association" move," he said after oil prices got hit from the Saudi price cut.
"For millions of investors, this is a watershed moment," Fitz-Gerald continued. "They pay huge amounts of lip service to wanting a correction, yet now that it's happening, they are completely panicked. Many can't take their fingers off the sell button."
Instead, he advised looking for opportunity. And one oil field services stock in particular is going for a bargain. Go here to find out how to play it now.