Yahoo stock has slipped 3.1% this month, despite starting December with good news on its mobile ad efforts…
On Dec. 4, research firm eMarketer announced it expects Yahoo! Inc. (Nasdaq: YHOO) to soon overtake Twitter Inc. (NYSE: TWTR) in mobile ad market share. This should happen in 2015 and Yahoo will hold this spot in 2016.
Last year, Yahoo was an almost negligible player in the mobile ad market. This year, it actually entered the fray, capturing 3.2% of that market. This beats out Pandora Media Inc. (NYSE: P), YP.com, and Apple Inc. (Nasdaq: AAPL), which have 2014 market shares of 3%, 2.7%, and 2.6%, respectively.
In 2015, Twitter is projected to have 3.69% of the market share, while Yahoo will have 3.74%.
This report bodes well for Chief Executive Officer Marissa Mayer.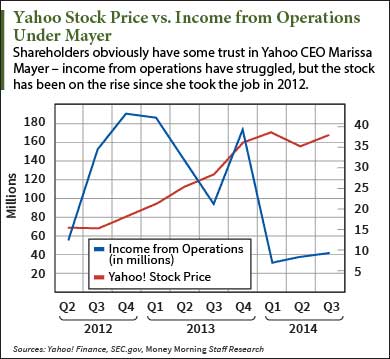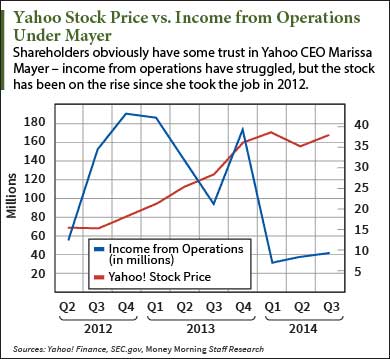 Improving the display ad business in mobile and video is among Mayer's key growth initiatives for Yahoo. It's part of her turnaround strategy for Yahoo's struggling core business – something she's been working on since she took up the lead role in 2012.
On Oct. 30, Mayer made a big move for mobile when she hired Lisa Utzschneider of Amazon.com Inc. (Nasdaq: AMZN). Utzschneider was AMZN's vice president of global advertising sales. At Yahoo, her new role is senior vice president of advertising technology and strategy.
Mayer also made a $640 million purchase on video ad platform Brightroll last month.
This is also good news for Yahoo shareholders. It means Mayer's strategy seems to be working, at least a little bit. This jump in mobile ad revenue signals that Yahoo is capable of orchestrating some semblance of a turnaround, no matter how small that may be.
And as the chart shows, shareholders have not bailed on Mayer, given that the stock has been on the rise since she stepped in despite a disappointing earnings picture.
The bad news is that Yahoo may have to settle for third place.