Bank earnings for Q4 will top headlines this week when the nation's five biggest institutions deliver reports.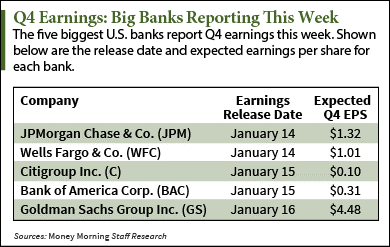 First up are JP Morgan Chase & Co. (NYSE: JPM) and Wells Fargo & Co. (NYSE: WFC) on Wednesday. Analysts expect earnings per share (EPS) of $1.32 and $1.01 respectively. That's down $0.08 and $0.01 year over year (YOY) respectively.
Next are Citigroup Inc. (NYSE: C) and Bank of America Corp. (NYSE: BAC) on Thursday. Wall Street looks for Citi to report EPS of $0.10. That's down sharply from $0.77 in the year-ago quarter. Analysts expect BofA to increase EPS by $0.02 YOY to $0.31.
Goldman Sachs Group Inc. (NYSE: GS) earnings come out Friday. Estimates are for EPS of $4.48, down from $4.60 the year before.
Profit forecasts for the finance sector have fallen overall since Q4's start. At present, analysts project a 1.7% slump in sector earnings for the October-December period. That's well below the 8% growth rate forecast at the end of September, says FactSet.
Five possible factors are behind this slump. Here's a look at what will weigh on Q4 bank earnings.
Five Factors Weighing on Big Bank Earnings for Q4
No. 1. Oil Prices: Plunging oil prices have put a damper on one of banks' most lucrative segments since the recession. With interest rates near zero for six years, U.S. banks have lent often to the nation's energy sector. In fact, robust activity from energy firms offset the slack from consumers and other companies reluctant to borrow. But crude prices are down some 60% since June. That's below levels needed for some energy companies to service their massive debts. This has slowed borrowing and lending but increased default risks. The energy banking boom is over, at least for now.
No. 2. The U.S. Dollar: The strong U.S. dollar is another potential headwind for bank earnings. A strong dollar hurts U.S. exporters. With more than 70% of the world's purchasing power located outside the United States, many American companies have become exporters in hopes of tapping that lucrative market. A stronger dollar likely forced many U.S. bank customers to pull back business expansions. Plus, many banks are also exposed to higher loan losses when overseas business is lost. Finally, a strong dollar puts pressure on the U.S. Federal Reserve to keep interest rates low. That pressures banks' net interest margins - the difference between what banks can charge on loans and earn on other investments.