Last week's second-quarter earnings report from Microsoft Corp. (Nasdaq: MSFT) disappointed Wall Street and plenty of other investors – and they punished the company by slashing MSFT stock by 10% in one day, on Jan. 27.
However, that just makes the Microsoft story – which I began two weeks ago – more interesting.
Investors overreacted to what was actually a pretty good earnings report – no surprise there. And Wall Streeters, who should know better, are missing a big part of the Microsoft story – this isn't the same complacent, one-trick Windows/Office-rooted enterprise it was not too long ago.
The tech giant has been quietly and steadily rebuilding, repositioning, and refocusing itself for success in a brand-new era through big investments – and rapidly increasing sales – in hot sectors like cloud computing.
To see why this is happening, we're going to take a look at how Microsoft exemplifies Rule No. 1 of my tech wealth-building system – "Great companies have great operations."
Thanks to its visionary new CEO, Microsoft is far from being a "weak" company – and MSFT stock is due for a pretty quick rebound.
Today I'll show you why that's true – and then I'll show you why we can expect even greater gains from there…
The New Guy at Microsoft (Nasdaq: MSFT)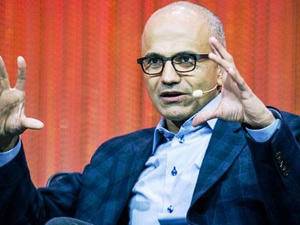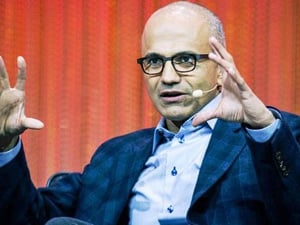 As he completes his first year as CEO, Satya Nadella has shown he has the right leadership skills to run the world's largest software firm.
It's hard to imagine that almost exactly a year ago Wall Street was hoping that Microsoft's board would turn to an outsider to replace Steve Ballmer.
Under Ballmer, Microsoft missed several big shifts in the tech landscape. Most notably, the firm basically was a no-show in the hyper-growth worlds of mobile and cloud computing.
Put that into a deeper perspective. When Ballmer took over from Bill Gates in January 2000, there was no iPod, iPhone, or iPad from Apple Inc. (Nasdaq: AAPL).
Amazon.com Inc. (Nasdaq: AMZN) mostly sold books and had not yet become the nation's dominant provider of cloud computing services. And Netflix Inc. (Nasdaq: NFLX) was just getting started – as a DVD rental firm – nothing close to the king of streaming online video it is today.
Google Inc. (Nasdaq: GOOG, GOOGL) was just getting started as well, and there was no Facebook Inc. (Nasdaq: FB) or social media.
As these new tech leaders rose to power and saw their stock prices climb, Microsoft was stuck in neutral – or worse.
In the 10 years before Nadella took the CEO reins, Microsoft's stock advanced just 33%. Compare that with a 56% return over the same period for the Standard & Poor's 500 Index – and a 93% gain in the tech-centric Nasdaq Composite Index.
No wonder many industry analysts clamored for new blood at the top – someone from outside the company. On Jan. 15, 2014, USA Today quoted IDC Analyst Al Hilwa as saying:
"There is an element of the selection process to do with perceptions. The company has to show that a new leadership is unconstrained in setting new directions. This is most convincingly done with an outsider."
While Microsoft didn't end up turning to an outsider, Nadella turned out to be the right executive at the right time.
Join the conversation. Click here to jump to comments…
About the Author
Michael A. Robinson is one of the top financial analysts working today. His book "Overdrawn: The Bailout of American Savings" was a prescient look at the anatomy of the nation's S&L crisis, long before the word "bailout" became part of our daily lexicon. He's a Pulitzer Prize-nominated writer and reporter, lauded by the Columbia Journalism Review for his aggressive style. His 30-year track record as a leading tech analyst has garnered him rave reviews, too. Today he is the editor of the monthly tech investing newsletter Nova-X Report as well as Radical Technology Profits, where he covers truly radical technologies – ones that have the power to sweep across the globe and change the very fabric of our lives – and profit opportunities they give rise to. He also explores "what's next" in the tech investing world at Strategic Tech Investor.