[Dr. Kent Moors sent this energy market update to his Oil & Energy Investor service readers on March 6. Find out below how to get same-day access to these updates.]
Greetings again from London!
The Annual Energy Consultation of the Windsor Energy Group is set to begin at Windsor Castle.
I'll be briefing some of the biggest, most influential players in the energy market on three of the most pressing issues of the day.
I discussed two of them last week - the massive shortfall in future infrastructure spending and the building wave of consolidation, especially among oil and gas producers.
Today, I'd like to address the most serious short-term concern of them all or what I call the 800-pound gorilla in the room.
This widening crisis will undoubtedly be the most important part of my Windsor briefing...
This Is a $210 Billion Ticking Time Bomb
As I touched on last week, driven by large volumes of high-risk energy debt, a dangerous squeeze is about to hit the energy markets.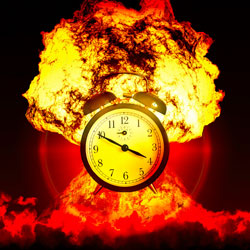 In fact, there are actually two very different problems here. The first is the energy component of national (or sovereign) debt. In the interest of time, I will not be discussing this facet of the problem at my Castle briefing.  However, it is the primary topic in several upcoming meetings since the initial consequences of this squeeze have already begun to unfold.
You see, despite the recent stabilization, the multi-month dive in crude oil prices has deeply depressed export revenues.
For countries whose central budgets are dependent upon cross-border oil sales, like Venezuela and Ecuador, this puts additional strain on already tight budgets. That severely hampers the ability of countries like these to service issued Eurobonds and other such debt.
With a devalued ruble and the growing difficulty state-controlled companies face in meeting forward currency insurance spreads, Russia is also getting hit.
These insurance spreads are set up to protect foreign partners from catastrophic loss due to a change in currency exchange rates. But with the ruble losing half of its value against the greenback over the past several months, these guarantees are landing hard on Russian companies. Even so, the Russian Central Bank does have ample hard currency reserves and there is little likelihood Moscow will default on any sovereign bonds, although it may suspend trade in currencies from time to time (as it did on the morning of March 5, 2015).
It's the second facet of the energy debt problem that I'll be addressing at Windsor...
Join the conversation. Click here to jump to comments…
About the Author
Dr. Kent Moors is an internationally recognized expert in oil and natural gas policy, risk assessment, and emerging market economic development. He serves as an advisor to many U.S. governors and foreign governments. Kent details his latest global travels in his free Oil & Energy Investor e-letter. He makes specific investment recommendations in his newsletter, the Energy Advantage. For more active investors, he issues shorter-term trades in his Energy Inner Circle.