CNBC's Kate Kelly asked me last January if I was worried about smaller players in the energy sector "just plain going out of business."
I replied that not only was I not afraid of the weaker players being swept away, I was counting on it.
As you might imagine, that raised more than a few eyebrows, considering oil had fallen by 51% from last summer's highs to only $52/barrel at the time, and investors couldn't hit the sell button fast enough.
But I had studied my history carefully and knew something everybody else didn't – the strong always survive.
That sounds cliché, but I'm bringing this up for a reason because this tiny nugget of information – this perspective, really – has helped turn ordinary people into millionaires for years. And it will again.
I want you to be among them.
Here's what everybody else is missing.
Setting the Record Straight on the Global Energy Outlook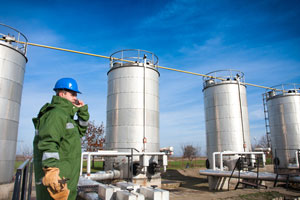 Many investors are traumatized by lower oil prices and understandably so. For years they've been fed a constant diet related to Peak Oil, higher prices, and fear at the pumps. I can't say I blame them. I read the headlines, too.
But here's the thing.
The energy crisis is reaching critical mass. As hard as it is to imagine, the low prices giving everybody else fits are a magnificent opportunity.
It's been six months since the Saudis fired the first shot in the current "oil pricing war" by unleashing 30 million barrels of oil a day on the markets. The glut caused traders worldwide to slash prices and made plenty of OPEC members unhappy.
Yet the Saudis continue to pump oil onto global markets anyway because their real target has always been the U.S. shale revolution and the threat it represents to their way of life.
You and I can debate the merits of what they're doing all day long. I think the Saudi government made an unbelievably stupid decision and completely miscalculated the outcome. You may think it's brilliant. I respect your view. Either way though, it's a moot point.
What matters is that the Saudis have deliberately created a short-term pricing disruption and, in doing so, have inadvertently created the best possible investment scenario for us.
Instead of sending U.S. oil producers packing like they planned, the Saudis have actually created an environment where the best managed, best capitalized energy companies are hunkering down, flushing out the weaker players, and emerging stronger than they were before.
Take Schlumberger Ltd. (NYSE: SLB), for example…
Join the conversation. Click here to jump to comments…
About the Author
Keith is a seasoned market analyst and professional trader with more than 37 years of global experience. He is one of very few experts to correctly see both the dot.bomb crisis and the ongoing financial crisis coming ahead of time - and one of even fewer to help millions of investors around the world successfully navigate them both. Forbes hailed him as a "Market Visionary." He is a regular on FOX Business News and Yahoo! Finance, and his observations have been featured in Bloomberg, The Wall Street Journal, WIRED, and MarketWatch. Keith previously led The Money Map Report, Money Map's flagship newsletter, as Chief Investment Strategist, from 20007 to 2020. Keith holds a BS in management and finance from Skidmore College and an MS in international finance (with a focus on Japanese business science) from Chaminade University. He regularly travels the world in search of investment opportunities others don't yet see or understand.