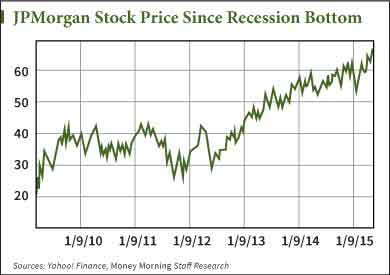 The JPMorgan Chase & Co. (NYSE: JPM) stock price seems to be breaking out.
Last week, the JPM stock price hit an all-time closing high of $67.01. It's up about 380% since the end of the Great Recession.
The story is similar for some of the other big players in financials, like Goldman Sachs Group Inc.  (NYSE: GS) and Wells Fargo & Co. (NYSE: WFC). They are up about 300% and 700%, respectively, since their recession bottoms.
"JPMorgan stock has broken out from its trading range and is doing well, as many of the big financials are," Money Morning Capital Wave Strategist Shah Gilani said.
Then he added, "So what?"
You see, what the current JPM stock price shows is that this big bank may well be on the last leg of this long rally.
We saw in the last week JPMorgan settle a lawsuit implicating the big bank - and five others - for manipulating the foreign exchange markets. The JPM stock price has done very little since then, primarily because litigation has proven to be business as usual for the big banks as opposed to a reason for panic.
"We all know the big banks are above the law," Gilani said. "They are convicted, they admit their guilt (sometimes), and no one goes to jail - they just pay more fines."
So, this combination of the JPM stock price breaking to new highs and the big bank swallowing yet another penalty with little pain for shareholders would seem to make JPM stock a buy.
But there are still risks. Now's not a good time to buy JPM stock.
"I'm not an investor in JPM stock because of the near-term future banks face," Gilani said. "With the prospect of an event that can upend financials in the not-too-distant future - my best estimate is it will start this fall - I wouldn't touch big banks just because they've broken out."
Here's what could end up hurting the JPM stock price as early as this year...
How Regulatory Gymnastics Could Hurt the JPMorgan Stock Price
There's an inherent risk when you buy any investment bank.