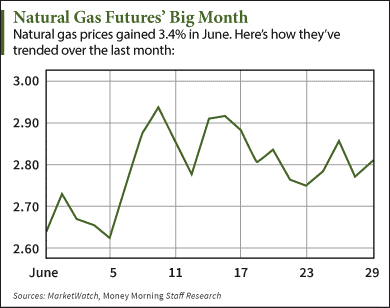 Natural gas futures today (Tuesday) traded higher after the release of a government weather forecast.
At 2:55 p.m., natural gas futures for August delivery were up 0.78% and trading at $2.83 per million British thermal units (BTUs). Natural gas prices have gained 2.9% in the last week and 5.6% in the last month.
Today's surge follows a midday weather forecast showing hotter-than-normal temperatures over the next two weeks. Hot weather in the summer increases demand for natural gas-powered electricity to run air conditioning units.
Natural gas futures had been declining over the last few days due to reports of excess supply. According to the Energy Information Administration (EIA), production hit a near-record pace of 72 billion cubic feet a day last week. Simmons & Co. International, an investment bank specializing in energy, expects the EIA to report even more production this week.
"The growth rate is slow but production keeps going - and there's so much gas in storage," said John Saucer, vice president of research and analysis at energy firm Mobius Risk Group, to The Wall Street Journal. "Without exceptional weather, it's really hard to get this thing going."
But Money Morning Global Energy Strategist Dr. Kent Moors believes one of the biggest financial meltdowns in years will keep strengthening the natural gas market and energy sector overall...
This Crisis Will Boost Investments in Natural Gas Futures
The outcome of the ongoing Greek debt crisis could have positive ramifications on natural gas futures and oil prices.
Greece's financial market is at a critical stage right now. The country must repay 1.62 billion euros ($1.8 billion) by the end of the day today or face default. The latter option is the likely outcome at this point and would lead to Greece exiting the Eurozone.
The global energy market stands to benefit from the default - but only if Greece simultaneously establishes a monetary policy in line with International Monetary Fund (IMF) guidelines. That would be in Greece's best interest since the sole purpose of the IMF is to ensure the financial stability of its 188 member countries.
If Greece aligns its default with the IMF, energy demand will increase because it will make more money available for energy projects around the world.
"This 'solution' will allow expanded attention to a wide range of energy initiatives," Moors noted. "Banking credit will now become more readily available for liquefied natural gas (LNG) terminals in Italy, Spain, the U.K., Poland, and the Baltics."
Last week, Moors outlined three distinct benefits of a Greek debt resolution that could boost all sectors of the energy market. Here's how you can profit from Greece's economic mess...
Don't miss any updates on natural gas futures - follow me on Twitter at @AlexMcGuire92.
Related Articles: