I bet you don't know about the connection between tech investing and that 1978 comedy classic "Animal House."
It has something to do with the very recent history of Apple Inc. (Nasdaq: AAPL) stock.
And for investors like you, there's a very powerful lesson to be learned.
Today I'll "whisper" that lesson to you.
And then I'll show you how you can use it to increase the value of your portfolio…
"A Little-Known Codicil"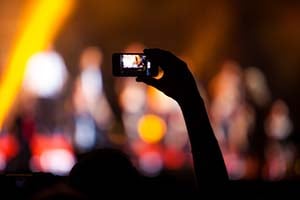 If you lost too many brain cells while watching this flick starring the late John Belushi, let me refresh your memory.
"Animal House" follows the hijinks of a group of misfit fraternity brothers constantly in trouble with their college.
In one of the film's more memorable scenes, we learn that these Deltas are in so much hot water that Dean Wormer has put them on "double secret probation."
Something similar has happened to Apple since it joined the Dow Jones Industrial Average in March and became the bellwether technology stock.
I'm referring to the impact Wall Street's "whisper earnings" had on Apple stock on Wednesday. That day, shares of the iDevice King dipped more than 4% – despite stellar earnings.
Here's how it happened…
Wall Street Whispers
Like most investors, you know that each and every quarter, stock analysts issue their forecasts for sales and profits on the companies they cover. These are the "official" projections.
But many bullish analysts have unofficial targets, and those numbers get whispered around Wall Street.
And right now, tech analysts seem to be competing with each other to forecast the highest possible target price for Apple stock. By doing so, they hope to drive more sales to their brokerage houses – and bolster their reputations.
So that makes these Apple "whispers" an unhealthy blend of greed and ego.
And when the company in question doesn't actually beat the whispers, that can lead to a sharp price decline – even if the firm reports sterling financials.
That's exactly what happened when Apple came under pressure earlier this week, losing some $60 billion in market value in just a few hours of trading.
And that makes it a classic overreaction based on unrealistic expectations.
Back in November 2013, I was among the first to suggest that Apple would hit $1,000 – or, a split-adjusted price of $142.85. At the time, no doubt that sounded very aggressive.
But these days, it seems pretty conservative. I've seen short-term target prices for Apple as high as $195 per share.
It's almost like there's an unspoken competition on Wall Street to see who can come up with the highest target for Apple sales, particularly regarding the iPhone.
In the June quarter, the mega-cap firm sold 47.4 million iPhones, a 35% jump from the year-ago period. That massive sales record helped the Silicon Valley legend boost profits by 38% in the period to $10.7 billion.
Not only that, but the average selling price for an iPhone was $660 in the third fiscal quarter.
That's a huge win.
Despite the adverse effect of the dollar's rising value in foreign markets, Apple increased the iPhone price average by close to $100 for an annual jump of nearly 18%.
But that stellar performance just wasn't enough to satisfy the most bullish analysts, some of whom were hoping to see sales of 49 million units – or more.
And in overreacting to Apple's news, the Street missed several key factors that show enormous strength for the company.
Join the conversation. Click here to jump to comments…
About the Author
Michael A. Robinson is a 35-year Silicon Valley veteran and one of the top technology financial analysts working today. He regularly delivers winning trade recommendations to the Members of his monthly tech investing newsletter, Nova-X Report, and small-cap tech service, Radical Technology Profits. In the past two years alone, his subscribers have seen over 100 double- and triple-digit gains from his recommendations.
As a consultant, senior adviser, and board member for Silicon Valley venture capital firms, Michael enjoys privileged access to pioneering CEOs and high-profile industry insiders. In fact, he was one of five people involved in early meetings for the $160 billion "cloud" computing phenomenon. And he was there as Lee Iacocca and Roger Smith, the CEOs of Chrysler and GM, led the robotics revolution that saved the U.S. automotive industry.
In addition to being a regular guest and panelist on CNBC and Fox Business Network, Michael is also a Pulitzer Prize-nominated writer and reporter. His first book, "Overdrawn: The Bailout of American Savings" warned people about the coming financial collapse - years before "bailout" became a household word.
You can follow Michael's tech insight and product updates for free with his Strategic Tech Investor newsletter.