Amid last night's (Thursday) Republican presidential debates, all eyes were on the likes of Donald Trump and Jeb Bush in what has become a crowded Republican presidential nominee race.
But another candidate that flourished in last night's Republican debates was a name not often mentioned by the mainstream media.
Fiorina wasn't part of the "headline" event, as her polling numbers didn't qualify her for FOX News' 9 p.m. debate. She instead participated in an "undercard" event for the candidates who didn't reach FOX News' polling threshold.
She joined former Sen. Rick Santorum, R-PA, former Texas Gov. Rick Perry, Louisiana Gov. Bobby Jindal, Sen. Lindsey Graham, R-SC, former New York Gov. George Pataki, and former Virginia Gov. Jim Gilmore.
Despite being a participant in the lesser of the two debates, Fiorina shined. So much so that even the Democratic National Committee considered her a target.
A tweet last night read:

But was this a fair assessment of Fiorina as CEO of HP?
Fiorina became CEO of Hewlett-Packard Co. (NYSE: HPQ) on July 17, 1999, and was forced out on February 10, 2005. The day before she stepped in, HPQ stock closed at $35.64. When she left, it closed the day at $18.54. That makes for a 48% drop. Not quite the 53% that the DNC cited, but certainly not a stock performance to be proud of.
Here's how some other tech stocks performed in that same time period: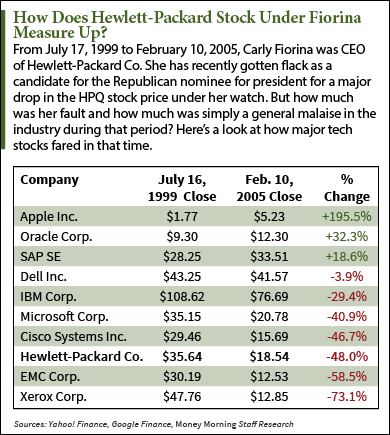 There are few names that did well in that stretch, so at least some of the slide in the HPQ stock price can be attributed to market forces outside of Fiorina's control. Though the HPQ stock price, or the stock price of any of these companies, falls far short of telling the story of any of these companies or their CEOs.
"Fiorina served as the captain of a global tech enterprise that was struggling to navigate through the troubled waters of the early 2000s," Money Morning Defense & Tech Specialist Michael A. Robinson said. "And let's be honest here. HP was a tough ship to steer."
Robinson added that Fiorina's tenure had its ups and downs.
"Fiorina instigated the merger between HP and Compaq Computer Corp. in 2002, which ultimately strengthened HP's market position and enabled the Silicon Valley pioneer to become a major player in desktops, laptops, and servers," Robinson said. "On the other hand, Fiorina laid off 30,000 people as a result of the merger."
The Bottom Line: Fiorina as a presidential candidate provides much more than what the HPQ stock price under her tenure may show. HP was a particularly difficult company to run at a time when several tech stocks were getting beat up following the dot-com bust. So it's unfair to simply point to the HPQ stock price to belittle Fiorina's "leadership" - what really matters is her experience in the world of tech, an invaluable asset to her campaign that gives her an edge.
"Technology is the engine of the U.S. economy," Robinson said. "Wouldn't it be nice if we had a president who understood the Internet of Everything, Big Data, cloud computing, and all the other paradigm-altering advances coming out of Silicon Valley at an incredibly rapid pace?"
Stay informed on what's going on in the markets by following us on Twitter @moneymorning.
Don't forget to check out all of our 2016 presidential election coverage here...