There's no other way to put it: Commodities took it on the chin last month.
July was the seventh worst performing month for the S&P Goldman Sachs Commodities Index going back to January 1970. Crude oil saw its steepest monthly loss since October 2008. Both copper and aluminum touched their lowest levels in six years. And on July 19, possibly as a result of deliberate price manipulation, gold experienced a mini flash crash, sending gold prices down to five-year lows.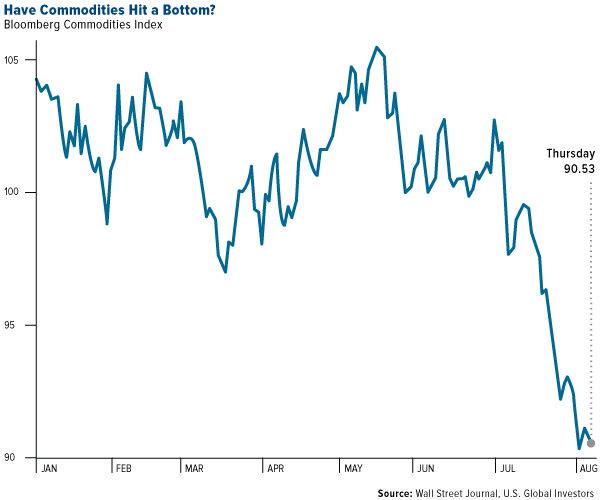 Regardless, several commodities are beating the exchange-traded funds that track them for the one-year period, according to The Wall Street Journal. The U.S. Global Investors Gold and Precious Metals Fund (MUTF: USERX) is over 1,900 basis points ahead of the Market Vectors Gold Miners ETF (NYSE Arca: GDX) year to date.
But that hasn't stopped many gold bears from using this as an opportunity to disparage the yellow metal. A recent Bloomberg article points out that the gold rout has cost China and Russia $5.4 billion, an amount that would sound colossal were it not for the fact that U.S. media companies such as Walt Disney Co. (NYSE: DIS) and Viacom Inc. (Nasdaq: VIAB) collectively lost over $60 billion for shareholders in as little as two days last week.
Below are the weekly losses for just a handful of those companies. Compared to many other asset classes, gold has held up well, even after factoring in its price decline.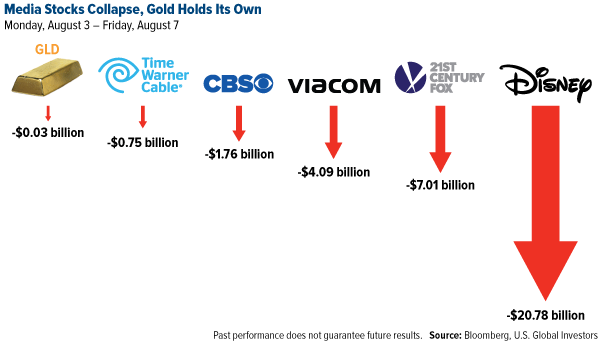 And isn't it funny that the U.S. Federal Reserve doesn't keep other countries' currencies, but it continues to hold gold - and in larger amounts than any other central bank? China and Russia have two of the biggest gold reserves in the world - and have added to them recently - but they don't come close to the Fed's holdings, even when combined. What's more, the U.S. Treasury's Office of the Comptroller of the Currency just classified gold as money by placing gold futures in the foreign exchange derivatives classification.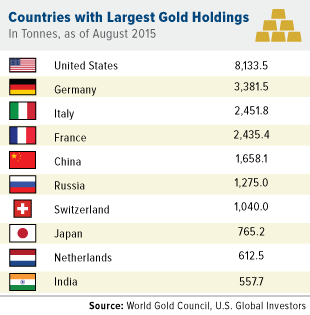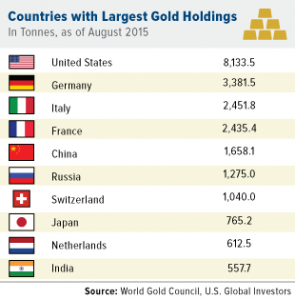 Indeed, central banks all over the world continue to add to their gold reserves. If the metal were as valueless as a pet rock, as one Wall Street Journal op-ed recently claimed, why would they bother to do this? A few weeks ago, China disclosed the amount of gold its central bank holds for the first time in six years. Global markets reacted negatively that the country increased its reserves "only" 57%. But the World Gold Council (WGC) saw this as positive news:
We believe the People's Bank of China's confirmation of its revised gold holdings is supportive for the gold market. It reiterates how China, along with other central banks, views gold as a key resource asset as it continues to seek diversification away from the U.S. dollar.
As I've said before, China is the 800-pound commodities gorilla. This has largely been the case since 2000.