The best 2016 presidential election predictions won't be found in poll results or the endless stream of words that pour forth from the pundits.
No, the most accurate 2016 presidential election predictions are what's known as the "prediction markets."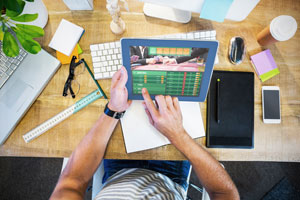 It almost sounds like something you might find on Wall Street or the Chicago trading pits – and in some ways, that's not far from the truth.
The prediction markets are websites where people can bet on the outcome of political races in the same way they bet on sporting events.
Time and again the prediction markets have done a better job of forecasting actual election results than do the polls – and they've done it in elections the world over.
"Prediction markets are literally the future in politics, media and finance," John Phillips, the CEO of Aristotle, a political consultancy business that provides services for PredictIt, told Politico last year. "They are fun, social, viral and shockingly accurate."
The amounts wagered can be staggering. About $230 million was bet on the 2012 presidential race alone.
Because betting on elections is illegal in the United States, this wagering is done on websites overseas, mostly in the UK. (Before you get any crazy ideas, these sites screen out U.S. customers.) The British love betting on U.S. elections, which they view as a kind of cheap entertainment.
"It is a competition. It's a tournament. It's also a television show. Having a financial interest in it makes it a bit more exciting. I backed Trump because I got on when it was still good value, and I think he is playing the game better than the rest," London taxi driver Phil Benjamin told USA Today.
But what makes the prediction markets more accurate than polls?
Why Prediction Markets Work
"People who bet in significant sums on an election outcome will usually have access to all the polling evidence. They take into account past experience of how good different pollsters are, what tends to happen to those who are undecided when they actually vote, and what might drive the agenda between the dates of the latest polling surveys and election day itself. All of this is captured in the markets but not in the polls," Leighton Vaughan Williams, director of the Political Forecasting Unit at Nottingham Business School, wrote in The Telegraph earlier this year.
In the 2012 presidential election, for example, pollsters like Gallup were forecasting a Mitt Romney victory, while an Ireland-based prediction market called Intrade called a Barack Obama win by projecting correctly how all but one state (Florida) would vote. Intrade did even better with the 2008 election, coming within one electoral vote of perfection.
Prediction markets are just as good at predicting voting behavior in referendums. In the 2014 Scottish referendum on independence, many polls had the vote very close, with some indicating a "yes" result. But the prediction markets had the odds at 1-4 for no and just 10-3 for yes. The no vote prevailed 55% to 45%.
Drawing on this "wisdom of crowds," here are the current 2016 presidential election predictions…