Yahoo earnings for Q3 2015 were released after the bell today (Tuesday). The company reported earnings per share of $0.15 on revenue of $1.23 billion. Analysts had expected (EPS) of $0.17 and revenue of $1.26 billion.
EPS was down 71% from the same period a year ago, and revenue was up 7%.
Yahoo stock was down more than 2% in after-hours trading.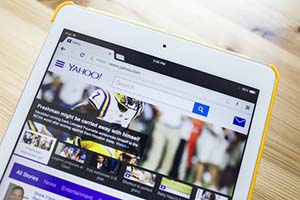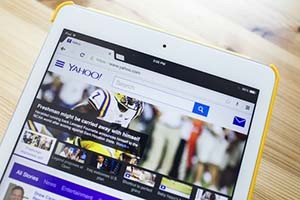 Yahoo officials have already announced that the company engaged with roughly 1 billion users in Q3. About 600 million of those came from mobile devices. The company has reported that 1.8 billion devices around the world accessed Yahoo's products in Q3.
CEO Marissa Mayer will continue to face questions about several of the company's recent departures. Since September, both Marketing Chief Kathy Savitt and Acquisitions Head Jacqueline Reses have left the firm. Reses has moved to Square Inc., while Savitt departed for STX Entertainment.
The departures have raised some questions among Wall Street analysts about possible morale issues within the company.
While the earnings numbers disappointed, the thing on the forefront of investors' minds is the Alibaba spin-off.
The Yahoo stock price has been volatile in 2015, having dropped 34.6% year to date. But since Oct. 1, YHOO stock has climbed 14.3% after the company announced that it would be pushing forward with the Alibaba spin-off.
In the earnings report, company officials said that the Alibaba spin-off is their top priority at the moment. They also said that they are striving to complete the spin-off as quickly as they can.
Here's why the spin-off is so important to Yahoo stock…
Watch for Alibaba Spin-Off News During Yahoo Earnings Today
On Sept. 29, Yahoo officials announced that they will be moving forward with spinning off the company's 384 million shares of Alibaba Group Holding Ltd. (NYSE: BABA). Yahoo has previously said it plans to spin off those shares through a tax-free deal during Q4.
Wall Street pundits had some questions about the eligibility of the deal's tax-free status. In an ambiguous letter, the IRS wrote in September that it would issue neither a favorable nor an unfavorable ruling on the deal's tax-free status.
Still, Yahoo's board believes the deal should move forward without any issue from the IRS…