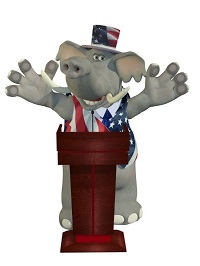 GOP debate preview: The next showdown between the 2016 Republican presidential candidates will take place on Tuesday on FOX Business Network at 9 p.m. ET. It will air live from Milwaukee, Wisconsin.
This marks the fourth GOP debate of the 2016 presidential race. Like the first, second, and third Republican showdowns (hosted by FOX News, CNN, and CNBC respectively), this fourth round will feature both "undercard" and "prime time" events.
Here are the candidates and watch for…
GOP Debate Preview: The Undercard Candidates
Former U.S. Sen. Rick Santorum, R-PA
Former Arkansas Gov. Mike Huckabee
Louisiana Gov. Bobby Jindal
New Jersey Gov. Chris Christie
GOP Debate Preview: The Main Debate Candidates
Real estate mogul Donald Trump
Neurosurgeon Dr. Ben Carson
Former Hewlett-Packard CEO Carly Fiorina
Former Florida Gov. Jeb Bush
Ohio Gov. John Kasich
U.S. Sen. Ted Cruz, R-TX
U.S. Sen. Rand Paul, R-KY
U.S. Sen. Marco Rubio, R-FL
GOP Debate Preview: The Poll Data and the "Second Tier" Phenomenon
While Donald Trump and Ben Carson remain the leaders in the Republican presidential field, both in California and nationally, according to new USC/Los Angeles Times poll, senators Marco Rubio and Ted Cruz have moved into a solid second tier. Here are the results of that poll, released three days ago:
Donald Trump, 20%
Ben Carson, 20%
Marco Rubio, 14%
Ted Cruz, 11%
Carly Fiorina, 6%
Florida Gov. Jeb Bush 4%
Rand Paul, 3%
New Jersey Gov. Chris Christie, 2%
Former Arkansas Gov. Mike Huckabee, <1.44%
Louisiana Gov. Bobby Jindal. <1.44%
Ohio Gov. John Kasich, <1.44%
Lindsey Graham, <1.44%
GOP Debate Preview: FOX Business Aims to Be the "Anti-CNBC"
Maria Bartiromo and Neil Cavuto will moderate FOX Business's debate Tuesday evening. They've made it abundantly clear that only one thing is more important than ratings: specifics. "This will be the fourth debate and we still don't have a clear idea how these guys plan to deal with the most important issue on voters' minds – and that is jobs," Bartrimo said, according to an article in today's Milwaukee-Wisconsin Journal Sentinel.
Already the network is running ads prodding CNBC for not asking "real questions" during the last GOP debate, considered by many to have been badly botched by onlookers. "CNBC never asked the real questions, never covered the real issues," a FOX narrator laments in one commercial. "That's why on November 10 the real debate about our economy and our future is only on FOX Business Network."
FOX Business has also explicitly indicated how its debate will be different. They intend to allow the candidates more time to explain themselves and reply to criticism from other candidates, reported CNNMoney earlier today. During the CNBC debate, this is what frustrated the presidential hopefuls the most. That, and the fact that the moderators not only interrupted them mid-answer, but talked over one another as well.
#GOPDebate Tweets
Draw Your Weapons…
The smear campaigns have officially started and "election 2016" has garnered some serious search steam. So if you're looking for accurate information on issues like Carson's West Point debacle and Rubio's credit card scandal, look no further. We've done research for you.
Here's more on those matters, along with other pertinent stories…
Related Articles: