One question the students in my seminars or trainings always ask each other is, "What's your winning percentage?"
But out of all the statistics to measure performance, winning percentage doesn't always tell the true measure of a trader.
I'll show you what I'm talking about...
Trader A has a winning percentage on his trades of 70%, while Trader B has a 40% winning percentage on her trades. Which trader do you think is more successful?
I'm guessing most of you picked Trader A.
But what if I told you that Trader A has a return on his money of -25% and Trader B has a positive return of 30%? Trader A wins better than 50% of the time but loses money overall, while Trader B wins less than 50% of the time, but her trades are far more profitable.
Does that change your vote? I would hope so!
You see, a trader can win a large percentage of his or her trades, but what good does that do when the small number of losses outweigh the large number of winners?
So what's the true measure of a trader's success?
Last Tuesday, I told you that two of the most important things you can do as a trader is to build a plan for every trade and to stick with that plan through the end of the trade.
But before you can build an effective options trading plan, you have to make sure you have one thing in place.
Let me show you what I'm talking about...
Three Rules for Managing Your Money
Having strict money management rules is absolutely essential to your success as a trader.
It is nice to have a good win-loss record, but if your losers are bigger than your winners, you can still lose money overall. So how do you keep that from happening?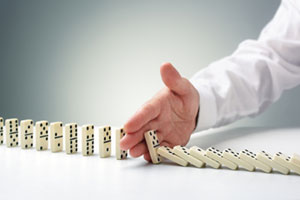 Through proper money management.
I am not your money manager, broker, or financial planner, so I won't give you specific, personal financial advice. What I'm talking about here are some general rules for money management that have worked for me. If you like what I do and want to incorporate that into what you do, then PLEASE run these ideas by your professionals and determine what's best for you and your money.
There are three keys to managing your money as a trader...
First, know your risk!
We talk about this a lot, but it never hurts to review. From a risk perspective, if you take a fixed percentage of an account to every trade, the most damage that can be done is that fixed percentage.
For example, if a trader took 25% risk on each trade, four losses in a row could wipe the trader out.
It would take 40 losses in a row for the trader that risks just 2.5% of their account to each trade. You and you alone decide what your risk tolerance is, but its best if you think like a pro and remember that leverage is key in options, so a lot less cost and risk can be taken.
Second, spend the same amount on each trade.
Join the conversation. Click here to jump to comments…
About the Author
Tom Gentile, options trading specialist for Money Map Press, is widely known as America's No. 1 Pattern Trader thanks to his nearly 30 years of experience spotting lucrative patterns in options trading. Tom has taught over 300,000 traders his option trading secrets in a variety of settings, including seminars and workshops. He's also a bestselling author of eight books and training courses.