Negative oil prices are here - thanks to billionaire brothers Charles and David Koch and the refining branch of their industrial empire...
On Friday, Flint Hills Resources LLC - owned by the Koch brothers - said it would "pay" producers of North Dakota Sour -$0.50 a barrel to take the low-quality crude oil off their hands. Essentially what that means is Flint would actually be charging producers to take oil off their hands.
On Monday afternoon, however, Bloomberg ran a correction originally made on Flint's website that day regarding the negative price. The modification stated that the refinery offered to pay (actually pay) $1.50 per barrel for North Dakota Sour, which is a high-sulfur grade of crude. Currently, its price is down from $13.50 a barrel a year ago and $47.60 in January 2014, reported RT.com this morning.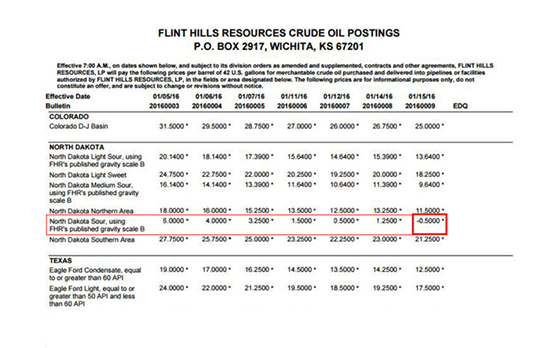 High-sulfur crude in North Dakota is a small portion of the state's production. Less than 15,000 barrels are produced there per day, reported Bloomberg earlier today. This low output is the direct result of the nearby Bakken shale formation, which produces about 1.1 million barrels of low-sulfur crude per day.
High-sulfur oil is cheaper because it has to be transported to plants that have specific equipment to remove the element in processing. It's grown increasingly more difficult - and expensive - to transport North Dakota Sour, however, since companies like Enbridge Inc. (TSE: ENB) stopped allowing it on its pipeline in 2011. Now it has to be transported via trucks and trains.
What bigger issue in U.S. oil production are these negative oil prices emblematic of? Tell us on Twitter @moneymorning, or like us on Facebook.
Why 2016 Will Be So Volatile: Markets the world over will get rocked by volatility in 2016, and unprepared investors are going to get hurt. Here's who you can thank for these turbulent markets - and how you can dodge the blows...