When you think of "connected" devices, you probably picture your smartphone... or maybe your tablet.
But that's just the start.
You see, the coming wireless revolution will go far beyond those handheld mobile devices.
By 2020, we'll be using 50 billion connected "things" worldwide.
I'm talking about "connected" cars, factory robots, thermostats and household appliances, vending machines, industrial tractors and plows, warehouse forklifts... well, everything.
To make this revolution possible, our wireless Internet is going to have to get faster - much, much faster, in fact.
We'll get there by migrating to a whole new ultrafast wireless ecosystem known as 5G. Once this huge breakthrough in mobile communications takes hold, the wireless Internet will run up to 50 times faster than existing 4G connections.
With 5G, you'll download a movie onto your smartphone in seconds. (It now takes several minutes.)
But that's trivial compared to the big ideas that 5G is going to make possible... concepts like driverless cars and the Internet of Everything.
On Feb. 22, Verizon Communications Inc. (NYSE: VZ) made a $1.8 billion acquisition that underscores this massive shift - and it largely flew under Wall Street's radar screen.
Today, I want to tell you about this bit of news - and what it means for 5G.
And I want to show you a tech stock tapped in to this unstoppable trend that combines high yields and market-beating gains.
Let's take a look...
"Technical" Difficulties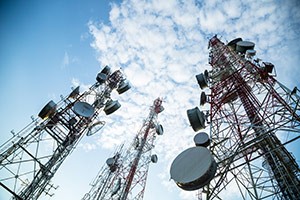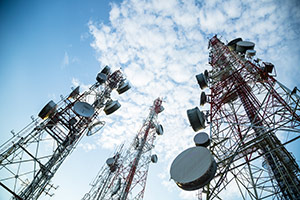 Verizon's acquisition of XO Communications may have gone mostly unnoticed because, at first glance, it sounded like a "technical" event. After all, the press releases mostly talked about how XO provides high-speed fiber-optic networks as well as wireless spectrum in the 28 GHz to 31 GHz ranges.
Here's what that jargon means - all that new bandwidth greatly increases wireless speeds... and will play a central role in the coming 5G ecosystem.
If you've ever tried to access a busy cell network at a sports stadium or a big music festival, you've likely encountered dropped calls and slow speeds. Simply stated, the network can't handle all that traffic at once.
Something very similar but with much broader ramifications is happening at the national level.
It all gets back to the "convergence economy" we discuss so often at Strategic Tech Investor. Several key overlapping trends rely on wireless access to deliver results.
Take the intersection of advanced sensors and the Internet of Everything (IoE). Sensors now communicate such data as proximity, speed, pressure, audio, light, chemicals, and more.
In other words, they lie at the heart of the IoE, a field that Cisco Systems Inc. (Nasdaq: CSCO) says will deliver $14 trillion in profits over the next several years.
Even without the IoE, the demand for bandwidth is growing rapidly. Forecasters at iGR estimate that for the five years ending in 2018, the total number of wireless connections will have grown by 38% to nine billion.
Existing 4G connections can't handle all that traffic efficiently, let alone deliver the smooth wireless streaming video so popular with young people.
There are roughly 80 million of these young people born around the turn of the century. They're not just a huge demographic group - they are mobile-centric consumers who communicate through wireless, text, chats, photos, and videos.
For its part, Verizon is touting its advances in 5G technology and is promising speeds 50 times that of present connections. The cellular carrier wants to get out in front of the market.
Analysts don't expect to see full deployment of 5G networks much before the end of the decade. But Verizon is investing heavily and expects to begin key field trials later this year.
The company is not alone in its growth projections. Indeed, it's a worldwide phenomenon in the making.
For instance, Swedish telecommunications giant Ericsson (Nasdaq ADR: ERIC) says it expects to see 150 million users on its European 5G networks in the next five years. And South Korea is investing up to $1.5 billion in wireless infrastructure upgrades over the next few years.
Here at home, all four major wireless carriers intend to invest heavily in 5G deployments. The GSMA mobile trade group predicts carriers as a group will spend roughly $1.7 trillion on upgrades for both 4G and 5G systems.
As tech investors, we're seeking a way to play this huge growth market and generate gains on current wireless operations.
[mmpazkzone name="in-story" network="9794" site="307044" id="137008" type="4"]
Storming the Castle
That's why tech investors ought to take a hard look at Crown Castle International Corp. (NYSE: CCI).
This Pittsburgh-based wireless infrastructure provider of towers, antenna systems, and rooftop sites has racked up an amazing track record of success in a relatively short amount of time.
In 1998, the firm started out with just 908 towers. Today that figure stands at more than 40,000, making it the largest provider of "shared wireless infrastructure."
Crown Castle leases its towers and other infrastructure sites to several wireless carriers (Verizon, AT&T, et al) at the same time, meaning they share.
It's like several corporations renting space in the same office building.
And it means that no matter what happens with 5G standards, equipment, transmission frequencies, and the like, Crown Castle stands to gain.
Moreover, industry analysts note that the nation's existing cell towers won't be able to host all the gear needed to make the migration to 5G.
And that's good news for Crown Castle as well as it develops and leases more tower and rooftop sites.
Crown Castle doesn't break down its total number of rooftops. But it has said it has installed some 15,000 cell "nodes" in such locations. And the company also has invested heavily in making sure it can offer high-speed mobile bandwidth.
To date, it has laid down at least 16,000 miles of fiber-optic cable needed to keep up with the growing demand for more cell connections and high-bandwidth applications like mobile video.
The Yield
With Crown Castle, we also get stability and a nice dividend. The company recently completed its transition into a real estate investment trust (REIT).
A REIT must pay out 90% of its taxable income to its shareholders, which are known as "unit holders." Crown Castle has a forward dividend of 4.1%, or 80% more than the S&P 500.
That yield doesn't take into account the fact that Crown Castle also offers superior returns. Over the past two years, the stock has gained 13.3%, or 53% more than the S&P 500.
You can expect those kind of returns to keep rolling in.
That makes this an investment with excellent profits and cash flow right now - and that will gain from the rollout of cutting-edge wireless tech in the future.
This isn't a get-rich-ultrafast tech stock, but your profits will still come pretty quick.
 Follow Money Morning on Facebook and Twitter.
How to Profit from the $14.4 Trillion IoE Market: By 2020, it's projected that 50.1 billion devices will be connected to the Internet of Everything. That's a 118% increase from the expected connected devices this year. And you don't have to gamble on risky small caps or fly-by-night startups to invest in this massive profit opportunity...
About the Author
Michael A. Robinson is a 36-year Silicon Valley veteran and one of the top tech and biotech financial analysts working today. That's because, as a consultant, senior adviser, and board member for Silicon Valley venture capital firms, Michael enjoys privileged access to pioneering CEOs, scientists, and high-profile players. And he brings this entire world of Silicon Valley "insiders" right to you...
He was one of five people involved in early meetings for the $160 billion "cloud" computing phenomenon.
He was there as Lee Iacocca and Roger Smith, the CEOs of Chrysler and GM, led the robotics revolution that saved the U.S. automotive industry.
As cyber-security was becoming a focus of national security, Michael was with Dave DeWalt, the CEO of McAfee, right before Intel acquired his company for $7.8 billion.
This all means the entire world is constantly seeking Michael's insight.
In addition to being a regular guest and panelist on CNBC and Fox Business, he is also a Pulitzer Prize-nominated writer and reporter. His first book Overdrawn: The Bailout of American Savings warned people about the coming financial collapse - years before the word "bailout" became a household word.
Silicon Valley defense publications vie for his analysis. He's worked for Defense Media Network and Signal Magazine, as well as The New York Times, American Enterprise, and The Wall Street Journal.
And even with decades of experience, Michael believes there has never been a moment in time quite like this.
Right now, medical breakthroughs that once took years to develop are moving at a record speed. And that means we are going to see highly lucrative biotech investment opportunities come in fast and furious.
To help you navigate the historic opportunity in biotech, Michael launched the Bio-Tech Profit Alliance.
His other publications include: Strategic Tech Investor, The Nova-X Report, Bio-Technology Profit Alliance and Nexus-9 Network.