There is a $203.9 billion cloud-computing war raging right now, and GOOGL stock shareholders are about to become some of the largest beneficiaries of the battle…
According to Business Insider, Alphabet Inc. (Nasdaq: GOOGL) is expanding its Google Cloud Platform to 12 more regions between now and 2017.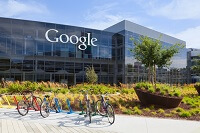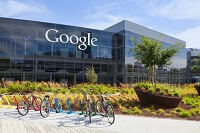 Money Morning Technical Trading Specialist D.R. Barton calls GOOGL stock a "legacy stock," which means he thinks you can hold it forever. And we believe this war in cloud computing will be a major catalyst for the GOOGL stock price for years to come…
But before I get to that, I want to make sure Money Morning readers know more about this cloud-computing war…
Research site Statista projected that public cloud-computing services brought in $175 billion in revenue last year. In 2016, public cloud-computing services are expected to bring in $203.9 billion. That's a 16.51% increase in just one year.
But right now, Alphabet isn't the leader in the cloud-computing war…
According to analysts at Synergy Research Group, Amazon.com Inc. (Nasdaq: AMZN) is currently winning the battle:
Amazon Web Services (AWS): 31% market share
Microsoft Inc. (Nasdaq: MSFT): 9% market share
International Business Machines Corp. (NYSE: IBM): 7% market share
Google Cloud Platform: 4% market share
John Dinsdale, an analyst at Synergy Research Group, says Google is lagging behind because its data network isn't extensive enough to compete with Amazon, Microsoft, or IBM.
But Dinsdale also stated that Google is now on a mission to fix that, and the company is increasing its corporate focus on the cloud market.
Google may be lagging now, but we've already found evidence that Google is a growing player in this $203.9 billion market. And these moves are going to help drive the GOOGL stock price significantly higher in the long term…
Why Cloud Computing Is GOOGL Stock's Next Great Catalyst
The first two Alphabet data centers will open in Oregon and Tokyo, Japan. They will be up and running by the end of 2016, and the remaining 10 will be up and running by the end of 2017.
"With these new regions, even more applications become candidates to run on Cloud Platform and get the benefits of Google-level scale and industry leading price/performance," Google Cloud Product Manager Varun Sakalkar said in a blog post.
Google is still the leading search engine, so the move into cloud computing has some shareholders worried Google is straying too far away from its core competency. In 2014 alone, Alphabet generated 68.3% of its total revenue from ads on Google search, YouTube, Google Maps, and Google Finance.
But we're focused on the bigger picture…
"You have to give them props for being forward-looking, for doing innovative things, and for killing on their core business – doing it so well they can do all these other fun, amazing things," Barton said.
On March 23, Google announced that Walt Disney Co. (NYSE: DIS) and The Coca-Cola Co. (NYSE: KO) are now Google Cloud customers. Google also scored a win at the end of February when streaming music service Spotify chose to move its infrastructure to Google Cloud over Amazon or Microsoft.
Morningstar consensus estimate data projects a five-year growth forecast of 13% for GOOGL, while the S&P 500 has just a 9.4% growth forecast.
Thomson First Call analysts have a one-year price target of $926.80. That means they see the GOOGL stock price climbing another 22% from yesterday's closing price of $757.56.
The Bottom Line: The GOOGL stock price is up 33.61% over the last 12 months. We expect long-term investors to be rewarded even further with Google's efforts to ramp up its cloud-computing service. With three huge new clients, Google is starting to gain ground in a market expected to bring in revenue of over $200 billion in 2016.
Jack Delaney is an associate editor for Money Morning. You can follow him on Twitter and follow Money Morning on Facebook.
The 3 Best Penny Stocks to Buy in 2016… Finding the best penny stocks can be extremely lucrative for investors. Some can even return quadruple-digit gains in just a matter of weeks. But penny stocks can also be extremely risky. That's why we've outlined two methods for finding profitable penny stocks – as well as our top three picks for 2016…