Yes, the Facebook stock price today (Tuesday) is climbing a modest 1.05% after Facebook's first wave of virtual reality headsets hit homes yesterday.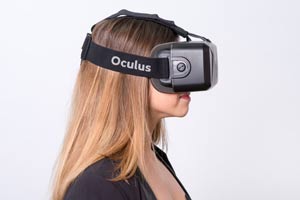 But even though the Facebook stock price is only slightly higher on the news, we think Oculus Rift is one of the reasons why the FB stock price is going to trade at $250 per share by 2020.
But before we get to that, here's why Facebook Inc. (Nasdaq: FB) stock has outperformed the markets so dramatically in 2016…
Facebook crushed expectations in its Q4 2015 earnings report. Analysts expected earnings per share (EPS) of $0.68 on $5.36 billion in revenue, but the social media giant reported $0.79 on $5.84 billion in revenue. Revenue for Q4 increased 51.68% from the same time a year ago.
Facebook also beat expectations in monthly active users (MAUs), reporting 1.59 billion instead of the expected 1.58 billion. This positive data pushed the FB stock price to open at an all-time high of $115.27 on Feb. 3.
That has helped the Facebook stock price climb 9.8% year to date. During the same time, the Dow Jones Industrial Average is up just 0.4%. The Nasdaq has fallen 4.5% in 2016.
Facebook stock has been on a strong run, but it still isn't immune to the volatility in the global markets…
Just six days after it opened at an all-time high of $115.27, FB opened at $97.14 on Feb. 9. That's a 15.72% loss in less than a week.
Volatile oil prices, the slowing of the Chinese economy, and concerns over U.S. Federal Reserve Chair Janet Yellen enacting negative interest rates have all contributed to a stagnant Facebook stock price.
Despite the early volatility in 2016, the Facebook stock price has rebounded. And we expect the Facebook stock price to climb even higher after Oculus Rift becomes widely available…
The Facebook Stock Price Today Starts Its Climb to $250
If you want to get your hands on Oculus Rift, you still have to be patient. Yesterday's shipment was for those who pre-ordered their headset in January, and the next shipment isn't going out until May. Still, demand is expected to be very high.
By 2020, research company Digi-Capital projects that the augmented reality (AR)/virtual reality (VR) market will bring in $150 billion in revenue.
Right now, Oculus Rift is mainly connected to games. Of course, that's all Wall Street is focusing on.
But the
future applications
of virtual reality are what will make the Facebook stock price reach our $250 price target…
You see, CEO Mark Zuckerberg is an expert at anticipating demand and monetizing platforms. While establishing a profitable model from virtual reality advertising is still a new concept, companies have already shown a willingness to sponsor virtual reality experiences. In 2014, Coca-Cola Co. (NYSE: KO) sponsored an event at the World Cup where users could visit a locker room and play soccer on a field.
So by finding companies to sponsor interactions in virtual reality, Zuckerberg is adding yet another source of ad revenue to Facebook's total revenue.
And when the Facebook CEO announced he purchased Oculus VR in March 2014, he already had plans to expand the capabilities of virtual reality.
"After games, we're going to make Oculus a platform for many other experiences," Zuckerberg stated in a Facebook post. "Imagine enjoying a courtside seat at a game, studying in a classroom of students and teachers all over the world, or consulting with a doctor face-to-face – just by putting on goggles in your home."
Oculus Rift is going to generate billions of dollars for Facebook, and Zuckerberg is building a strong foothold in the $150 billion industry.
Morningstar's consensus estimate shows that the average target for the Facebook stock price is $138 per share. FB opened at $113.83 today, which means analysts see FB stock climbing another 21.23%.
But we feel that estimate might be too cautious…
Money Morning Defense & Tech Specialist Michael A. Robinson believes the Facebook stock price could trade as high as $250 per share by 2020. For more reasons why we think the FB stock price will skyrocket even further, watch the video below…
Virtual reality is just one of the reasons the Facebook stock price is going to skyrocket. Watch the video to learn about why FB stock will trade for $250 by 2020…
Jack Delaney is an associate editor for Money Morning. You can follow him on
Twitter
 and follow Money Morning on 
Facebook
.
A Market Crash as Bad as 2008: 
Governments were desperate for answers back in 2008 when the world's financial system was on the brink of a total meltdown. So they did what they do best – they threw money at it. That saved the day back then, but created a bigger, more insidious problem that is very close to again undermining the global markets. The fuse on this economic dynamite is
very close to the ignition point
…