On Monday, the U.S. Department of Justice announced that Goldman Sachs Group Inc. (NYSE: GS) agreed to pay $5 billion to settle claims that it misled mortgage bond investors during the 2008 financial crisis.
It is intended to help the thousands of investors nationwide who suffered billions of dollars in losses from bad securities in the subprime mortgage crisis.
At long last, it's Goldman's turn to suffer.
Or so the government would like to you to think…
Goldman did report on Jan. 20 that its 2015 fourth-quarter net income fell 65% to $765 million, or $1.27 a share, from $2.17 billion, or $4.38 a share, a year earlier — all because of the imminent DOJ deal.
And its quarterly litigation costs likewise rose roughly 90% — from $200 million to over $2 billion – between Q4 2014 and Q4 2015. Thanks, again, to the DOJ deal.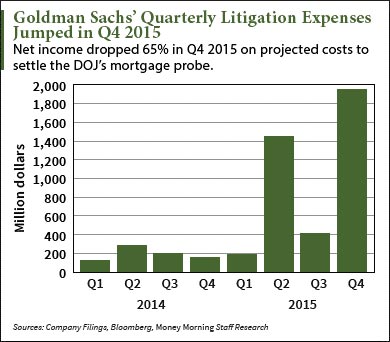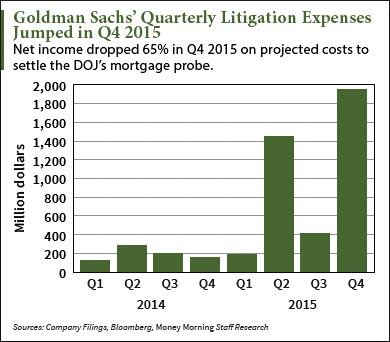 But Money Morning Capital Wave Strategist Shah Gilani — who has spent more than 30 years analyzing Wall Street's back-room dealings with Uncle Sam to bring investors the unadulterated truth about such shady partnerships — is quick to point out that this kind of "suffering" on Goldman's behalf is fleeting, at best.
Goldman was well-prepared for it, anyway.
"The Goldman Sachs settlement – like everything Government Sachs does – isn't what it seems," Gilani said. "They knew it was coming. They earmarked that $2 billion [in litigation costs] for 'relief.'"
And he's right. That near $2 billion earmarked sum is going to consumer relief funds outlined by the DOJ in the structured settlement. Goldman had already set it aside in its budget.
On top of all that, much of the $5 billion settlement sum will be tax-deductible for Goldman Sachs.
So it seems the investment bank will not be in much pain after all.
We shouldn't be too surprised…
A look at these two infuriating settlements shows the Wall Street giant is unlikely to ever suffer at the hands of the U.S. government.
2 Infuriating Goldman Sachs-U.S. Government Settlements
Goldman Sachs vs. the SEC: In July 2010, Goldman Sachs agreed to pay $550 million following a civil fraud lawsuit filed by the U.S. Securities and Exchange Commission. The lawsuit alleged the bank had misled investors about a subprime mortgage product as the housing market began to collapse.
After winning the settlement, the SEC touted the $550 million sum as the "largest-ever penalty paid by a Wall Street firm."
In reality, however, $550 million was about two weeks' worth of Goldman's profit at the time. The investment bank reported earning $3.3 billion in the first quarter of 2010 alone, wrote ProPublica on July 15, 2010.
That's about $250 million in profit per week.
Furthermore, Goldman could pay the $550 million immediately if it wanted to… and probably hundreds of times over. The company's average global core excess liquidity — the average worth of assets it could readily convert into cash — was $162 billion for the first quarter of 2010, wrote ProPublica.
So the fact that $550 million was the largest-ever penalty paid out by a Wall Street behemoth at the hands of the government is just kind of… sad.
Goldman vs. the Federal Housing Authority: On Aug. 22, 2014, the Federal Housing Finance Agency (FHFA) successfully sued Goldman Sachs for $1.2 billion, resolving claims that the Wall Street firm failed to disclose the risks on the mortgage bonds it sold before the financial crisis.
For Goldman, the FHFA pact would rank as the largest legal penalty in the firm's more than 140-year history — until Monday's DOJ settlement, that is.
But just one glance at the bank's annual earnings reveals precisely how small of a sum even $1.2 billion is to Goldman Sachs. The bank's net revenue for fiscal year 2014 in investing and lending totaled $6.83 billion. And its net revenue for investment management that year was $6.04 billion, according to Goldman's 2014 annual earnings report.
That's an accumulated revenue of over $12 billion…
For one year.
So while $1.2 billion lost to the FHFA was still a dent in the Wall Street giant's pocket, it wasn't that impactful.
Just like Monday's heralded $5 billion settlement sum won't be either.
Do you trust investment advice from Wall Street giants like Goldman Sachs? Tell us your thoughts on Twitter @moneymorning, or like us on Facebook.
The 2016 Stock Market Crash: The 2008 financial crisis chopped about 56% from the S&P 500. And in an effort to stop the bleeding, governments simply laid the groundwork for a 2016 stock market crash. Here's when and how that market plummet is going to play out…