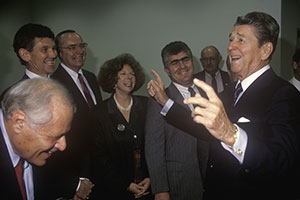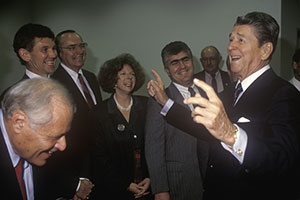 Former President Ronald Reagan's legacy is often heralded as one of inclusion, not divisiveness.
Charles Koch, one of the most influential conservative donors in the nation, criticized Republican presidential front-runners Donald Trump and Ted Cruz yesterday right where it hurt...
He stated they are not acting enough like Ronald Reagan.
Reagan has long been a standard-bearer of the Republican Party. To this day, his presidency represents the golden GOP age that dismantled communism, drove economic growth, and restored America's image as an uncompromising powerhouse. Conservatives have also long considered Reagan's ideological practices to be highly pragmatic and worthy of imitation. "The Gipper" was known for outlining in his speeches how his policies would work, rather than trying to sell the public on ideological points. He was also praised for doing so without alienating the public or, much of the time, his Democratic rivals.
Unlike Reagan, Koch said, Trump and Cruz use overly divisive rhetoric. Therefore neither he nor his brother and billionaire business partner David will support the GOP's top candidates.
"We said, 'Here are the issues: You've got to be like Ronald Reagan and compete on making the country better rather than tearing down your opponents,'" the Koch Industries CEO told White House correspondent Jonathan Karl on ABC News yesterday. "And right off the bat, they didn't do it. More of these personal attacks and pitting one person against the other, that's the message you're sending the country. That's the way you should -- you're role models, and you're terrible role models."
The billionaire political donor had much more to say about Trump's and Cruz's run for the White House this year...
Charles Koch Airs List of Grievances with 2016 GOP Candidates
Koch first lambasted Donald Trump's Muslim registry proposal. He balked at the suggestion of a national database.
"But what was worse," he said, "was [when Trump suggested]: 'We'll have them all register.' That's reminiscent of Nazi Germany. I mean, that's monstrous."
He also had harsh criticism for Sen. Ted Cruz. Specifically, Koch took issue with the Texas senator's threat to "carpet bomb" the Islamic State militant group.
"Well, that's got to be hyperbole, but I mean that a candidate, whether they believe it or not, would think that appeals to the American people -- this is frightening."
When asked by ABC's Karl if he thought current Democratic front-runner Hillary Clinton was the better bet in this year's election, Koch -- long a staunch and influential conservative backer -- shocked when he said "it's possible."
Charles Koch's comments come a year after he and his brother David announced plans to spend about $900 million to boost right-leaning candidates in the lead-up to the 2016 presidential election.
Here's the full interview of Charles Koch on ABC News yesterday:
How do you feel about
Charles Koch's criticism of the GOP
? Tell us on Twitter
@moneymorning
 or like us on 
Facebook
.
Bye, Bye Social Security as We Know It: Thanks to President Obama's budget deal signed into law last November, married couples have just one week to take advantage of one of the most lucrative Social Security benefits on the books. Why is it being removed? Well, because Congress thinks it's too generous...