News that the Red Dragon is stockpiling crude first broke a year ago, with little notice or concern from the general public or mainstream media…
It wasn't until recently, however, that the world learned just how much crude oil the Asian nation has managed to accumulate.
Two hundred million barrels, reported the International Energy Agency (IEA) on April 14. So far.
Back in January 2015, Reuters reported that China planned to increase its strategic petroleum reserves from 30 days to 90 days. A year later, having followed through on this intention in spite of the surprise devaluation of the yuan that sent Brent crude slumping to about $42 a barrel in August 2015, Reuters revealed that China was building underground caverns with the capacity of holding up to a quarter of these expanded oil reserves by 2020.
In 2016, China has already added 787,000 barrels a day to its stockpiles in the first quarter – the most for the period since at least 2004, reported Bloomberg on April 25. The outlet's findings followed reports that 83 supertankers carrying around 166 million barrels of crude were headed to the country on April 23.
China's goal is to have 500 million barrels by the end of the decade. Which means that over the next 18 months, China will put 132 million barrels of crude into storage, according to IEA estimates.
Investors and oil experts alike have been speculating as to why China is hoarding oil at such a ravenous clip.
Here's a look at the two main reasons behind the Red Dragon's stranglehold on the oil glut…
Two Reasons Why China Is Hoarding Oil
It could be that China believes crude oil prices will not remain at the current levels for long. It's simply taking advantage of low prices while they last.
Oil futures remain about 60% below where they were just two years ago (well over $100/barrel in 2014), trading today at $45.82 a barrel, according to Nasdaq this morning.
However, as the world's second-largest importer of crude, stockpiling oil reserves now would also protect China from this imminent geopolitical disruption…
Chiefly, clashes over resources in the South China Sea.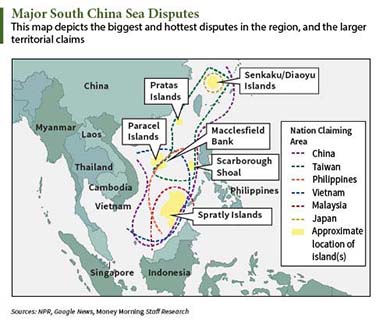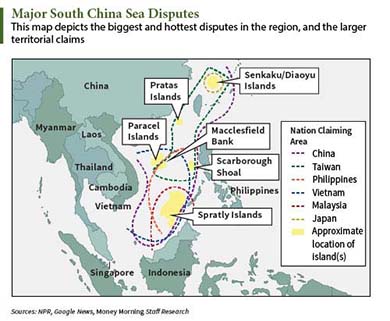 Tensions in the area have been rising as China continues to pit itself against its weaker neighbors (the Philippines, Vietnam, and Taiwan, among others) that all lay claim to islands, coral reefs, and lagoons in waters rich in gas and oil reserves.
On April 25, an anonymous military source told The South China Morning Post that China will officially start land reclamation work of the Scarborough Shoal – an island close to the main Philippine island of Luzon. China officially reclaimed the area in 2012, but now it will start the process of building an airstrip on the atoll to extend its air force's reached over the contested waters, reported CNBC on April 25.
The anonymous source warned that it is China's right to begin the land reclamation process because of U.S. interference in the regional dispute.
So while some hail China's oil hoarding as a boon to the global market, propping up the 2 million barrels per day glut, the nation may have more sinister reasons for importing the world's most divisive commodity…
Fueling a war.
Follow us on Twitter @moneymorning or like us on Facebook.
The Panama Papers Saga Continues: The International Consortium of Investigative Journalists revealed that it has a lot more to unveil about the world's elite and their shady financial dealings. Much more. Only this time, the group of journalists will unleash its information on the public in a new revelatory format…