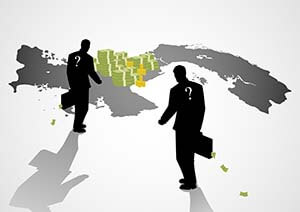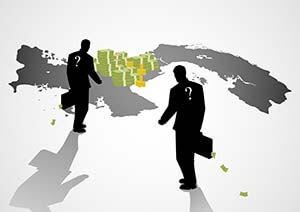 The "Panama Papers" database went live and searchable yesterday, lifting another veil of secrecy from thousands of offshore shell companies and the people who use them.
The massive cache of data was obtained from Mossack Fonseca, the Panamanian law firm responsible for orchestrating these illicit financial transactions. It revealed Ponzi schemers, drug kingpins, tax evaders, and at least one jailed sex offender…
After the initial record-breaking leak on April 3, many were left wondering why there weren't more Americans listed in the damning documents. Their noted absence lead the media to assume they needn't go so far as the Caribbean in search of a tax haven when there are plenty right here at home.
But in this second release, it seems there were U.S. citizens involved in Mossack Fonseca's money laundering business.
Thirty-six of them.
Here are details on some of the Americans listed in yesterday's big reveal…
Americans Join the Panama Papers Scandal
Among the three dozen Americans revealed yesterday were:
Martin Frankel, a Connecticut financier who pleaded guilty in 2002 to 24 federal charges. He bought and looted small insurance companies in a scam that caused at least $200 million in losses. He also set up a false charity called the St. Francis of Assisi Foundation with the help of a Vatican official.
Frankel became notorious for his lavish lifestyle, which included purchasing jewels, furs, luxury cars, and a compound where he recruited women "through advertisements in alternative publications."
Andrew Wiederhorn, an Oregon corporate executive who pleaded guilty in 2004 to two felonies in a case tied to one of the largest corporate scandals in Oregon history. Wiederhorn was "chagrined to learn that what he considered a completely legitimate deal was included in an expose of the shadowy tax shelters," reported Oregon Live He also said, "You've got to be kidding me, this was 20 years ago."
Since his felony arrest, Wiederhorn has been running a Los Angeles-based burger chain without incident.
Robert Miracle, who was sentenced to 13 years in prison for his part in a Ponzi scheme that defrauded 4,200 middle-class Indonesians out of their money. During his sentencing hearing in 2011, a federal judge ordered Miracle to give up his $38,000 diamond ring and a $27,000 painting he had just bought in Italy.
Here are a few other notable American "gems" named in the second Panama Papers dump, including one former NFL star and a Virginian woman named "Rebel"…
Leonard Gotshalk, once an Atlanta Falcons offensive tackle turned Oregon businessman, has faced myriad criminal investigations over the years.
In 1994, the U.S. Securities and Exchange Commission (SEC) sued Gotshalk for providing investors with "false and misleading information" about a company involved in oil and gas investments. Then in 2004, an Oregon court convicted him of theft, sentenced him to 20 months in prison, and ordered him to pay a fine. In 2010, federal prosecutors in Philadelphia unsealed an indictment against him, claiming he was part of a scheme to inflate the price of tech company stocks.
In spite of all these charges, Gotshalk was still able to open an offshore account through Mossack Fonseca.
Rebel Holiday, who lived in Virginia and presented herself at Mossack Fonseca in 2009 as a successful entrepreneur with a plan to sell "collectibles" containing small amounts of gold, reported The Washington Post. The company Holiday wanted to register in Panama would be "committed to the democratization of gold and precious metals that have only been available to the affluent in recent years."
However, back in Virginia, Holiday was under investigation by state securities regulators for misleading investors in her enterprise and selling unlicensed securities.
In July 2013, Holiday said the collectibles business just didn't work out and that she herself let the company lapse.
But in November 2013, the State Corporation Commission of Virginia fined Holiday $110,000 and banned her from selling securities in the state.
Andrew Mogilyansky was named in the Panama Papers as a client of Mossack Fonseca and was accused and convicted of running a prostitution ring in Philadelphia in 2008. He pleaded guilty to all charges against him, though friends of his have staunchly maintained that Russian President Vladimir Putin set him up.
For more information on the Panama Papers scandal, follow us on Twitter @moneymorning or like us on Facebook.
What's the State of the Economy? While most states have recovered from the Great Recession – they have not all done so equally. Some states are thriving now, like energy-rich Alaska and the Dakotas. But others – with big pension responsibilities – are trailing far behind, like these…
Related Articles: