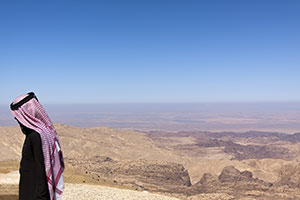 When is the Saudi Aramco IPO date? That's the $150 billion question as Saudi Arabia prepares for the biggest IPO ever.
Although the kingdom has only said it hopes to launch the deal sometime in 2017, the Saudi Aramco IPO is already generating massive amounts of hype. And for good reason. It will raise an estimated $150 billion.
Investors aren't the only ones excited...
Big banks are also racing to be a part of the deal since the offering could yield up to $1 billion in underwriting fees. The company's mammoth valuation and oil reserves have investors hoping it will price on one of the stock exchanges here in the United States.
Editor's Note: Most investors think they can't beat Wall Street at its own rigged game. But there are plenty of savvy investors, including Warren Buffett and Jim Rogers, who have beaten the big banks. Here's how you can, too...
But the one country that stands to benefit the most is Saudi Arabia. That's because the world's largest oil-producing country is dealing with a $26.1 billion problem set to become even worse over the next few years.
Before we get into this crisis, here's why the Saudi Aramco IPO will permanently change the global energy market...
What You Need to Know About the Saudi Aramco IPO Date and Size
According to Saudi Deputy Crown Prince Mohammed bin Salman, the Saudi Aramco IPO date will be sometime next year.
News of Aramco - formally known as the Saudi Arabian Oil Co. - going public broke in January in a special issue of The Economist. Salman stated the initial public offering is an integral part of his long-term overhaul of Saudi Arabia's economy, which focuses on moving away from oil dependence.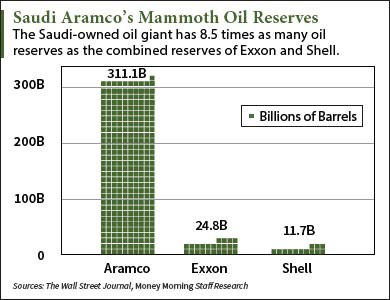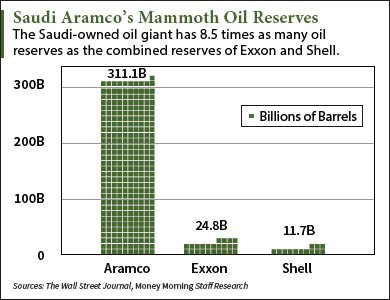 Saudi Aramco has dominated the global oil industry for over 80 years. It supplies more than 10% of the world's oil on a daily basis. Although the firm keeps most of its financial details under wraps, the one important metric it discloses is oil reserves - 311.10 billion barrels. That's more than 125 times the size of Exxon Mobil Corp.'s (NYSE: XOM) oil reserves, which add up to roughly 24.8 billion barrels.
The company's unprecedented power over the oil market is what makes it the most valuable firm ever. According to the Saudi government, the Saudi Aramco valuation is estimated to be as high as $3 trillion. To put that into perspective, the two most valuable public companies in the world - Alphabet Inc. (Nasdaq: GOOGL) and Apple Inc. (Nasdaq: AAPL) - are only worth a combined $1.06 trillion as of July 15.
And the kingdom will reap profits from its crown jewel by selling a 5% stake to the public. That would make the Saudi Aramco IPO size roughly $150 billion. By comparison, the Alibaba IPO only generated $21.8 billion in proceeds and is currently the largest U.S. IPO ever.
Despite no official Saudi Aramco IPO date, the Saudis are racing to take the firm public next year.
That's because the kingdom wants to solve this $26.1 billion problem before it transforms into a full-blown economic crisis...
This Chart Shows Why the Saudi Aramco IPO Date Can't Come Soon Enough
[mmpazkzone name="in-story" network="9794" site="307044" id="137008" type="4"]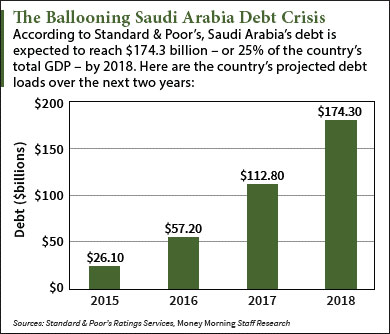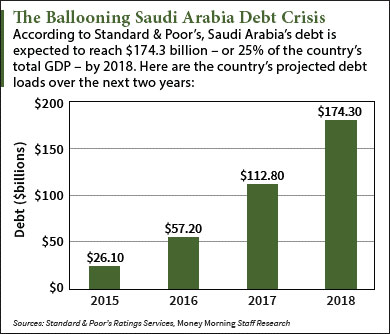 Saudi Arabia's debt level has reached a record high, and the kingdom hopes to use the Saudi Aramco IPO proceeds to reduce some of this debt.
The 31% drop in oil prices last year pushed Saudi Arabia's annual debt to $26.1 billion. Ratings agency S&P said it could more than quadruple to $112.8 billion through the end of 2017. That would be 17.3% of Saudi Arabia's projected GDP for that year. It would also be nearly twice as much as its projected 2016 debt of $57.2 billion.
The surging debt levels stem from the country's own negative effect on crude oil prices. Since mid-2014, Saudi Arabia has churned out an average of 10 million barrels a day - roughly one-third of OPEC's total production. The Brent crude oil price has fallen 54% over the same period.
Saudi Arabia's decision to produce at a record pace despite low oil prices finally caught up with it. After downgrading the country's pristine AAA credit rating in February, S&P reported it doesn't see the kingdom's debt declining anytime soon. Its downgrade report stated the sharp drop in prices will have a lasting impact on Saudi Arabia's economy.
That's why the kingdom is boldly changing its ways and taking Saudi Aramco public. According to Money Morning Global Energy Strategist Dr. Kent Moors, the Saudi Aramco IPO is unlike anything the country has done before - and it will be unlike anything global markets have ever seen.
"The Aramco IPO signals a big change in the kingdom's strategy," Moors - an energy market expert with four decades of experience advising U.S. and Russian oil agencies - said in April.
"The Saudis have been reluctant to sell a percentage of Aramco, because doing so requires disclosing important information regarding the nation's oil fields that have been shrouded in secrecy until now."
Next Up: The Three Best Ways to Profit from Today's "Range-Bound" Oil
Alex McGuire covers the global oil market for Money Morning. Follow him on Twitter for more updates on the Saudi Aramco IPO date.