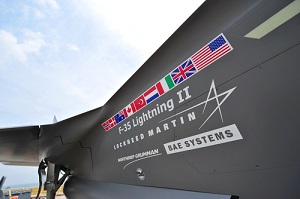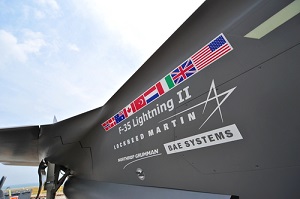 Lockheed Martin Corp. (NYSE: LMT) reported better than expected earnings in the second quarter, especially considering the delayed rollout of its new F-35 fighter jet.
LMT stock jumped nearly 2.5% intraday after it posted its second-quarter results and is already up 20% year to date.
Now, many investors are thinking about picking up shares of the defense giant…
We'll get to our full LMT stock recommendation in just a moment. But first, let's take a closer look at Lockheed Martin's Q2 earnings results.
A Breakdown of Lockheed Martin's Q2 Results
The defense giant posted revenue of $12.9 billion in Q2, beating out consensus estimates of $12.6 billion, according to FactSet. Lockheed's revenue this quarter was $1.3 billion higher than in Q2 2015 – a large climb.
Trending Now: China just warned of "disaster" if it's challenged in the South China Sea…  
Lockheed also reported EPS of $3.32, beating consensus estimates by $0.40 per share, according to FactSet. Its Q2 EPS was also $0.39 higher than its EPS in Q2 2015.
Operating cash for the quarter came in at $1.5 billion, compared to $1.3 billion in Q2 2015.
By far, Lockheed's largest profit boost came from its mission systems and training segment. The segment increased $1.1 billion – or 53% – compared to Q2 2015. The increase was mostly due to new sales from Lockheed's latest acquisition, aircraft producer Sikorsky. The newest addition to Lockheed produced $1.2 billion in net sales for the second quarter.
Lockheed's revenue also got a big boost from sales in its aeronautics division, which jumped by $244 million – or 6% – from Q2 2015. Lockheed's F-35 program was the biggest contributor to the segment's outstanding performance. The company said it increased the number of F-35 aircraft it was producing.
With Lockheed's stellar earnings results and performance this year, now is the perfect time to decide whether LMT stock is a worthy addition to your portfolio.
That's why our LMT stock recommendation is based on two time-sensitive developments that you might not be aware of.
Check out our full recommendation now…
Should You Buy LMT Stock After Its Q2 Results?
Lockheed has been performing extraordinarily well this year – up 20% YTD as we mentioned previously. And considering just how volatile a year it's been, that's saying something. During the same stretch, the S&P 500 has climbed just 5.7%.
LMT stock's beta value – a measure of volatility – is about 0.61. By definition, the market has a beta value of 1, so any value less than 1 is considered good. So an investment in Lockheed stock will be far less volatile than an investment in the broader market.
And there are two big catalysts behind LMT stock's impressive performance this year.
The first is Lockheed's F-35 program. Lockheed is developing three models of the F-35 jet for the U.S. military and nine of its allies. And the Pentagon has forecast the total cost of the program could reach $1.5 trillion by 2070. That accounts for procurement and development costs, as well as inflation, according to Reuters.
As you can see, once the program fully starts, it'll be a huge, steady stream of income for the defense giant for years.
The second catalyst: Lockheed's acquisition of Sikorsky Aircraft back in November 2015.
Trending Now: Is Microsoft a Buy After 2016 Q4 Earnings?
As we mentioned previously, the acquisition is already paying off for Lockheed. It generated $1.2 billion in net sales for the second quarter alone. Once Sikorsky gets fully integrated into Lockheed, it'll bring in billions more every year. Consider that in 2014, before the acquisition, Sikorsky recorded net sales of $7.5 billion in 2014. That kind of revenue-generating ability will be a hefty boost to Lockheed's bottom line.
With these two catalysts – Sikorsky and the F-35 program – Lockheed is well on its way to reaching its $268 price target by the end of the year. We calculated this price target by taking LMT stock's current price/earnings ratio of 22.64 and multiplying it by FactSet's consensus EPS estimate for LMT stock by the end of 2016, at $11.84.
It seems many long-term investors are jumping the gun and buying LMT stock now because they expect it to surge from big profit jumps in the future. While that's healthy speculation, it also makes Lockheed's P/E ratio a little too high for our taste right now.
Also consider that – at $255 per share as of Tuesday intraday – LMT stock is trading just $8 shy of its 52-week high of $263 per share. By all means, if readers own LMT stock now, hold on to it!
It's just too expensive right now for investors who don't already own the stock to buy.
New buyers will want to wait for the stock to pull back a bit before picking up shares. If you're looking for a good pullback opportunity, Money Morning Technical Trading Specialist D.R. Barton has shown readers a new trend (not chaos or terror) that will push back the markets soon.
Potential new LMT investors should also be aware of some concerns.
Despite Lockheed stock's good standing, the company's F-35 program has had several delays in the past few years. The new fighter jets, which are set to replace the A-10 warthog in the U.S. military, were originally scheduled to roll out years ago.
The program's latest delay came in May, when the company said it needed to configure the 23 jets that will be used in testing with the jet's final software.
The good news: These delays aren't dragging down the LMT stock price right now. You see, investors already know the F-35 program is a done deal. Even if there are more delays, Lockheed has already sold contracts for the jets.
In fact, Lockheed's stock has been driven up 20% this year mostly in anticipation for the F-35 program.
Another common concern is the price tag on Lockheed's Sikorsky acquisition. The $9 billion deal caused Lockheed's debt to skyrocket to nearly $15.5 billion in Q2 2016. What's important is that Lockheed could easily pay this off within a decade, given its $1.5 billion in operating cash flow for the second quarter.
Both of these concerns could send Lockheed stock down in the short term.
The Bottom Line: If you own Lockheed stock currently, hold on to it. Otherwise, prospective buyers might want to wait for LMT stock to pull back farther from its 52-week high before buying shares. LMT stock's two big catalysts – its F-35 program and Sikorsky acquisition – will ensure it has healthy growth for years to come.
Up Next
The price of gold could surge to $5,000 by 2020, according to our Resource Specialist Peter Krauth.
Think that's outrageous? Well, Krauth lays out three points that give a sobering explanation for gold's future climb. And one of them is already happening.
Follow Money Morning on Facebook and Twitter.