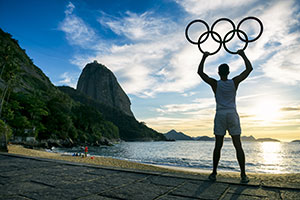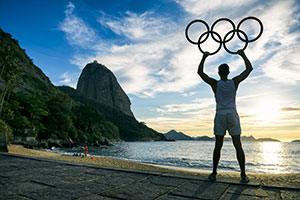 The 2016 Summer Olympic Games kick off in Rio de Janeiro, Brazil, on Friday, Aug. 5.
The host city is being criticized for not being ready, but that criticism is nothing new in the Olympics universe -- just take a look at these headlines over the years:
Host City Athens, Greece, 2004: "Security Officials, Athletes Worry Greece Isn't Ready to Police Olympics," USA Today, July 9, 2004
Host City Beijing, China, 2008: "China Falls Short on Olympic Promises, Critics Say," CNN, Aug. 12, 2008
Host City, London, England, 2012: "U.S. Officials Worried About Security at London 2012 Olympics," The Guardian, Nov. 13, 2011
Host City, Sochi, Russia, 2014: "15 Signs That Russia Is Not Very Ready for the Olympics," The Washington Post, Feb. 6, 2014
But what's going on in Rio now is different.
Trending News: Do You Have Zika?
These five stories range from being bizarre to down-right scary -- and they all have happened before the Summer Olympics in Rio have even started...
5 Unusual Incidents at the 2016 Summer Olympic Before the Opening Ceremonies
No. 5: 110 Russian Athletes Barred from Rio
As of Aug. 2, 110 athletes from Russia were barred from competing in the 2016 Summer Games.
The entire Russian track and field team (except for one long jumper who trains and was tested in the United States) was barred from competing, according to NPR. It was barred because of a widespread, state-run doping program. According to the World Anti-Doping Agency, the program had been in existence for years.
Russia will also have trouble winning any medals in the rowing competition. Of its 29 rowers and coxswains, 22 have been barred.
It will also be impossible for Russia to win any medals in weightlifting, as the International Weightlifting Federation has barred all eight Russian weightlifters.
Trying to create a positive spin, Russia's Sport Minister Vitaly Mutko stated on July 29 that 272 Russian athletes had been cleared to compete in Rio.
While this story falls on the bizarre side of the spectrum, story No. 4 is actually really scary for athletes and tourists alike...
No. 4: The Water Will Get You Really, Really Sick
Five days before the games were set to begin, the Associated Press released a scathing report about the water conditions in Rio. The report states the water in Olympic venues holds 1.7 million times more viral levels of what would be considered dangerous in the United States and Europe.
Athletes who ingest just three teaspoons of the water in Rio are almost guaranteed to be infected with a virus. These viruses can cause:
Stomach illnesses
Respiratory illnesses
Heart inflammation
Brain inflammation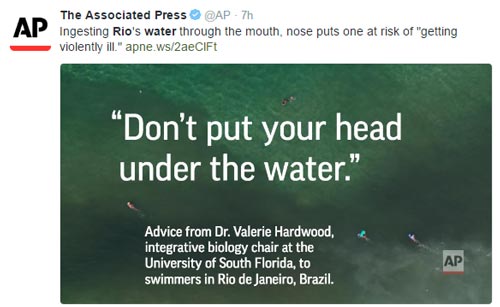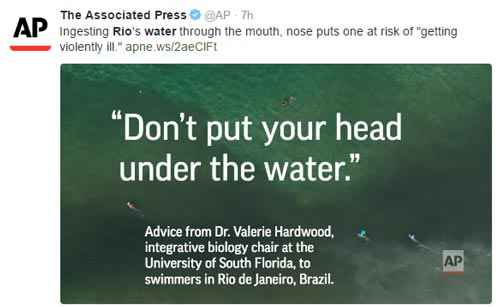 Roughly 1,400 athletes are at risk of getting violently ill from participating in water sports.
But the 16-month study found that even tourists could face serious health risks from the water. The AP study found tourists face serious health risks on the beaches of Ipanema and Copacabana.
In response, athletes have been:
Bleaching oars
Wearing plastic suits
Taking antibiotics
But because antibiotics combat infections and not viruses, and the dangerous levels of viruses found in the water, the athletes and tourists in Rio this summer are still at risk of getting violently ill.
No. 3: Human Remains Show Up at Volleyball Court
On June 29, police said that a foot and other body parts had washed up on the shore near the Olympic volleyball venue in Copacabana.
According to USA Today, there's been increasing violence in Rio because a drug trafficker just escaped from a Brazilian hospital. Nicholas "Fat Family" Labre Pereira was freed on June 19 by a raid of assailants.
One patient was killed and a nurse and off-duty policeman were wounded. Gun battles in the slums of Rio claimed the lives of 10 people in June, and roughly 50 schools had to be closed because of shootings triggered by police searches.
An estimated 85,000 police officers will be patrolling the streets for the 2016 Summer Olympics, but many worry that is not enough. The acting governor for Rio de Janeiro states that he is still waiting for $860 million from the Brazilian government for security efforts.
In the first four months of 2016, there have been 2,036 killings in Rio (population 6.32 million as of 2010). In comparison, New York (population 8.4 million as 2013) had 333 reported homicides in 2014.
No. 2: Even Athletes Are Getting Robbed
On June 29, Australian Paralympian Liesl Tesch and her sailing teammate were robbed in Rio on a Sunday morning at 7:30 a.m.
When Tesch showed she had no money, the robber stole her bicycle.
"This is not an isolated incident, athletes have been mugged while training and competing in Rio test events, and we want our athletes protected," Australian Olympic team Chef de Mission Kitty Chiller said following the incident.
Editor's Note: Stop what you're doing now unless you're comfortable with the FBI knowing everything about you...
The Australian team suffered more bad luck, however, exactly one month later...
On July 29, the Australian athletes in the Rio Olympic Village were evacuated when a fire broke out near the apartments for the Australian team. During the evacuation, team shirts and laptops were reportedly stolen.
"When I arrived midway through the evacuation, I saw three fire (marshals) walking out with our team shirts," Chiller said after the incident.
The stolen shirts were intended to protect the Australian athletes from mosquitos carrying the Zika virus.
No. 1: "Welcome to Hell"
When you get off your plane at Rio's international airport, you'll receive an interesting welcome.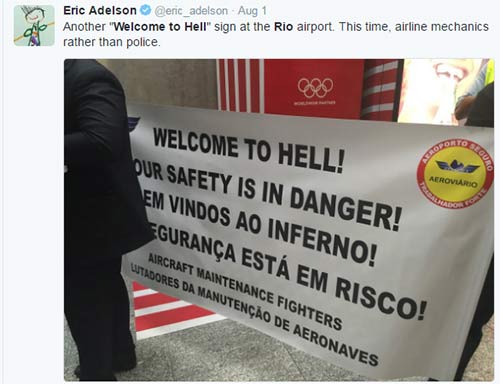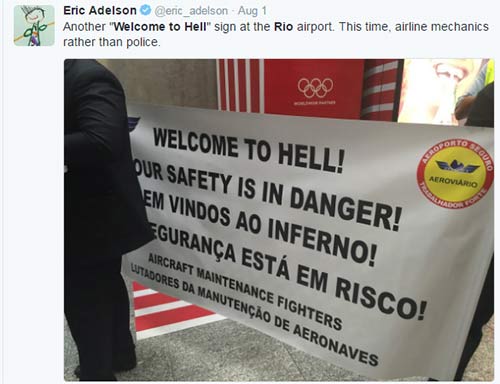 This welcome is from the police officers of Rio. Yup, the people who are supposed to protect you...
According to The Guardian, the economy is so bad in Rio that:
Police pay has been suspended.
Half of the civil police's fleet of cars aren't in service to save money on gas.
Officers are asking for donations for cleaning supplies, pens, and even toilet paper.
It's so bad that the head of a police station had to go to a nearby neighborhood association leader and ask for paper to print out incident reports.
There are supposed to be roughly 85,000 soldiers in place to protect an estimated 350,000 to 500,000 foreign visitors. But if the officers aren't being paid, you have to question their motivation.
Up Next: These Companies Make a Ton of Money During the Summer Olympics
Do you think Rio is prepared for the 2016 Summer Olympics? Let us know on Twitter @moneymorning and Facebook.
Related Articles: