Many investors believe in Elon Musk longer term but can't bring themselves to buy Tesla Motors Inc. (Nasdaq: TSLA) right now because they fear the recently announced SolarCity Corp. (Nasdaq: SCTY) buyout will cause share prices to drop.
So why not sell… then buy again?
Contrary to what many investors think, investing is not a one-way ticket. Not with Tesla and not with any stock for that matter. You can make money as a stock moves up AND down. If you're not trying, then you're throwing away half your profit potential.
Showdown: Jim Chanos vs. Elon Musk – Here's How You Side with the Winner
That sounds like a tall order but, in reality, it's pretty simple. And today I'm going to show you how to do it using a Total Wealth Tactic that we haven't discussed yet…
…the parabolic SAR.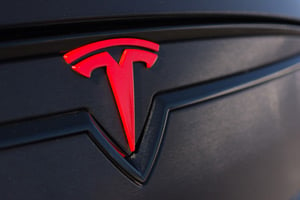 If you've never heard of the parabolic SAR, you're not alone. Very few people outside the technical trading community have, which is a shame considering how powerful a profit generator the parabolic SAR can be.
Today we're going to talk about what the parabolic SAR is, how to use it, and how to line up profits on any investment when you do.
Including Tesla.
Here's what you need to know.
The Only Indicator That Works in Any Market, at Any Time, on Any Stock
The parabolic SAR is a very simple to use and an easy-to-understand technical indicator developed by Willes Wilder who, as an aside, also developed the Relative Strength Index, or RSI for short.
In contrast to other indicators that tell you where the markets have been, the parabolic SAR gives you a pretty darned good view of where the markets may be headed next.
What's more, the parabolic SAR can be used on any stock, in any time frame, and in any market.
The formula is straightforward and usually looks something like this:


If you're mathematically challenged, that's okay. You don't have to understand how an engine works to drive a Ferrari.
The parabolic SAR is usually displayed as a series of dots above or below where a stock is currently trading. You can find it in dozens of stock analysis packages including ThinkorSwim, Trade Station, NinjaTrader, or MetaStock Trade, among others, but also for free at Stockcharts.com.
Depending on the charting package or Internet app you're using, you can change the colors and shapes of each dot to suit your tastes.
For example, I like to display the parabolic SAR in gray against a black background. Other traders I've known over the years like to put lower dots in green and higher dots in red, or even change them into specific shapes like stop signs and traffic lights.
That's really beside the point, though.
What you need to know is that the parabolic SAR is a simple, easy-to-understand way to gauge a stock's next moves and the price at which you can act for maximum profits. It's also a great guideline with regard to whether you should be long or short at any given moment.
Let's walk through an example using Tesla.
I've chosen Tesla very deliberately because it's a controversial stock and I know that many members of the Total Wealth family are following it closely… especially after the article I posted last week.
Here's the chart with the parabolic SAR plotted in gray: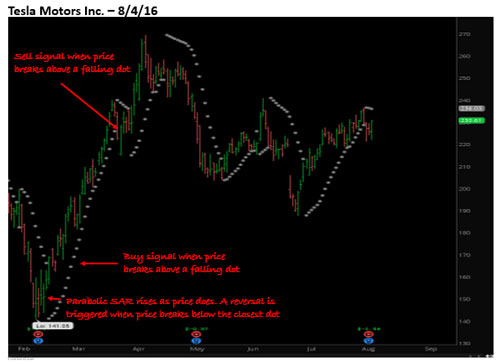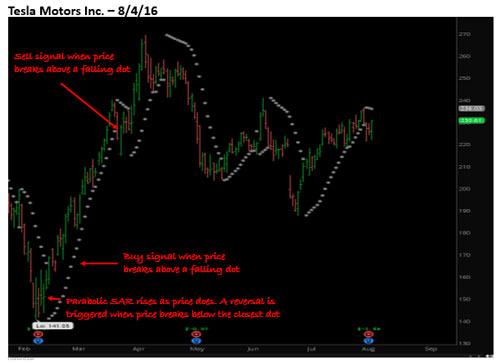 The parabolic SAR works very simply.
When prices break above the most recent high price of your target stock, a dot is placed at the most recent low price. Then, assuming prices continue to rise, the corresponding dot rises, too – slowly at first, but then with increasing speed as prices climb. In effect, it draws closer to price over time.
The beauty of this is that the math works out in such a way that the dots are continually accelerating as a stock rises. That means you'll never be caught by surprise by a correction or a reversal that devastates other investors.
Now, as you can see, the plot never stops. There's always a parabolic SAR dot above or below prices and that, in turn, means it's an ongoing indicator capable of telling a story under a wide variety of market conditions that render more traditional indicators useless.
Don't Miss: Stocks that pay dividends deliver triple the returns of nonpayers. And these "dividend kings" have boosted payouts 50 years in a row…
For instance, you can see the gray dot above Aug. 4's price all the way at the right.
That tells you that Tesla's short-term bias is down, which, given the current headlines about what a screwed up deal the SolarCity purchase is, isn't surprising.
That is until you realize that the first SAR dot appeared early Monday and would have allowed nimble traders to take positions ahead of the bulk of the fall that caught most other folks by surprise.
And what if you're not a trader?
No matter.
If you're a long-term investor, the dot says one of three things at the moment – all of which potentially have a material impact on your money. For instance, depending on your individual risk tolerance: hold, "stand aside," or capture profits from the June run off $193 a share or so.
If you're a speculator or an aggressive investor, the very same dot is calling for a Tesla short or even buying put options to profit as prices drop.
Whenever I talk about the parabolic SAR at presentations around the world, usually the question "for how long?" comes up right about now… as in, how long do I hold short or stay out of Tesla?
Simple – until the dots reverse.
The "SAR" in parabolic SAR actually stands for "stop and reverse," meaning that you can trade Tesla constantly being either long or short if you want. Every dot then becomes the price at which you go short if you're long or long when you're short. I.e., you "stop and reverse" your position.
I particularly like this aspect of the parabolic SAR because that makes it ideal for investors who want to establish a longer-term core position then trade around it using shorter-term market movement.
More advanced investors and traders frequently combine the parabolic SAR with moving averages, chart patterns, or even stochastics to develop more precise trading systems. But you don't have to – it works just fine on its own.
What's the catch?
For most people it's simply that the parabolic SAR can flip flop more often than expected under choppy market conditions. But this "catch" has an upside no one talks about – it forces them to be more active than they'd like and more disciplined than they're capable of being.
Obviously, we've just scratched the surface today.
You can use the parabolic SAR in any time frame, in any market, and apply it to any stock.
There's no guesswork required.
Even when it comes to a stock like Tesla.
Editor's Note: The parabolic SAR is a valuable tool that Keith uses to cultivate some of his most lucrative investment opportunities… but it's not the only one. In fact, he just used the Total Wealth Tactics once again to uncover a different play that's full of profit potential. This time, it's a stock positioned for 420% gains in the midst of election year turmoil. To access the full report, which includes the ticker symbol of this little-known company, subscribe to Total Wealth here. It's free!
Follow Money Morning on Facebook and Twitter.
Join the conversation. Click here to jump to comments…
About the Author
Keith is a seasoned market analyst and professional trader with more than 37 years of global experience. He is one of very few experts to correctly see both the dot.bomb crisis and the ongoing financial crisis coming ahead of time - and one of even fewer to help millions of investors around the world successfully navigate them both. Forbes hailed him as a "Market Visionary." He is a regular on FOX Business News and Yahoo! Finance, and his observations have been featured in Bloomberg, The Wall Street Journal, WIRED, and MarketWatch. Keith previously led The Money Map Report, Money Map's flagship newsletter, as Chief Investment Strategist, from 20007 to 2020. Keith holds a BS in management and finance from Skidmore College and an MS in international finance (with a focus on Japanese business science) from Chaminade University. He regularly travels the world in search of investment opportunities others don't yet see or understand.