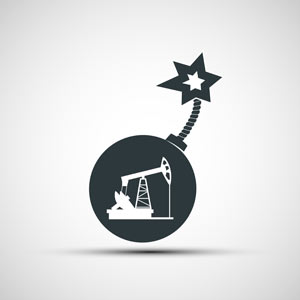 Crude oil prices today (Tuesday, Aug. 9) tumbled below $43 as the market struggles to rebound from four-month oil price lows seen last week.
But there's a developing crisis underway right now that could drive oil prices higher for years to come. And it could wreak havoc on the entire oil market for decades.
According to Money Morning Global Energy Strategist Dr. Kent Moors, it's quickly transforming into a $53 trillion ticking time bomb.
"What I had labeled a crisis in March 2015 will become a ticking time bomb as we approach the next decade," Moors said on Aug. 1. "Unless there are some major changes in global policy, within the next 10 years we are likely to reach a point of no return."
Editor's Note: The media loves to blame falling oil prices on an endless oil glut. But the energy pundits don't understand what's really going on with oil supply…
While the crisis can potentially boost oil prices, it will also have a devastating impact on global populations. It could leave billions of people in Africa and Asia without any energy at all.
Before we get into how this crisis will unfold, here's why crude oil prices are down today…
Why Crude Oil Prices Are Down Below $43 Today
At 12:45 p.m., West Texas Intermediate (WTI) crude oil prices today were down 0.4% to $42.85 a barrel. Today's drop comes exactly one week after the benchmark hit its lowest level since April 5. Front-end September futures are now down 12.6% so far this quarter.
Brent crude oil prices were more volatile in mid-day trading. They fell 0.6% to trade at $45.11 a barrel. The global benchmark also dropped to four-month lows on Aug. 2. Futures for October delivery are down 10.1% in the third quarter.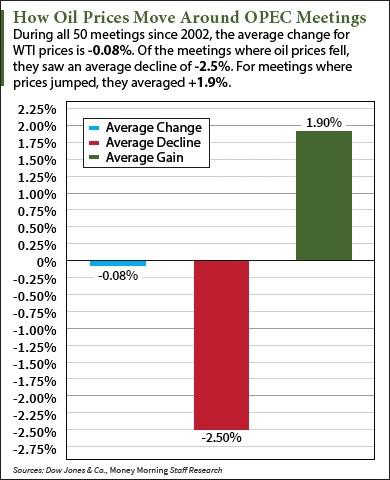 The biggest reason why oil prices are down is yesterday's announcement that an OPEC meeting will be held on Sept. 26-28.
The 14-nation cartel will likely address the recent downturn in crude oil prices. Several members will also try to bring back the idea of capping production to further stabilize the market.
Analysts are unconvinced any production cuts will happen. Commerzbank said OPEC will likely stick to its long-time policy of maintaining output to defend its share of the oil market. If that happens, oil prices could see a knee-jerk decline.
Beat Wall Street at Its Own Game: Famous investors like Buffett and Rogers have taken on Wall Street and won. Here's how they did it – and how you can, too…
But both Brent and WTI crude oil prices will see long-term gains as demand continues to soar…
The International Energy Agency (IEA) expects daily demand to hit 96.9 million barrels in Q4. That's a 2.3% boost from the 2015 average of 94.7 million barrels. The agency also sees demand reaching 98.1 million a day by the end of 2017.
While rising demand will be a long-term boon for prices, there's one crisis that will be an even longer long-term catalyst. Moors – a 40-year veteran of the global energy industry – says this global oil crisis will require $53 trillion to fix.
It could leave billions of people around the world literally in the dark and without power. And if it's not repaired by 2025, it could become irreversible.
Here's an in-depth look at the crisis and what it means for oil prices…
This Global Oil Crisis Could Boost Oil Prices but Devastate Global Populations
The crisis concerns worldwide energy infrastructure over the next two decades.
You see, oil operations in densely populated regions have been falling apart for over a year. The two continents that need repairs the most are Africa and Asia. Since February, oil facilities and pipelines in Nigeria – one of the top 10 most densely populated African nations – have been attacked by militants. Several regions in Asia – which has roughly 4.4 billion people – are also experiencing power outages and sporadic access to electricity.
In other words, areas with burgeoning populations will be completely cut off from oil and gas sources. Without access to energy, these regions won't see any economic advancement and could become breeding grounds for radicalism.
"In the minds of some policymakers, the connection between a lack of access to energy and recruitment for terrorism organizations is a direct one," Moors explained. "We have already witnessed a direct line between poverty and terrorism. Energy (or the lack of access to it) may yet prove to be the most dramatic next stage in that process."
Moors says this problem is only getting worse…
In March 2015, the IEA suggested repairs to global oil and gas infrastructure would cost $48 trillion by 2035. About $40 trillion would go toward fixing infrastructure, while the remaining $8 trillion would go to improving energy efficiency.
Now, the estimate has increased to $53 trillion. That doesn't even include long-term funding from agencies, wealth funds, governments, and private investors.
Despite its negative impact on the world's largest regions, this "time bomb" could send prices higher in the long term.
You see, these infrastructure repairs require large investments to meet demand in these regions. Since investors don't see profits from these repairs up front, most of these regions will experience supply cuts. That will fundamentally drive oil prices higher.
Stay tuned to Money Morning for more coverage on this infrastructure crisis and oil prices.
Next Up: Oil Prices Will Rise from This Country's Demand – and It's Not China
Alex McGuire writes about energy prices for Money Morning. Follow him on Twitter at @AlexMcGuire92.