The price of silver jumped 1.08% to $20.22 an ounce today (Friday) after July retail sales disappointed.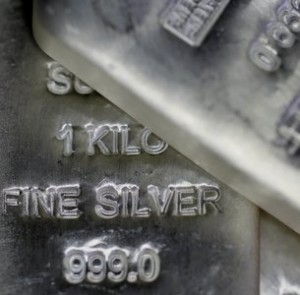 Before we get into our silver price forecast for the rest of 2016, here's what is driving silver prices today and this week…
Why the Price of Silver Is Climbing This Week
Silver prices started the week at $19.60 and managed to trend higher even as U.S. markets logged a historic milestone.
On Thursday, the Dow, S&P 500, and Nasdaq all reached new records on the same day. It's been 17 years since that has occurred. Accommodative central banks and better than expected corporate earnings continue to drive stock markets higher.
Urgent: Our Newest Gold Price Prediction Indicates Triple-Digit Returns by 2020
Things changed on Friday when stocks slipped and the price of silver rallied on disappointing retail sales data.
The U.S. Department of Commerce reported today that retail sales in July were flat.
Excluding autos, retail sales fell 0.3% last month. Excluding both autos and gasoline, sales were down 0.1%. Economists had expected headline sales to rise 0.5% and sales excluding autos to have climbed 0.1%. Sales at retailers and restaurants, meanwhile, held steady last month at a seasonally adjusted $457.73. In comparison, sales climbed 0.8% in June.
The uninspiring retail data suggests economic growth in the second half may be weak. It also pushes interest rate expectations further down the road – and that's bullish for the price of silver.
Heading into Friday, about 71% of economists surveyed by The Wall Street Journal expect the U.S. Federal Reserve to raise short-term rates at its Dec. 13-14 meeting. Traders, however, are placing just a 57.4% chance of a rate hike in December, according to CME's FedWatch tool.
What the central bank does continues to be a key driver of silver prices in 2016…
Volatility in financial markets and plunging oil prices had investors piling in silver earlier this year. Easy monetary measures from global central banks, negative interest rates, and worldwide growth concerns have kept investors in silver. More recently, worries about the fallout from the UK's June 23 vote to leave the European Union have had a major impact on the price of silver in 2016.
But we don't see the bull run for silver prices ending any time soon. Here's how high we see the price of silver climbing from here…
How High the Price of Silver Will Climb in 2016
Demand for silver and silver mining stocks has been huge in 2016, and that demand should continue to drive the price of silver higher from here.
This year's top 10 non-leveraged exchange-traded funds (ETFs) by return through the end of July were all silver and gold focused, according to data from ETFdb.com.
The funds vary in approaches, but all invest in this year's hottest sector: precious metal miners.
Profit from Gold Now: Most investors don't know how to actually invest in gold. That's why we just released our 2016 guide to gold investing – free of charge. Read here…
Holding the top spot is the PureFunds ISE Junior Silver ETF (NYSE Arca: SILJ), which rose 258% through July. The iShares MSCI Global Silver Miners ETF (NYSE Arca: SLVP) logged a 179% return through July. Rounding out the top three is the Global X Silver Miners (NYSE Arca: SIL), up 175% through July.
A report Thursday from CIBC World Markets reaffirmed the firm's "Overweight" call for the precious metals and miners sector. CIBC analysts explained that while the mining sector has enjoyed significant gains so far this year, the entire sector is still down 43% from its high point. In past recoveries, the sector has regained about 85% of its losses, the firm noted.
The price of silver is up nearly 46% year to date. Money Morning Resource Specialist Peter Krauth sees more gains after we get through some challenges.
Recent data shows long positions in silver rose to nearly 6,000 contracts to hit a new net long silver position of 91,152 contracts. According to Krauth, that's a record level of speculative interest. It also suggests higher risk in the very near term for silver prices.
Krauth thinks silver may pull back to its 200-day moving average near $18. From there, Krauth sees silver rebounding 10% to 20% upside by the end of the year. He has a price target of $22 per ounce for silver by the end of the year.
Next Up: Voters who don't like Trump and Clinton are seeking a third candidate. Most people don't realize it, but they already have one…
Follow us on Twitter @moneymorning and like us on Facebook.
Related Articles: